She did it! Cristie Gates tackles a turkey plaque project
I did my first fan mount. All by myself! This one was my learning curve – I'm saving the double beard for last. We had roast turkey breast for dinner last night to celebrate the completion of the project and it was wonderful!
I did, however, learn a lot in the process.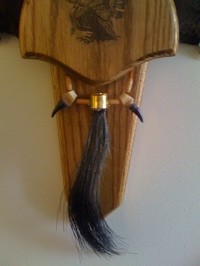 1st – The Hunter's Specialties pruning saw is NOT a good turkey bone-cutting tool. The blade is much too coarse for such a job. It does, however, cut human flesh quite well. (Plan B included pulling out the Dremel tool) I'm sure the HS saw works very well on branches they were intended to cut.
2nd – Make sure you put Borax on ALL the flesh … flies tend to gather (or they were gathering around me – not sure on that one).
3rd – BEFORE trying crafty, creative things with the spurs, beads, leather, shot shell brass and beard, make sure that you have all items together and ready to assemble BEFORE allowing your 10-year old near the Gorilla glue.
4th – Do use one of the HS awesome three-beard mounting plaques. They look great!
5th – Do NOT allow your 10-year old near the DeWalt screw gun while attempting to piece together the many parts of mount: wood, bracket, fan, etc. Could result in extra, un-needed screws in wood plaque.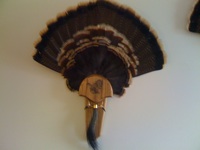 And finally, (most importantly) DO NOT allow your boss to see your finished work, pull out the ruler, measure your 9 7/8" beard only to run into his office and declare that his is (of course) "bigger."
So now, I guess you can say, I'm a turkey taxidermist (with of course a trusty 10-year old assistant) … for the next challenge … double beards. ~Cristie Gates
Cristie Gates is Media Manager for Benelli USA and lives in Maryland with her husband and two daughters.
About The WON

The Women's Outdoor News, aka The WON, features news, reviews and stories about women who are shooting, hunting, fishing and actively engaging in outdoor adventure. This publication is for women, by women. View all posts by The WON →
The Conversation