Gear Court: Sage TCX sets the stage

This spring Sage lent me a TCX 4-weight to try out for three weeks. It came just in time for some good BWO action and I was not disappointed. The TCX is a cannon of a rod and shot out line incredibly quickly. I loaded it with RIO's WindCutter® II fly line that I reviewed recently and the combination was deadly. For a 4-weight, it definitely impressed me with how well it cast large heavy flies and how well it cut through the wind in extremely windy spring conditions. It also beautifully handled swift currents while casting delicate dry flies from a drift boat. My biggest regret is that I was not able to hold onto this rod longer.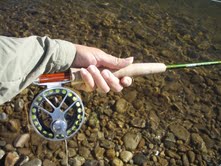 In addition to it being a cannon, it was also very light, well-balanced, and had a very sensitive line feel. I really enjoyed fighting fish of all sizes on this rod, especially big trout because I could feel every movement of the fish while landing it. This increased sensitivity really added to the experience of landing each fish.
The Sage website describes this quality quite articulately: "Most importantly, the enhanced line feel and feedback mean intuitively better timing and an extraordinary level of casting ease for ultra-high-performance fly rods." In addition to performing well in the field, it is also a very attractive rod, sporting an emerald green finish and it has a very comfortable grip.
The only issue I had with this rod, which is commonplace in 4-piece rods, was that the first ferrule on the rod tended to loosen up as I fished. I would recommend checking this connection regularly and tightening it so that the female end on the second section doesn't crack. By the time I sent this rod back, it was beginning to form hairline cracks in that female section. But in its defense, I could have checked more regularly and I was hucking streamers that were way larger than most people tie onto a 4 weight.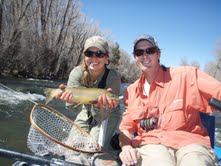 If you need a new rod and want a fast action, sensitive, light cannon of a rod, I would definitely recommend trying the TCX. ~Katherine Browne
About Katherine Grand

Katherine Grand pens "DamselFly Fisher" and works as Pro-Staff and Dealer Relations Coordinator at Prois Hunting and Field Apparel in Gunnison, Colo. She also guides in fly-fishing waters near Gunnison. View all posts by Katherine Grand →
The Conversation