My Job … My Outdoors: Julie Chapman shows 'contemporary flair' in life's pursuits

She recently returned from the Fall Arts Festival in Jackson Hole, Wyoming, and tells our readers why life is good for Julie Chapman, who not only "paints today's Wild West with contemporary flair," but we suspect this woman lives life in the Wild West with contemporary flair. Young at heart, young in spirit and attitude and hey, Julie, can you bottle some of that extra energy? Read about this artist, outdoor enthusiast, dog trainer and publisher of an artzine.
My Job
I am a fine artist –which means my job is to share my passion with others in the form of oil paint (one of the best jobs in the world!). The subject matter that moves me is animals, most especially wildlife and horses. I grew up on a small family farm in Ohio, and I have vivid memories of spending most of my time outdoors in summer, hunting butterflies, poking around in our tiny creek and pond for tadpoles and dragonfly nymphs, watching a family of red foxes that had denned just downslope of our clothesline; the kits would tumble and play and pop up curiously to watch us while we were hanging out wet laundry.
I grew up artistically monomaniacal about all things equine, until a trip to Costa Rica in the early 1990s opened my eyes to the universe of other beautiful creatures out there; I became a birder (albeit a casual one) on that trip. Soon after that we visited Yellowstone for the first time, and I was stunned by the magnificence of Rocky Mountain megafauna – elk! bison! pronghorn! bighorn! and those clever corvids and coyotes!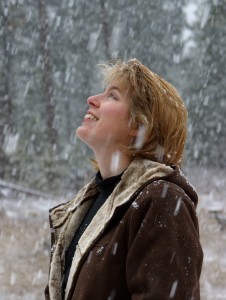 This seminal experience led to a broadening of my artistic horizons away from just horses (and to many more trips to Yellowstone, of course). It also led us to begin exploring Alaska; my husband and I honeymooned in Denali National Park, where we photographed grizzlies, Dall sheep, moose, wolves, and caribou. One of our most memorable trips was to Katmai National Park to spend a week with grizzly bears during the salmon run; the experience was indescribably moving and life changing. We're hooked on the vast wild beauty of Alaska, and always eager to go back.
During all this time I was building up gallery representation and a fine-art resume with shows and exhibitions, while working full-time as an engineer – first in R&D, then in marketing – at HP in California. Exhausting, but art has always been as essential to me as breathing.
One of those incredible, 2×4-between-the-eyes life turning points came in 2002, when a painting I'd done of a Katmai grizzly bear won the "Arts for the Parks" Grand Prize; at the time, Arts for the Parks was a premier national exhibition and the grand prize was $50,000. This was a definitive kick in the butt, and it precipitated our move to Montana and my quitting HP to become a full-time artist.
My days are now spent in my studio, surrounded by German Shepherds, and at any one time I'm juggling sketching and painting prep, work on actual paintings, gallery and exhibition deadlines, commissions, licensing requests – and making sure I get time outside gathering reference material, whether that's a day trip to a small-town summertime Montana rodeo or the National Bison Range, or a longer trip to Yellowstone or Glacier.
My Outdoors
Almost anything. While in California, I rode dressage and cross-country jumping for years, and also camped, backpacked, and whitewater rafted. Since moving to Montana, I've become a dog-agility enthusiast (my six-year-old German Shepherd is currently ranked #21 for GSDs competing in agility in the U.S.), and I'm now training for a half-marathon – so, lots of running on the dirt roads where we live, in the foothills of Reservation Divide outside Missoula. We learned to fly-fish on trips down the Middle Fork of the Salmon River, and my husband (who loves shooting sports) has taught me pistol target-shooting. I've discovered that I dislike short-barreled handguns, as it's difficult to be accurate with them, and my competitive nature wants to see improvement in grouping and placement with each round. And I'll still take any chance to be astride a horse and enjoying moving with my mount through the landscape.
More meaningfully, I love being outside to observe, sketch, and photograph my reference material – whether wildlife, horses, or rodeo – and I feel spiritually deflated if I'm cooped up without access to sunshine, clouds, rivers, weather … all those elements that make me feel alive.
I am immensely grateful to do what I love, in my studio and immersed in oil paint, surrounded by my dogs, and also outside whenever I want. And we're now planning for the trip of a lifetime; at the invitation of a dear friend who is a very successful sculptor in the UK, we will be spending two weeks in South Africa in March! I expect to take thousands of photos of the stunningly beautiful big game that we will see there, including oryx, springbok, eland, kudu, and impala. I am looking forward to this trip with every fiber of my being! My one curiosity is whether and how I'll be able to connect with the collectors who would appreciate paintings of this exotic subject matter. I'd love to hear from anyone out there! ~Julie T. Chapman
Painting Today's Wild West with Contemporary Flair
DAY (406) 546-2636 * EVE (406) 626-4586
20900 Whitetail Ridge Road * Huson, MT 59846
Artsite (with paintings, Artshop, & more): www.JulieTChapman.com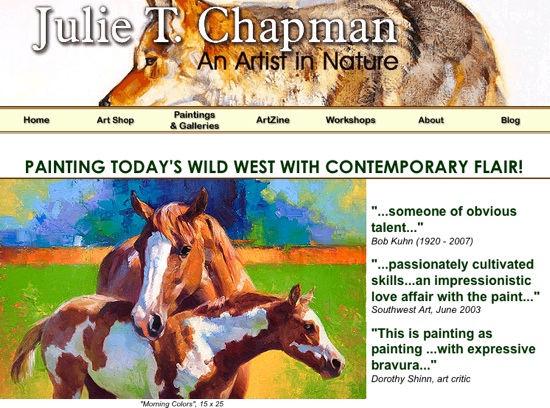 About The WON

The Women's Outdoor News, aka The WON, features news, reviews and stories about women who are shooting, hunting, fishing and actively engaging in outdoor adventure. This publication is for women, by women. View all posts by The WON →
The Conversation