Gear Court: Icebreaker, Women's 260 Tech Top does not stink

I happened upon this incredible top quite by accident a few years ago and have never looked back. I do a lot of cold weather hunting, mostly waterfowling although sometimes my November elk hunt can get quite cold too.This wonderful Merino wool zip-up turtleneck with long tails and thumbholes is my go-to item for cold weather everything. The wool is a soft, fine wool, not the coarse scratchy wool of earlier generations. This wool is next-to-your-skin soft. It can be washed in the washer on warm or cold and then laid flat to dry.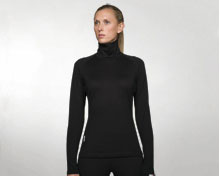 The Tech Top has a long zipper for help in regulating your temperature. Thumbholes are also nice for cold weather. I have hunted geese for several days in a row while also carrying large decoy bags to and from the field. All the while getting hot, sweaty and then hunkering in for a long day's hunt. I was impressed by the wool's ability to wick moisture away, so that I never got chilled in my layout blind after the work was done.
I was most surprised by the fact that the Tech Top does not hold body odor. I fully expected to be somewhat stinky, and that didn't happen wearing the Icebreaker, even after 5 days of slogging through snow, carrying bags of decoys and making multiple trips. I did sweat plenty, the Tech Top just didn't smell. I was astounded. I gave it the sniff test a few times, just to be sure and my nose was in fact telling the truth. This is especially important when hunting big game whose noses are especially keen at detecting human odor.
In my book, this is the cream de la cream of base layers for cold weather outings. The quality of the stitching is superb and never have I been rubbed the wrong way by a seam. Nor has any stitching come undone or even begun to show signs of wear yet. I have used my Tech Top 260 a lot for 2 years, going on my third and it looks, wears and feels like I just bought it yesterday. It has not sagged, stretched or bagged out at all anywhere. It still hugs my body comfortably.
The top retails for $109.99 and is on sale now for $76.99 and there are several colors to choose from. Also subscribe to Icebreaker's email list as they have several good sales a year. Their Christmas sale is one I look forward to each year now. You can even see the sheep that provided the wool for your Tech Top. That is called the Baaa code and each garment has its own specific code, very clever marketing for sure.
I'll be picking up another Tech Top 260 real soon and I don't leave home without it. It is a definite keeper in my book!~Terry Scoville
http://www.icebreaker.com/site/icebreaker_woman_bodyfit260_tech_top.html?thumb_value=Cranberry
This reviewer purchased the product for review.
If you like Terry Scoville's writing style and honest, forthright opinion, you'll love her blog: Women's Hunting Journal.
About The WON

The Women's Outdoor News, aka The WON, features news, reviews and stories about women who are shooting, hunting, fishing and actively engaging in outdoor adventure. This publication is for women, by women. View all posts by The WON →
The Conversation