In My Sights: Just another day in 'Momland'
Let's talk about a typical mother's day. Not the holiday; the day that we have every-day-that-we-have-kids kind of day. Today was one of those.
Lest we forget where those little sweet-cheeked things come from, well, there's a dad involved. A dad who is obsessed with fishing. Not obsessed in the "I gotta spend a million dollars on a bass boat and shiny toys" kind of way. A dad who is obsessed in the "he would like it if I made dinner and brought it to him at the farm pond, preferably via kayak so he never has to leave the water," kind of way. On the surface this situation looks pretty conducive to kid fishing as well. So you think. It's a farm pond, close to home, easy access. Sounds like the perfect family outing.
You think Cinderella is real person, don't you?
While Dad paddles away in his kayak, obliviously happy, Mom is sitting on the tailgate of the truck rigging the new, pretty, pink rod and reel that daughter received for Christmas. Daughter, meanwhile, is playing Iron Chef and mincing all the crappy jigs in the tackle box. It makes delightful looking confetti, let me tell you.
Dad is bobbing across the pond, soaking up the sunshine, insensible to any other life forms in his vicinity that don't have fins. Mom is stringing a roiling worm on daughter's hook. Daughter is dissecting a worm, pretending she is on Grey's Anatomy. Mom casts in for daughter, and then rigs her own line and throws in. Daughter reels in, slings her line and bobber a few times, pretending she is Luke Skywalker, and ties the line into a Gordian knot. Mom sighs, gives daughter her rod, sits on the tailgate and starts on the brainteaser snarl Daughter has created.
Daughter casts enough times to fling worm into orbit, leaves pole, gets in kayak and paddles till she sees a snake. Daughter is now done with fishing. Dad has not caught anything, so when Daughter screams, he is done. Everyone piles into the truck, sun-baked, wind-blown, fish deficient. While Mom is thinking that perhaps daughter watches too much television, dad and daughter are talking about what a wonderful day they had fishing. Just another day in Momland.
Read more of Traci's adventures at her blog, here.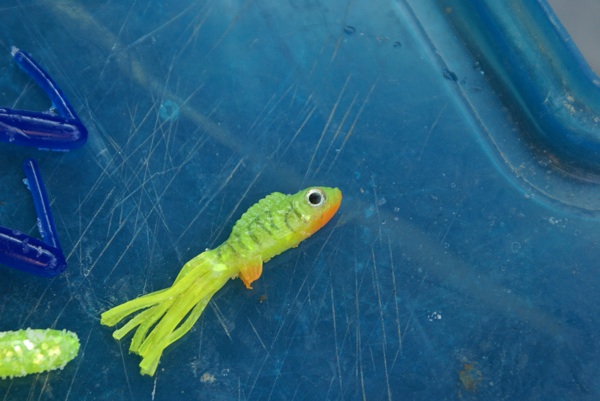 Photo by Traci Schauf, mom.
About Traci Schauf

Traci Schauf ia a blogger, a blonde, a bookphile and outdoor obsessed. She contributes "The Happy Camper" to The WON. She also hosts her own daily blogs about her family and outdoor life. View all posts by Traci Schauf →
The Conversation