Gear Court: No hear ye, no hear ye … I have my custom-molded ear plugs in
Protecting your ears from the high decibels that a firearm can produce is extremely important. A normal conversation typically takes place at 60 to 70 decibels. At around 90 to 95 decibels, the potential for hearing loss can occur. So while you may not think that 9mm Luger round is that loud, you are potentially causing damage to your ears. You've only got one pair of ears, so you need to protect them all the time.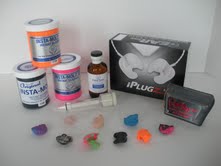 Deciding what kind of hearing protection to use is mostly a personal preference. There are foam and plastic plugs that are disposable and one-time use, or there are muffs that go over your head like a head band that are either electronic or non-electronic. Me personally? I use custom-molded ear plugs. My friend Cathy Ergovich, owner of "What-Ya-Say" makes custom plugs, both with electronic capabilities and without. What I like most about custom molded plugs is they are made to fit my ear and my ear only. Unlike foam or plastic plugs, the material used will form to my ear's shape, eliminating the possibilities for air pockets or noise to get in. This is extremely important when shooting larger caliber firearms or shooting LOTS of rounds where that high decibel is constantly putting strain on your hearing. There are also kits you can purchase to make your own plugs if you don't have someone in the area that does it. I bet at the next major NRA, USPSA or IDPA match someone might have a booth set up and will do it right there. Just make sure you spit your gum out! Ask the salesman why.
Custom ear plugs are also very popular with top competitive shooters too! I've seen Dave Sevigny (Team GLOCK Captain) and Julie Golob (Team Smith & Wesson Captain) wear them, along with many others. But there are pros and cons to these.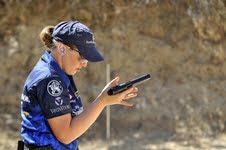 PROs:
1. They are custom made for me which help with blocking out additional noise
2. They are reusable for a long time which helps your pocketbook and the environment.
3. They come in lots of different colors which make them great for both women and men.
4. You can get them with or without electronic inserts that will filter out loud noises.
CONs:
1. They are quite a bit higher in price, especially if you get the electronic inserts.
2. Unlike disposable plugs, these will need to be washed from time to time because you will get a little ear wax on there. Yuck!
3. They eventually will have to be "re-dipped" (but a pro to that means they will last longer).
Find a booth at the next major match you attend or visit www.earinc.com for more information.~Elizabeth Nauman
The reviewer purchased the custom molded ear plugs for this review.
About The WON

The Women's Outdoor News, aka The WON, features news, reviews and stories about women who are shooting, hunting, fishing and actively engaging in outdoor adventure. This publication is for women, by women. View all posts by The WON →
The Conversation