In My Sights: 'Da Peas! Da Peas!'
About three weeks ago, I decided to start a kitchen garden on my windowsill. This was an ambitious idea, considering I have no real windowsills. In spite of that small obstacle, the idea germinated.
With a plan, a mission, my enthusiasm knews no bounds. It was a butterfly of hope, flitting around my hypothetical hothouse. I began to imagine the variety of plants that would grace my garden, the fulsome bounty, the lush foliage. My husband cautioned against my fantasies, "You're going to be very disappointed if this fails. Besides, what have you ever grown inside other than bamboo?" he says. Of course I'll be disappointed, but I squashed his caterpillar of doubt nibbling at my leaves of happiness.
I longed to plunge my hands deep into a bucket of black earth, to feel the crumbles between my fingers, but I know that without some forethought and planning, my organic undertaking was doomed. I watch the sunlight obsessively, plotting how many hours my mobile garden will spend at each window of the apartment where we'll be held prisoners for the winter.
When I mention something about investigating grow lights, hubby points out wryly, "This could be one expensive food plot." I might have said "I'm going to squash you," out loud at that point. I can't help it, once my garden path has been set, I can't help but go down it. I ignore hubby's bad jokes about "plotting to take over the world," and "gardening is the root of all bankruptcy." I settle on spinach and peas, merely because they were the seeds I found in the bottom of the junk drawer, (and I think it will be funny to see the pea vines climb up the curtains) and rosemary and basil from the nursery. Never mind that the basil looks depressed and rosemary looks like an escapee from tumbleweed training camp. I envision the dusty scent of the rosemary when I come in the door at night.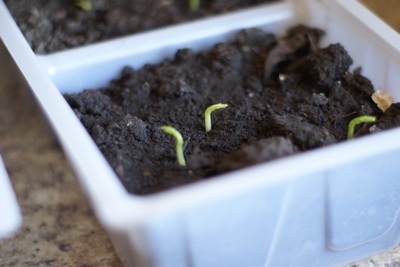 And Hallelujah! Da peas! Da peas! They're poking their brave little heads through the dirt. I'm cheering them on, and holding them up as an example to the hesitant spinach seeds. Green things live on my windowsill, winter can't last forever!
About Traci Schauf

Traci Schauf ia a blogger, a blonde, a bookphile and outdoor obsessed. She contributes "The Happy Camper" to The WON. She also hosts her own daily blogs about her family and outdoor life. View all posts by Traci Schauf →
The Conversation