Prois introduces Tintri shorts for warm weather hunts
Próis® Hunting and Field Apparel has been designing professional-quality huntwear specifically tailored for women since 2008 – and they aren't slowing down now with the introduction of the new Próis Tintri Shorts. With a slew of new exciting products to be introduced in the forthcoming year, serious female hunters everywhere will be prepared for hot pursuit come the first warm hunt of the year.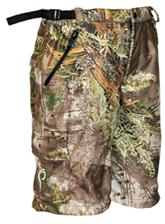 Próis Tintri Shorts are made from 100% brushed tricot 380 gram fabric so your shorts will stay soft, sturdy, silent and snag resistant – helping you keep comfortable and undetected when tracking down your next big trophy. Deep pockets with zippered closures provide a safe and secure stash allowing you to keep your valuables close at hand while large cargo pockets with whisper magnetic closures guarantee quick and quiet access to smaller gear such as tags, game calls, scent blockers and GPS systems.
The new Próis Tintri Shorts are fitted at the natural waist for a slightly higher rise. The waistline features an elastic stretch and Cam Strap with adjustable belting and ladder locks to provide a perfect fit for every woman. And, available in sizes XS through XL, Próis Tintri Shorts are sure to fit huntresses of any size.
Próis Tintri Shorts are available in Realtree AP HD® and Advantage Max-1 HD® so you can blend into your surroundings wherever you venture on your next big hunt.
For more information about the new Próis Tintri Shorts or any other garments in Próis Hunting and Field Apparel's innovative line of serious, high-performance huntwear for real women, contact: Próis Hunting and Field Apparel at 28001-B US Highway 50, Gunnison,
CO 81230 · (970) 641-3355 · Or visit www.próishunting.com. To check out the
latest updates on Próis field and pro staff and company news, visit the Próis blog at http://Proishunting.com/community/index.php. Become a fan on Facebook: http://www.facebook.com/group.php?gid=172754768618&ref=ts.
Follow Próis on Twitter: http://www.twitter.com/Proishunting.
Editor's Note: For hi-res images and releases, please visit our online Press Room at www.full-throttlecommunications.com.
About The WON

The Women's Outdoor News, aka The WON, features news, reviews and stories about women who are shooting, hunting, fishing and actively engaging in outdoor adventure. This publication is for women, by women. View all posts by The WON →
The Conversation