Gear Court: Prois Apparel isn't just for hunting
As an employee of Prois Hunting Apparel, I am lucky to have the majority of our apparel to try out in the field. I can speak from experience when helping our customers pick which items best suit their needs and advise them on temperature ranges, layering systems, camo patterns, and all other concerns and needs as they arise. When I was a young girl growing up in Massachusetts, I would have never guessed that I would wear camo as much as I do now, but I love it. One of my greatest discoveries has been that Prois functions amazingly well as fishing apparel.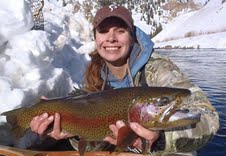 Though this is not the primary use Prois apparel was designed for, it's functionality in the field and its versatility has made it my favorite apparel for fly fishing, as well as hunting. I pride myself on my honesty while reviewing products and though I work for Prois, I owned both the Eliminator Jacket and the Sherpa fleece before I was an employee and paid for both of these products with modeling. This is in strict adherence with my "Will work for camo" policy. Prois founder and CEO, Kirstie Pike, gave me the Xtreme Pants that I review as a Christmas present this year.
Though it hasn't yet been scientifically proven, I am a firm believer that wearing camo fishing helps you sneak up on fish and helps you get closer in spooky fisheries. I have noticed that I am able to stand much closer to fish than I have in the past with other apparel while wearing my Prois. I know a lot of fisherman, including one of the best guides in the Gunnison Valley that swear by wearing camo fly fishing, especially at our most pressured and spooky fishery.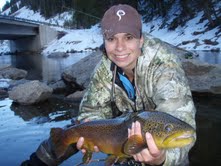 My favorite jacket to wear fishing is the Eliminator Jacket. The Eliminator Jacket is Prois' waterproof breathable lightweight jacket. It is engineered with 100% polyester 8000/5000 laminate, taped seams, and waterproof zippers. It is lightweight so I wear it year round, whenever there is foul weather, as a wading jacket, but I also use it for camo coverage and warmth the majority of the year. It is upsized for layering so I can wear a jacket underneath it when it is cold or just wear it as a shell when it is warmer out. I love using the snap down duck tail to sit down when I am re-rigging so I have a warm place to sit, even when I am wearing waders. Also the fabric does not catch flies and will not snag. It is a great waterproof jacket and has replaced my traditional wading jacket as my favorite jacket to fish in.
I really like to layer underneath it with the Sherpa Jacket. It is a super plush and warm fleece jacket and it is a great layering piece regardless of what you are doing in the outdoors. Flies will catch on this fleece, but they are easy to remove and I often stick flies in my Sherpa jacket while re-rigging so I don't lose them. I am only annoyed by clothing that catches and holds flies while fly fishing.
My next favorite item to fish in are my Xtreme Pants. The Xtreme Pants are Prois' heavyweight pants that are waterproof and insulated with 150 Gram 3M Ultra Thinsulate. They are very warm and the best insulated pants I own. I was so excited when I realized these pants would fit under my waders for winter fly fishing. I fish year round and in the winter my favorite fishing spots can almost always see temperatures well below freezing and often below zero. Last weekend it was -6 ° F when we arrived at our favorite winter fishing spot. I am finally able to stay warm for long periods of time wearing these pants, coupled with my Xtreme Jacket in the winter. The Xtreme Pants and Jacket are also excellent for ice fishing and keep me warm all day in the elements without a shelter. For more information about Prois Hunting Apparel or to place your order visit www.proishunting.com. Tight lines and thanks for reading!~Katherine Browne
About Katherine Grand

Katherine Grand pens "DamselFly Fisher" and works as Pro-Staff and Dealer Relations Coordinator at Prois Hunting and Field Apparel in Gunnison, Colo. She also guides in fly-fishing waters near Gunnison. View all posts by Katherine Grand →
The Conversation