DamselFly Fisher: Fashion feathers fluster fly fishers
Last time I was at the salon getting a haircut, I noticed some lovely saddle hackle in the hair of my stylist. I complimented her and told her that it looked great and that you could tie flies with those feathers. She offered to put one in my hair and I agreed … thinking it would be cool to have something in my hair that could also express my love of fly fishing. Little did I know that I was contributing to a shortage in premium fly-tying feathers and inadvertently hurting my fellow fly fishing and fly-tying enthusiasts.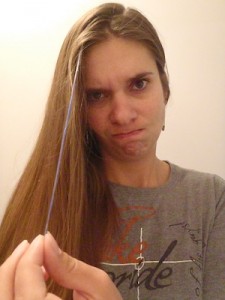 I live in my own little fashion vortex. I have no idea what's going on in the fashion word and tend to dress mostly in camo, outdoor apparel, and often shove my hair under a baseball cap to help cut down on glare and see fish while out on the water. My main concerns are comfort in the elements and practicality. The things I do wear that are frivolous, I pick based on what I like, not what everyone else is doing. I already own a pair of hackle earrings and I thought my hair feather would simply speak of my love of fly fishing to those who could recognize the material. However, after getting my feather I began to see them everywhere and felt as though I fell victim to a fashion fad and was in no way expressing my individuality. This was my first disappointment with my feather.
The next disappointment and the most heartbreaking was hearing about the devastating shortage in fly tying materials that this trend was creating. I learned lot about the fly tying feathers and the special roosters they come from in the process of investigating this shortage. Apparently the feathers that have become so popular for fashion come from specially roosters that are selectively bred to produce long slender tail feathers. These feathers are required to tie the majority of traditional dry fly patterns and tons of popular nymph and streamer patterns as well. These roosters take full year to raise before slaughter – unlike meat birds which can be slaughtered at six weeks old. And, they are rare. Only a few dozen breeders of these birds exist in American, most of which are small operations.
DamselFly's Promise of Penance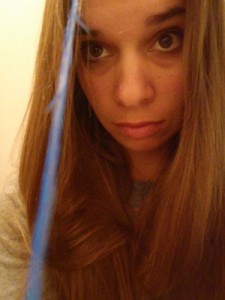 I promise to make up for my transgressions to my fly-fishing brothers and sisters by tying flies with my feather. I am also considering clipping feathers from women's hair as I thank them for their donations to the cause and mailing them to fly shops and manufactures in dire straits. The good news is fashion trends tend to be short lived and this, too, shall pass. Fly tying material that was gathering dust in shops is flying off the shelves and creating some good business for fly shops. In no time things will be back to the status quo and something else will be in demand. You can bet I will be doing my research in the future to ensure no fly fishers or trout will be harmed by my fashion choices. Tight lines and thanks for reading!
Katherine Browne works as Pro-Staff and Dealer Relations Coordinator for Prois Hunting and Field Apparel in Gunnison, Colo. She also works part-time as a fly-fishing guide for Willowfly Anglers at Three Rivers Resort . And, if that is not enough, this active outdoorswoman is an avid photographer, falconer, huntress and freelance outdoor writer.
About Katherine Grand

Katherine Grand pens "DamselFly Fisher" and works as Pro-Staff and Dealer Relations Coordinator at Prois Hunting and Field Apparel in Gunnison, Colo. She also guides in fly-fishing waters near Gunnison. View all posts by Katherine Grand →
The Conversation