Marti Davis Afield: It ain't a shack, it's a huntin' hut
When Barb asked me to join the WON Guns with my own blog, several ideas ran through my head. Kinda like when I'm sitting in the woods and the wheels in my head start turning … I start thinking of things to do, ways to improve hunting gear, places to put stands or blinds and the list just goes on and on.
The past couple of years I've had the opportunity to hunt out of an enclosed, elevated hunting stand in Perry County, Ill. And there were a few of those days I was very grateful for the protection it offered from the extreme elements!
Hunting out of a structure like this was not a new idea or experience for me. About 30 years ago, my Grandpa Troy and Great Uncle Kenny built their "Ruf It Deer Lodge." It is a six-foot by eight-foot structure built on a trailer frame with two shooting rests and tilt up windows. There is even a small propane stove top they would use for cooking or as a heat source.
Unfortunately, I didn't ever get the chance to spend a day in the woods with my grandpa in the hut. He passed away when I was 17 and I didn't start hunting until I was 26. (I didn't know what I was missing out on.) A few years back I did get to hunt out of the "Lodge" with Uncle Kenny (I'm sure Grandpa was with us too.). It was a very chilly April morning and I shot the first and only turkey from the Hut. Uncle Kenny passed away this past winter and I'm glad we got to share that time together in the woods.
In my next blog I'll tell you all about the Huntin' Hut that I built with some help from a couple of my hunting buddies.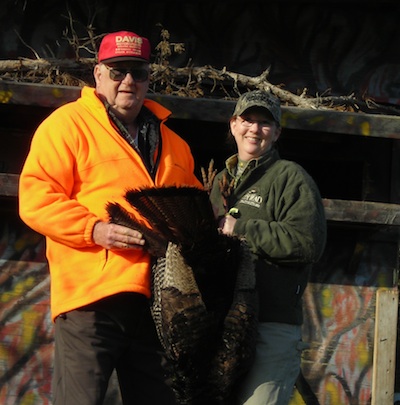 About Marti Davis

Marti Davis is a staff member for Browning Trail Cameras, WoolX and Mossy Oak. She is an authority on most types of hunting in North America, and very active in mentoring the next generation of young hunters. View all posts by Marti Davis →
The Conversation