Gear Court: Nothing but Muck for this backwater blue mud babe
My first pair of Muck Wetland boots were purchased well over five years ago and they still travel everywhere I go. When Muck graciously provided me with a long sought-after pair of Muck Woody Bayou as part of their "Are you Muck Material?" campaign, I was thrilled.
My only complaint with my original Mucks was that I was frequently wading off into areas that topped them, resulting in a boot full of water. Seriously, after five plus years, that is my only complaint.
That complaint has been addressed beautifully with the Woody Bayou. The Muck Woody Bayou has a unique system that allows the wearer to roll down and snap the upper portion or quickly unsnap and pull up and cinch – poof! Instant waders!
I no longer have to pack a set of icky rubber hip waders that were hot in the summer and cold in the winter. The Muck Woody Bayou boots fill the bill for both a regular knee-high boot and a thigh-high hip wader quite well.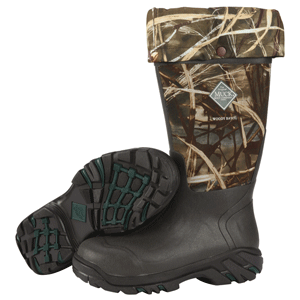 All Muck boots are 100 percent waterproof, keeping feet warm, dry and protected in harsh weather and messy working conditions. The secret? Their exclusive, self-insulating, waterproof CR-foam shell construction. The CR-foam bootie material acts as a "neutral medium" between inside and outside temperatures. It's very light-weight material keeps feet cool in hot weather and warm in cold weather. Natural rubber overlays act as a protective skin for the upper bootie. The upper has a triple-reinforced toe area and quadruple-reinforced heel area. The outsole is made of high abrasion natural rubber. The rubber in the boots will stay flexible for years.
I've been putting my original Mucks through many difficult situations over the past many years. With one quick scrubbing, not only do they look as good as brand new, they continue to perform as well as a new pair out of the box.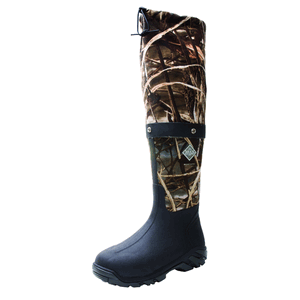 One of my favorite parts of Muck boots is the structured, breathable air-mesh lining used in all of Muck's products. Air-mesh is made up of thousands of tiny vertical fibers that allow air to circulate throughout the interior lining surfaces. Excess humidity and perspiration that might build up in the boot are quickly wicked away. This creates a comfortable environment for your feet that lasts for extended periods of use. NO more sweaty hot or cold feet.
Comfort is another reason I always choose Mucks. Because my Multiple Sclerosis causes me to fatigue quickly, especially when walking for extended periods, a heavy insulated rubber boot just seemed to cause more problems than it was worth. The Muck boots solved all of that and I can walk farther and stay on my feet longer, thanks to the light-weight technology of the Muck boots.
My new Woody Bayous come with all of the standard features we've come to expect from Muck's high quality line of footwear, along with these specific to the Woody Bayous :
Hidden, extendable skirt with snap closure for multifunction use
Stretch-fit topline binding snugs calf to keep warmth in and cold out
5mm CR flex-foam bootie with four-way stretch nylon, 100% waterproof (to skirt only), lightweight and flexible
Advantage Max4® camo
Molded rubber Speed-Tracker outsole with molded EVA midsole
Additional Achilles reinforcement for added protection
Added toe protection with a wrap-up toe bumper
Reinforced toe
Comfort range of -20ºF to 70ºF
Muck doesn't claim that the skirt is 100% waterproof, however I have been out in the water with mine chasing dogs and have stayed dry with no leaking or dampness. The skirts, as Muck calls them, are easy to unsnap, pull and cinch to fit your own particular thigh size for a snug fit at the top. They are great not only slogging through the swamps and marshes, but also working through the briars and tall grasses when doing upland hunting or work.
I give these new Woody Bayous from Muck Boot Company five full stars, and expect that they will be my go-to boots for most any outdoor adventure from bowfishing to waterfowl hunting to retriever hunt tests and on to mushroom hunting. There's no outdoor activity these boots can't tackle!
It's Muck for me! Check out Hanks Clothing's line of Muck Boots. Free shipping. Free returns. The Woody Bayou costs $201.95.
Visit Gretchen Steele's photography website.
The Conversation