Hanks Clothing offers great choices for outdoor women
If you didn't get useful gifts this Christmas, or if you wind up receiving a pile of cash and want to spend it on great quality clothing items so that you can be outdoors this winter, we recommend checking out Hanks Clothing. Not only does Hanks offer a full line of women's Muck boots, but we like their Carhartt clothing, Bogs boots, Acorn slippers and accessories. Just take a look below at some of our picks — Women of The WON, that is — and why we like.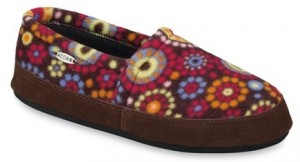 The Acorn slipper — either enclosed Polar Mocs or in spa flip flop style. Cushy yet comfort your feet. This little number is on sale for $33.99 and is called Chocolate Dots.
Here's the deal with this photo. I'm wearing Carhartt overalls, jacket and hat … and Muck boots from Hanks! Carhartt … when I'm not in camo, I want to be in it because that means I'm outside! Hanks Clothing describes its new line of Carhartt overalls:
Womens Carhartt overalls are brand new to Hanks Clothing! If you love to be outdoors working on your flowers or your garden put on a pair of Carhartt overalls and get down in the dirt. With such features as padded knees you could enjoy being outside feeling the sunshine all day without worrying about your knees. If you think that your shutters on your home could use a little sprucing up jump into the womens Carhartt overalls and have a ball. They are easy to move around in and have multiple utility pockets to help you have more hands if yours are full.
Yep, that about says it all. They are easy to move in and that's why I love Carhartts … it's like they meld with your body to create a working machine. They stay soft, yet are durable. And they are warm!
We all wear Muck boots at The WON. I own three pairs. One of the main reasons we like, like, like Hanks Clothing, is because they offer free shipping! And even some of their items qualify for free shipping on returns. They make it simple to try and simple to buy.
Check out Hanks Clothing and see if your outdoor lifestyle can be enhanced in 2012, too!
About Barbara Baird

Publisher/Editor Barbara Baird is a freelance writer in hunting, shooting and outdoor markets. Her bylines are found at several top hunting and shooting publications. She also is a travel writer, and you can follow her at https://www.ozarkian.com. View all posts by Barbara Baird →