Shelley Rae launches new business offering social media services to firearms industry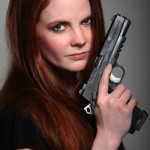 Redmond, WA – Popular online firearms writer Shelley Rae has launched her new website offering social media services to the firearms industry.
Shelley Rae is best known for her work as Social Media Director and daily contributor for online shooting sports magazine Gun Nuts Media, LLC in conjunction with her position as Range Manager and world-class shooting sports facility West Coast Armory. Her newest website, released just in time for the 2012 Shooting, Hunting, Outdoor Trade Show (SHOT Show) discusses the importance of social media to the firearms industry and offers social media services to companies and individuals looking to expand their brand recognition.
The firearms industry has long been lagging behind many others in recognizing the importance of technology and the internet as a means of communication. Marketing has evolved and as time goes the importance of relationship marketing becomes more and more apparent. Developing relationships with clients through the use of social media can improve a company's image and provide valuable client to company feedback.
For the past year Shelley Rae has been doing social media work with Gun Nuts Media, LLC who recently announced their partnership with the International Defensive Pistol Association. She has also done independent social media work with multiple brands, including world-class firearms academy Insights Training Center and the NSSF five-star rated West Coast Armory Indoor Range. With her experience developing identities, including her own personal brand, from the ground up in conjunction with her knowledge and expertise in the firearms industry, Shelley Rae is well poised to herald companies and brands into the future through detailed social media planning.
For more information on Shelley Rae's work as a writer or social media consultant find her newly designed website at http://www.shelley-rae.com.
About The WON

The Women's Outdoor News, aka The WON, features news, reviews and stories about women who are shooting, hunting, fishing and actively engaging in outdoor adventure. This publication is for women, by women. View all posts by The WON →
The Conversation