Intermedia Outdoors launches Sportsmenvote.com
NEW YORK, MARCH 6, 2012 — /PRNewswire/ — With sportsmen issues becoming more prevalent in today's elections, InterMedia Outdoors is pleased to announce the launch of sportsmenvote.com — a powerful new website dedicated to sportsmen and the issues that will affect them most in the 2012 election.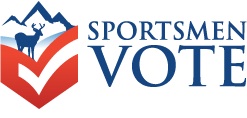 "As the leading media resource for over 52 million hunters, shooters, and anglers, InterMedia Outdoors has a long history of providing information, inspiration and advocacy for the Sportsmen community," says Jeff Paro, CEO of InterMedia Outdoors Inc. "Sportsmenvote.com will serve the important role of keeping our communities informed and engaged."
"Our goal is to make sportsmenvote.com a resource for America's 80 million sportsmen," says Todd Smith, VP of Content Development. "We're not taking sides or endorsing anyone. We're simply creating the place for sportsmen to learn about the issues that concern them most, find out where the candidates stand on those issues and make their voices heard."
A variety of interactive features makes sportsmenvote.com uniquely positioned to cover politics from a sportsman's perspective. Key drivers on the site include:
Exclusive polls showing real-time results on how sportsmen feel about key issues such as gun control, public-land access and how America can balance the preservation of wildlife habitat with our nation's need for energy development.
A vibrant news feed, that will continually update sportsmen on all the issues of interest to hunters, fishermen, shooters, and wildlife conservationists.
An interactive "Candidate Match" tool that matches users to the presidential candidates.
A special panel of industry experts to provide unique perspectives spanning a wide range of sportsman issues from clean water to the second amendment. Panelists will include leaders such as Jeff Crane, President of the Congressional Sportsmen's Foundation and Steve Sanetti, President and CEO of the National Shooting Sports Foundation.
"The long-term objective of the site is to get more sportsmen and women to the polls," continued Smith.
"As sportsmen, we need places where we can get together behind issues impacting us. If we don't gather our forces and continue to become educated voters, we'll lose our rights to hunt, fish, trap and shoot. This is why I'm supporting InterMedia Outdoor's Sportsmensvote.com," said Jeff Crane, president of the Congressional Sportsmen's Foundation. "Similarly, the need to unify elected officials behind the challenges facing hunting, fishing, trapping and shooting is why the Congressional Sportsmen's Foundation (CSF) was created in 1988-89 and why CSF continues to grow. We still have a lot of work to do to bring our diverse community together to make sure we're thwarting the attacks on our rights and on true conservation, and to advance the sportsmen's agenda in the political arena."
Log on to sportsmenvote.com and see politics from a sportsmen's perspective.
About InterMedia OutdoorsInterMedia Outdoors: InterMedia Outdoors, Inc. is the largest media company in the outdoor-enthusiast category, exclusively serving the information and entertainment needs of outdoors enthusiasts, with the largest network of websites dedicated to hunting, shooting and fishing; a portfolio of 15 magazines including powerful brands such as Petersen's Hunting, North American Whitetail, Guns&Ammo, In-Fisherman, Fly Fisherman, and Florida Sportsman; syndicated radio programming; 23 market-leading television productions, the largest library of outdoors television programming and Sportsman Channel, the only television network dedicated exclusively to hunting, shooting and fishing.
SOURCE InterMedia Outdoors, Inc.

About Barbara Baird

Publisher/Editor Barbara Baird is a freelance writer in hunting, shooting and outdoor markets. Her bylines are found at several top hunting and shooting publications. She also is a travel writer, and you can follow her at https://www.ozarkian.com. View all posts by Barbara Baird →