Wanna Win Won? Meet Bang Bang Boutique's 'Mother' of all range bags
Not too long ago, a woman searching for a decent range bag, one with a bit of style, was often told to settle for a diaper bag. After all, it is padded and has numerous compartments like a range bag. If you can get past the pale colors, the cute little baby animals and convince yourself no one at the range will know the difference, it may be a suitable alternative. Some are better substitutes than others. Just last weekend, I was in the baby aisle looking for a replacement diaper bag when I happened upon a black duffle style that looked so similar to the small range bag Bang Bang Boutique offers, I couldn't help but shout "Hey – this looks like something I could put my guns in!" – right there in the baby aisle amidst terrified looking mothers.
People – let us stop this madness! Diaper bags are for babies and the range bag Bang Bang Boutique is giving away this month is for your firearms.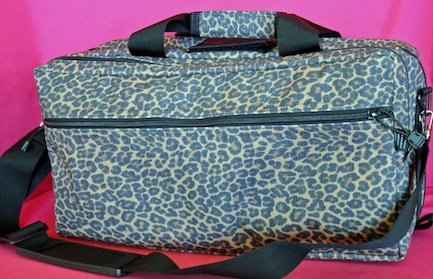 In honor of Mother's Day, this give away is nothing short of the Cadillac of all range bags. And doesn't your mother or mother of your children deserve the very best? Imagine her delight on the morning of May 13th when she opens a card that tells her she will soon be receiving the very range bag she has always been searching for, in her favorite color and embroidered with her name in her second favorite color staring back up at her? No doubt her next move will be to load it up with her gear and realize "Hey! I need more gear, ammo, perhaps a new gun or two – this bag is not nearly full enough!" Which will give you, gentle gift giver, a plethora of gift giving ideas for this special lady the rest of the year.
Versatile is almost an understatement as the Handgun Range Bag is three bags in one.
1) It is a padded handgun carrier with two zippered compartments and a divided middle compartment.
2) It is a separate carryall bag that has a compartment for the hand gun carrier and a separate compartment for accessories
3) It is a combination of the two bags that can be carries as on convenient, protective, organizer bag for your handguns and the associated gear.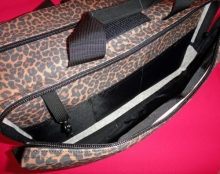 Made in the USA, construction will be the least of your concerns. Outside, the bag is crafted in 1000 denier Cordura and available in every color of the rainbow as well as a few wild animal prints, and Pink True Timber Camo. Other colors or prints may be available upon request. Inside, find 420 denier nylon packcloth lining, 3/8" high density foam padding and heavy duty YKK zippers. All seams are taped and double stitched. All stress points have been reinforced.
As each bag is made to order, it takes 2 weeks to ship. The winner of this bag can have their mother's name embroidered on the front pocket – which is also an option for anyone who buys the bag through Bang Bang Boutique. We will gladly provide you cover on 5/13/12 by making sure you have something to stick in your mother's day card to prove you were not slacking off and your beyond thoughtful gift is on its way. If your lady needs a larger bag, be sure to check out the Hand Gun Range Duffel!
No matter what gift you choose, get 15% off at Bang Bang Boutique with coupon code MOMWON.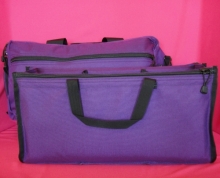 To win, just tell us about one thing that most people probably would not carry, but that you carry, in your range bag and why. Is it a lucky charm? Is it a special snack? What is it?
Deadline is midnight, May 4.
About The WON

The Women's Outdoor News, aka The WON, features news, reviews and stories about women who are shooting, hunting, fishing and actively engaging in outdoor adventure. This publication is for women, by women. View all posts by The WON →
The Conversation