Bright on the 'Betty' — part of Looper's 'Pin-Up' Collection
Thanks to Stacy Bright, who reviewed the Betty IWB holster, offered by Looper Law Enforcement, the Looper Brand.
Does the "Betty" IWB holster (made by the same company as the "Flashbang") provide a viable concealed carry option for women?
SPECIFICATIONS:
Model Reviewed: LCP specific holster
Material: Thermo-plastic
Color: Black clamshell, metal clip
Weight: 1.6 oz
Website: www.looperlawenforcement.com
Retail Price: $39.99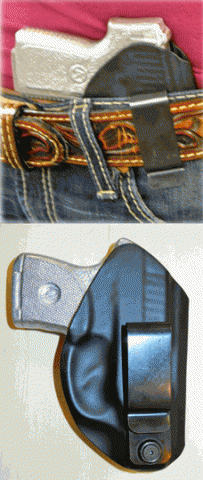 PROS
· Comfortable and lightweight
· Holster is gun-specific and fits like a glove
· Clamshell fits over the firearm and prevents slide and trigger from moving during carry
· Adjustable metal clip allows you to change the cant of the gun
· Tuckable and allows for a shirt to be tucked in between the gun and the metal clip
· Can be worn anywhere IWB, clipped inside a purse, or even on the top of a cowboy boot. (I did not test the cowboy boot carry method, but the manufacturer suggests it as an option.)
· Available for a variety of gun sizes and models
· Price – affordable and good quality material
· Excellent customer service from the manufacturer
CONS
· Slightly difficult to conceal, the grip of my gun sticks out above waistband and creates slight bulge
· I found that you must draw more forcefully, and in a quick fashion, to remove the gun from the holster.
· Drawing is easier with two hands, one to keep your pants from pulling up and the other to actually draw the firearm. A negative aspect if the situation only allowed one free hand.
· Plastic clamshell against skin in hot weather does cause more sweat to build up in that area. (Moleskin applied to the body side of the holster helps considerably.)
REVIEW CONCLUSIONS
This holster is another great choice from Looper Law Enforcement. The "Betty" is not just for women, however it does work well with smaller firearms which a lot of women prefer. Again, you need to have plenty of practice with this holster, as it does require a "snappy" draw which is different from your average holsters. I appreciate the tuckable feature and the adjustable cant, and feel like it is personalized for my body. This holster is very versatile and is one that I will use in the future.
~Permission to reprint by Canovi & Associates, "Where training is survival," Springfield, Mo.
About The WON

The Women's Outdoor News, aka The WON, features news, reviews and stories about women who are shooting, hunting, fishing and actively engaging in outdoor adventure. This publication is for women, by women. View all posts by The WON →
The Conversation