Coleman 'Hot Water on Demand' an affordable outdoor luxury
After a long hot day (or maybe even cold day) of hunting or being outdoors, do you dream of a nice hot shower? When you are at home or staying in a nice lodge, this request is only a door away. But picture yourself in the wilds of the Colorado Rockies, a good two-hour drive from the nearest 'pay' shower at the state park. Do you really want to give up a whole day of hunting (or hiking) to get that hot shower?
My husband and I used to do this, finally when we got tired of just toweling off we would give up most of a good day of hunting to drive in to the nearest state park and take a five-minute shower for about $2 in quarters. That was before we acquired a Coleman Hot Water on Demand! It's a little bulky to pack in, but if you can drive into your location it's worth taking along!
The Coleman Hot Water on Demand will heat cold water to 100 degrees in five seconds! It requires a propane cylinder and has a rechargeable battery for the pump, all self-contained. It comes with a collapsible five-gallon container for water, but you can insert the bump tube into any water container, or clear water stream for a water source. This is a staple for our hunt camp, or for camping in general! It's great to have hot water for washing yourself or the dishes from dinner. I've even used it to brew tea, it comes out that hot!
For a full shower you, may need the help of a friend as you have to hold the selector to the hottest point, this is a safety feature as the water becomes very hot. Or with some practice you may get the hang of showering by yourself, but it can add some additional excitement to your trip. The shower spray adapter does come separately, but is well worth the $22.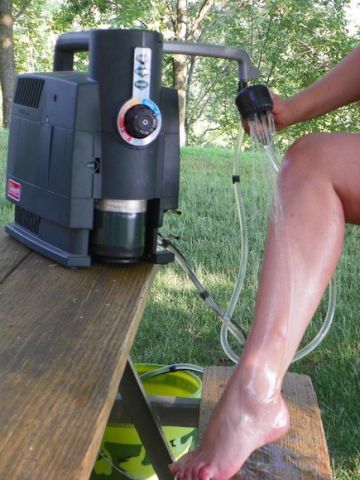 In our hunt camp, when it's just me and my hubby, we just take our showers in the open, it's a unique experience to take an outdoor shower, but man, oh man, does it feel great! When we move the Hot Water on Demand to our hunt cabin, we will rig some kind of privacy drape, but with no water hook-up it will be awesome to still have a hot shower or hot water for our needs.
My husband and I can both take a shower, including washing our hair using about three gallons or less, of water. You can use more if you have ready access; but, when you have to carry your water in you learn to be frugal. The Coleman Hot Water on demand list for $279.99 at Bass Pro or Cabela's. When you are in hunt camp and trying to remain as scentless as possible, the Hot Water on Demand can mean the difference between going home with a filled tag or not.
About Ellen Benitz

Ellen Benitz is retired field staff from the National Wild Turkey Federation. She has hunted both with a bow and firearm for more than 30 years. In that time she has taken different types of fowl and mammals including being the first woman to take a bison with a Knight muzzle loader. Ellen has written for the Sho-Me Gobbler, the NWTF's state newsletter, for more than 10 years, been a contributor to The Outdoor Guide and to Buckmaster's web edition. She is a past youth guide for the Kansas Governor's One Shot turkey hunt and has planned various Women in the Outdoors hunts, along with also instructing turkey and deer hunting at WITO events. She is a collaborating author for two Dutch Oven cookbooks and often instructs Dutch Oven, Outdoor Cooking or Wild Game cooking at WITO events. Ellen has hunted mule deer in Idaho, bison in Montana, elk in Colorado, black bear in Canada, turkey in four different states (so far) and deer in Kansas and Missouri – taking two Pope and Young bucks in the last three years. She admittedly "lives to hunt" and loves any outdoor activity. View all posts by Ellen Benitz →
The Conversation