Blakely wins the HERCAMOSHOP.COM giveaway
Marti Davis has lots of ideas about being outdoors, and we want to tap into her treasure trove of tips. Thus, we're introducing "A Marti Moment" as a spinoff of her popular Marti Davis Afield blog.
And, because we want to reward you for reading this first tip, check the end of this post and see what you can win!
Want to do what you can to help improve the health of your deer herd? I recommend minerals. Spring and summer are when deer need them the most. The does are lactating and raising this year's fawns and the bucks are growing their antlers. Both bucks and does need minerals and nutrients to remain healthy.
I use Trophy Rock, which is an all-natural mineral lick. It is mined in rural Utah and is loaded with more than 50 trace minerals.
I typically place a rock in front of a trail camera. So, the deer are getting the minerals and nutrients they need and I get to see the potential for this fall's hunting seasons.
Happy Hunting!
Marti
~Editor's note: You know, Marti, we're thinking that even if you don't hunt and you want to give benefit to a mama doe and her young ones in your urban neighborhood, it wouldn't be such a bad idea (especially with this year's drought conditions) to add one of these licks near a pond or pool, or just at the edge of your back yard.
Blakely wins the giveaway, provided by our advertiser, HERCAMOSHOP.com!
HERCAMOSHOP.com sponsors "A Marti Moment." It's giving away to one lucky winner (chosen by Random.org) this package: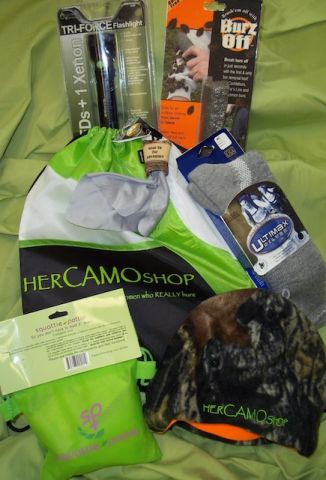 1 Squattie Pottie complete
— perfect for tree stand and duck blind and boat and anywhere you gotta go but really don't wanna go
1 HERCAMOSHOP drawcord bag — you want to be "with it," right?
1 HERCAMOSHOP reversible beanie — will stretch to fit any head size
1 pair Wigwam silver max socks — no more foot odor!
1 Spudz lens cleaner — the best thing? A hook so that you can hang this microfiber cloth on any bag, keyring, belt loop …
1 BurzOff — a great way to whisk away those burrs after being afield
1 Sarge 6 LED red/green/clear flashlight — perfect for camping, hiking, hunting, or right on your nightstand
About Marti Davis

Marti Davis is a staff member for Browning Trail Cameras, WoolX and Mossy Oak. She is an authority on most types of hunting in North America, and very active in mentoring the next generation of young hunters. View all posts by Marti Davis →
The Conversation