Olympic shotgunner Rhode earns fifth medal and wows the world with class
Last Sunday, July 29, shotgunner Kim Rhode earned her fifth Olympic medal in five consecutive Olympics in the shooting sports, with a gold in skeet – hitting 99 out of 100 pluming purple clays. That's a first for an American athlete – male or female. She also became the first woman to win three gold medals in the shooting sports.
The following day, on a flight home from Kim's state of California, I read two newspapers: USA Today and the Wall Street Journal. While both of these publications featured Kim (USA Today ran a large photo of her in its sports section), they both chose to highlight swimmers and gymnasts as teasers and front-page newsmakers. Even poor Michael Phelps received better forward facing coverage in print than Kim did.
Why should that matter? Although Kim wore more clothes to compete, she deserves better treatment than this.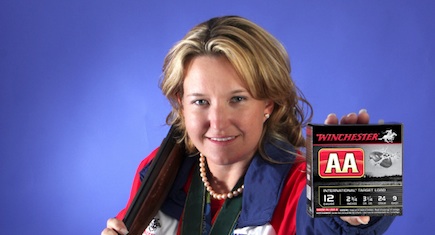 Not only does Kim shoot – and she revealed that she cycles 500-1,000 rounds of shotshells through her gun on a daily basis, which means she has shot almost 3 million shells – she also hunts.
I met Kim last year in Las Vegas. Kim attended Media Day before the SHOT Show at the behest of her sponsor, Winchester, promoting a new line of steel shot called "Blind Side." At this time, this ammo had only been in one true field test, in Stuttgart, Ark., Duck Capitol of the Galaxy. Of course, Kim has shot the ammo, and she said, "This is the newest thing out and it's awesome for knock-down power. It's the best thing I've seen in steel. … You can actually get a pattern … one that doesn't have a hole in it where the bird flies through."
So after Kim explained the technicalities of the shot to me, we started talking about hunting and the outdoor lifestyles we both love. A lot of people know that Kim has grown up hunting – unusual since she hails from Los Angeles – but it floored me to learn that she in a family where her grandfather and father raised hound dogs! Kim loves to upland bird hunt, anywhere. She said, "For me it's about the friends and camaraderie, as well as the hunt."
What I like about Kim is the balance I see in her way of living. She not only hunts when not training for her next competitions, she also restores antique automobiles and collects first-edition children books. Her most recent find was a Beatrix Potter edition of Peter Rabbit last week, while in England.
And another thing I like about Kim's story? Her dad is her coach. I remember reading that he said he noticed that at an early age, Kim had what it took to compete in skeet and trap. She exhibited exceptional hand-eye coordination and she also had a competitor's spirit.
I'd say this combination has worked. Kudos to Kim Rhode – a role model to hunters and shooters and future Olympians. To illustrate her class, the New York Times quoted Kim after her championship as saying, "I don't think it ever becomes old hat," she said of the Olympics, adding, "It's really about the journey."
Kim will compete on the trap field starting this Sat., Aug. 4.
About Barbara Baird

Publisher/Editor Barbara Baird is a freelance writer in hunting, shooting and outdoor markets. Her bylines are found at several top hunting and shooting publications. She also is a travel writer, and you can follow her at https://www.ozarkian.com. View all posts by Barbara Baird →