Sara Ahrens' OffBeat: Products to prepare you for the zombie apocalypse
The whole 'zombie' craze has always struck me as a bit ridiculous. Really, we all know it's just another marketing strategy, right? Well, an incident a couple months ago in Miami has me re-evaluating my position. The more I considered their existence, the more prevalent the evidence of their possible existence becomes. I know the May 26, 2012 face-eating incident may have been an isolated one, but an increase in these sorts of episodes (thanks to a new form of LSD called 'Bath Salts') have recently been seen, according to Miami police and doctors.
In my job I witness people under the influence of illicit narcotics everyday. The most commonly abused narcotics in my world include crack, heroin, and marijuana. Unless there are associated psychological conditions or some other extenuating factor, I can safely say that those behaviors are drug-specific, not zombie-like (unless you count those who overdose on heroin only to be brought back to life by Narcan … that's kind of zombie-ish). I have never witnessed someone under the influence of 'Bath Salts,' which I know of, but from the sounds of Miami doctors and police, I probably will … and you may too.
I have seen situations with people suffering from excited delirium, which is a condition I suspect the Miami 'zombie' suffered. This is a medical emergency that generally results in death if not contained quickly. These individuals are impervious to pain, disrobe, sweat profusely, demonstrate superhuman strength and endurance, and break glass. When you see something like this you should be very afraid (I know the police are) and understand that the situation is probably not going to have a happy ending.
After reconsidering my beliefs about zombies, I came to the conclusion that these behaviors must be the first stage of the zombie apocalypse. So far the police have been able to quell these situations nationwide, but I began to wonder what if? What if the situation doesn't end? Could there be a zombie outbreak? I don't know because it hasn't happened yet. That being said, perhaps you want to err on the side of zombie-preparedness? I don't want to panic anyone, but the Government, specifically the Center for Disease Control and Prevention (CDC), seems to know something the rest of us are just figuring out.
Take comfort that in my search for items to help me prepare for a possible outbreak, I found a plethora of zombie products that claim to defend against such a situation. The products I have reviewed haven't been tested in a real world situation against zombies yet but nonetheless; some of them are pretty awesome.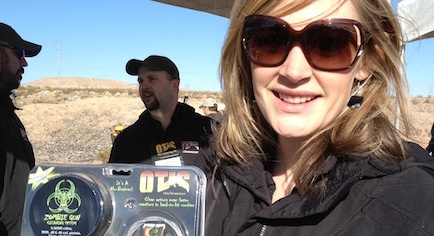 OTIS Zombie Gun Cleaning Kit
Even before the Miami zombie attack in May, I came to realize this was zombie stuff was serious business. When I visited the OTIS technology booth at the 2012 SHOT Show and saw that even OTIS was preparing for this impending doom, I decided I had better stop living in denial and investigate further.
During a life or death situation, do you really want to wonder if your dirty firearm is going to function? I think not. Luckily OTIS has your back. The OTIS zombie gun cleaning kit features:
Five bronze bore brushes to clean calibers 5.56MM, 40 & 45, 9MM and 12-gauge
8" and 30" cleaning cables to properly and effectively clean your firearm breach-to-muzzle
Rubberized patch saver for 360 degree cleaning of your shotgun barrel
Specialized precision tools for complete breakdown and fine cleaning of all critical and hard to reach areas
Lightweight, soft pack with belt loop for convenient carrying
EOTech Zombie Stopper (XPS2-Z)
EOTech's XPS2-Z is a sight with which I have prior familiarization. It's a sight I use on my rifle. EOTech is popular with law enforcement because they are durable and dependable. At work we issue rifles and each gun is generally not assigned to a specific officer. So everyday you will get a rifle that someone else carried on the shift before you. Our rifles are in soft cases and the problem with randomly assigning equipment to different people is they don't always treat things that don't belong to them with the utmost care. I'm sure our rifles get thrown in the trunks. They sometimes endure high-speed driving on less than smooth roads. And sometimes they get wet from the rain. One thing I can tell you about our EOTech sights is that we have had them over a decade and all but one, are still in service. They hold their zero, even with all they go through.
So what's different with this sight? The difference is the holographic biohazard reticle. What's special about that? It's shaped like a biohazard symbol, which allows you to quickly acquire your target and terminate the threat … before it eats your brain.
Additionally the sight features:
Single transverse 123 battery to reduce sight length
Shortened base only requires at most 2 3/4 inch of rail space
Battery cap is a simple O-ring, tethered cap that offers a better seal
Average battery life at brightness level 12 is roughly 600 hours
Hogue Handall Zombie Green Grip
When I recently purchased a new Glock 35 for work, I went online to purchase a new Hogue Handall grip. I discovered that Hogue also makes grips in 'zombie green.' Who knew? With a wild mix of excitement and determination, I double-checked my agencies operating procedures regarding duty firearms. We are pretty strict and we cannot customize the inner mechanics of our duty weapons, so I wasn't sure about the grips. My recollection was accurate, the policy doesn't address grip selection, so I ordered the Zombie Green Hogue Handall grips.
I have always used a Hogue Handall grip because my hands sweat and they are comfortable. What I didn't expect was the irritation I caused with a small percentage of my co-workers. I still don't fully understand the reaction I got even after 11 years of service in the Army. I get the 'dress right dress' mentality, but I got out of the Army. My firearm is the most important piece of equipment I carry and I should be able to personalize it and not offend coworkers.
I have kept my Hogue Zombie grip and I have no plans of removing it because of one positive benefit I had not anticipated. Almost every night I work at least one citizen notes that my firearm is different from my co-workers and they ask me about it. This is important for two reasons. The first reason is that whenever someone asks about my firearm, I am on high alert. I know that before someone challenges me they are sizing me up. Do I look like Barney Fife, or do I look like RoboCop? When someone sees I put extra care into my firearm, I hope they understand that this care extends beyond just looks, but also includes my training and proficiency. (For that same reason, I also carry three spare magazines on my duty belt as opposed to the standard two.) The second reason I am keeping my zombie grips (at least until I am forced to remove them) is because they are a good conversation piece with citizens. When they ask me why my gun looks different I respond, " Unlike the other officers', my gun kills the undead." They look at me weird for a moment trying to decipher what I've said. Sometimes they get the joke, and sometimes they don't … either way I get to laugh.
Hornady Zombie Max Ammunition
Though I have purchased some of the Hornady Zombie Max ammunition for the purposes of this blog, I haven't actually fired them because it's a bit pricey and I am saving them for an emergency. I would be remiss not to mention their existence. Without having fired them, all I can really say is that the packaging appeals to my impulsive, child-like nature and I find the 'zombie green' polymer tip on the 223 rounds clever.
TRUGLO Tritium / Fiber Optic (TFO) Handgun Sights
TRUGLO isn't marketing their TFO sights for defense against zombies, but they could. When I purchased my Glock 35, I also looked into night sights. I have found that the traditional Tritium night sights have a tendency to become fouled on the Glock. Overtime the front sight dims, and I suspect that is because of the port on the upper receiver near the front sight. I favor fiber optic sights, but my agency's policy only allows Tritium sights for on-duty firearms. This never made a lot of sense to me because I will never shoot in total darkness. There will always have to be ambient lighting for me to be comfortable taking a shot because if there isn't, then I have no business shooting … since I wouldn't be able identify my threat.
The TRUGLO TFO sight is without a doubt, one of the best products I have ever found. They are super bright in all lighting conditions and my only gripe is that the front sight is really long. It can be mounted to the Glock 35, but it hangs over the port and I had to secure it with Loctite. By the way, the sights match the grips. Bonus!
Mutilating Zombie Targets by Zombie Industries
Now that you have the sights, ammunition and grips, you have to prepare and train for possible firefight. Zombie Industries has developed a target system to help you identify your threat. It is a reactive target that mutilates as you shoot it.
Who doesn't prefer a reactive target as opposed to a paper target? This target can be purchased at Brownell's.
Some of the features include:
Perfect for use indoor or outdoor, with no bloody mess to clean up
Life-sized target 'wounds' florescent orange when you shoot it
Can be shot with more than 1000+ rounds of assorted calibers
Includes biodegradable filling
Target can be reused to finish off another day
Includes wood stake to mount the target
Printed box with a standard shaded scoring line target on both sides to help sight in your weapon
Made in the U.S.A.
Some of the benefits include:
Reactive, shoot and see target is much more fun than shooting a paper target
Withstands hundreds of rounds from various calibers
Included mounting stake make setup quick and easy
Hand painted zombie target provides for the most realistic zombie shooting experience possible
Three dimensional target also gives you a much more realistic shooting experience
My investigation into the existence of zombies was inconclusive. I think given the breadth of products flooding the market, and the recent sighting in Miami, there is strong evidence to suggest they might exist. Just in case they do, you might want to be prepared.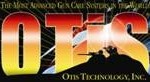 Sara Ahrens' Offbeat is sponsored by Otis Technology.
The Conversation