Marti Davis Afield: Two trips to Pinckneyville – a little piece of hunting heaven on earth
Over the past several years, southern Illinois, specifically the small town of Pinckneyville, in Perry County, has become one of my favorite places to enjoy the outdoors.
This area is an outdoor person's dreamland with its big whitetail deer and long-beard turkeys. There's also wonderful waterfowl hunting and great fishing in the area lakes and reclaimed strip pits. But, my favorite outdoor pastime is hunting the big bucks that roam the crop fields and creek bottoms.
This past December I was able to connect on a nice 10-point buck with my muzzleloader. I guess you could say this was the culmination of the past three season's preparations. Two years ago I was unable to hunt in December due to having a broken back from a tree stand accident. (That's another story I'll have to share with you in the future.) Last year I saw lots of deer and I passed several really nice three-and-one-half-year-old bucks, giving them the chance to become bigger and mature.
2-2-2 (you'll see why)
On December 2, 2011, the second day of the second firearms season, I settled into my stand well before daylight. Just like I had done the day before, I was prepared to sit from dark to dark.
I was on the edge of a tree line overlooking a winter wheat field and below me was a creek, which flowed well out of its banks from recent rains. Between the field and creek lay a mixture of trees and brush with some strategically trimmed shooting lanes.
As day started to break, I caught movement out of the corner of my eye; a buck was making his way along the inside of the tree line. I pulled my binoculars up and caught enough of a glimpse that I quickly switched over to the scope on my gun. If the buck continued on the path, he would soon be in one of the shooting lanes.
Time seemed to stand still as I was waiting for him to clear the last swamp oak and walk into the shooting lane. Finally he did, I looked at his antlers one last time and decided this was a deer I was ready to put my tag on. He was only 25 yards away from my stand, so I settled the crosshairs low on his front left shoulder.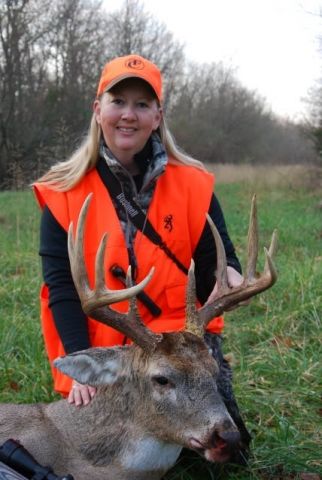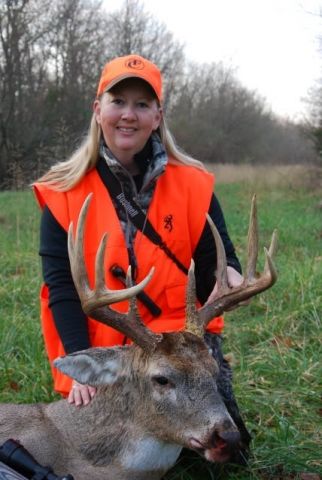 After the shot I could hear him kicking up the leaves as he ran away. When the smoke finally cleared he lay at the bottom of the hill. This was the shortest hunt I believe I had ever had. When the buck first caught my attention it was 6:26 a.m. I looked at my watch after I made the shot and it was 6:28 a.m. While I enjoy my time hunting I was very happy that my buck tag was filled with this big southern Illinois whitetail.
I called my friend, Gretchen Steele, who came to help me take pictures and get the buck out and loaded up. After taking care of the deer we went to Dixie's Cup Café, the local restaurant, for breakfast. Some of the locals have taken me in and make me feel right at home when I'm visiting. You walk in and there will be several asking how this hunting trip is going. And almost before I can even sit down at the big table with the "regulars," one of the gals is bringing me a Diet Coke. No wonder Pinckneyville is known as "The Friendly Little City!"
Pinckneyville turkeys
Fast forward to this past April and I was back in Pinckneyville again to chase long-beard turkeys. This past turkey season proved to be extremely difficult due to an "early" spring and henned-up gobblers. I had five days to pursue these wary birds and it almost took all five of those days to fill my tag. After running and gunning for three days, I decided it might be best to set up close to where they were roosting and near a field I had been seeing them in later in the mornings.
In the pre-dawn darkness I set up just inside the tree line overlooking this field. I placed my Carry-Lite decoys about 20 yards in front of me. Just as day was beginning to break, I heard a gobble from a tree within 75 yards of me. A short time later a hen flew down, closely followed by that gobbler. She proceeded to take him off into the woods away from me.
I was going to stick to my original plan and wait them out. Every once in a while, I would make a few yelps on a Knight & Hale call just to remind the gobbler I was still there and waiting for him. Shortly after 8 a.m., I noticed some movement off to my right. I could see three turkey heads. I made a couple yelps and they started heading my way. By the time they came into full view, there were three jakes and two longbeards. When they got within sight of my decoys, they kicked into gear heading for the strutting jake decoy.
I put the bead on what looked like the larger of the two gobblers and put him down. The three jakes took off running at the sound of the shotgun, but that other longbeard stuck around until I got up to walk toward my trophy. He couldn't decide whether he wanted to fight the decoy or the downed bird.
I tagged my turkey, gathered up my decoys and made a call to Gretchen Steele. Gretchen had kindly offered to take pictures if I was lucky enough to fill my tag. We decided to meet up at Coulterville, take some pictures and have lunch. A great way to end another successful hunt in southern Illinois.
Gear used on these hunts:
Thompson-Center Omega Muzzleloader
Thompson-Center Pro Hunter w/ 12 ga turkey barrel
Bushnell Elite 3-9×40 Rifle Scope
Bushnell Legend Ultra HD 10×24 Binoculars
Winchester Triple Se7en Primers
Winchester Xtended Range 12 gauge turkey loads
Carry-Lite HD series decoys Pretty Boy, Pretty Penny & Pretty Mama
Visit Gretchen Mueller Steele Photography
About Marti Davis

Marti Davis is a staff member for Browning Trail Cameras, WoolX and Mossy Oak. She is an authority on most types of hunting in North America, and very active in mentoring the next generation of young hunters. View all posts by Marti Davis →
The Conversation