WhataCatch!: Kathryn Maroun's holiday message recalls fishing in Bah-Humbug Brazil
Dear Santa,
All I want for Christmas this year is good health and my joy back.
The world did come to an end on Dec 21, 2012, for me. My fav aunt, the one who always sent me the "coolest" Christmas gifts wrapped in packaging that was just as special as the gift itself, emailed me an e-card. Wawawa – how depressing.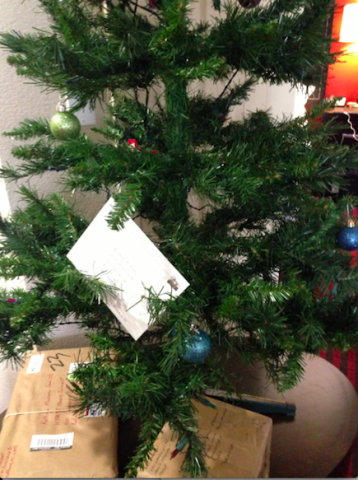 So when Barbara, over here at The Won, asked me to blog an uplifting message about fishing and the holiday season, since it is after all, "the happiest time of year," well, I wasn't sure that I could do it.
At first, I say, "Bah! Humbug!" (Which is likely more to do with my affliction with Lyme disease rather than my aunt's hip decision to do something nice for Mother Earth this year by saving a tree and thereby sending an e-card.)
According to the National Institute of Health, Christmas is the time of year that people experience a high incidence of depression. For some, it may have to do with unrealistic expectations and excessive self-reflection. Too much thinking can mess anybody up.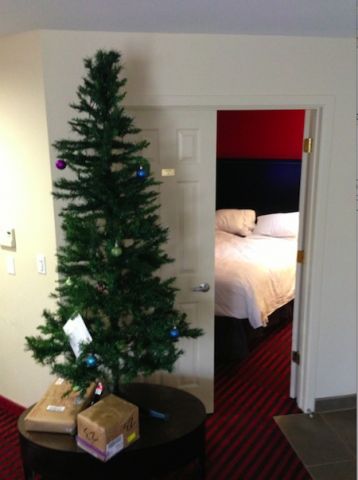 Don't get me wrong, I love Christmas. In fact, we even put up a tree and stuffed a turkey at the Hyatt House Hotel recently. Home away from home, in California as I undergo treatment for chronic bug-born illnesses and co-infections that I accumulated on my fishing adventures around the world. One of the nurses at the clinic kindly loaned me a tree and I may even bake some gingerbread ornaments. You know, the type with the clear sugar windows.
A Christmas memory of fishing Brazil
Other years we have marked the holiday by fishing for Bass at Disney World, trout in New Zealand, GTs in the Indian Ocean at St. Brandon's. One year, we returned to fish for peacock bass in the deep jungles of Brazil. I knew the water well because I had "been there, done that" before. I was doing very well catching the big boys. I was also catching many more fish than the eight men at the lodge. At dinner one night, I wanted to help the rest of the group to catch the "fish of their dreams," so I decided to gift each of them the Mongolian fly that was the key to catching the trophy cichlid.
These flies were very special to me. A former friend from the U.S. tied them for me, and I only had a baker's dozen. I would not be getting more once these were gone. As it turned out, the Chernobyl squirrel—born out of necessity when fishing for taimen on the Eg and Uur Rivers – looked like a lizard trying to cross the dangerous, murky jungle waters on the other side of the globe.
I had made this discovery when fishing the same waters in Brazil the year before. Lots of effort and time was spent that first year trying to find what fly would work best. At long last I figured it out. This time around I could just enjoy the fishing since the hard work had been done the year before.
Late into the meal that night at the lodge, I pulled out the box of flies and tried to pass them around. A late Christmas gift of sorts. They were rejected like a puppy being introduced to its collar and leash for the first time. I was so hurt.
What a slap in the face.
Nothing sends a louder message in the fishing world than rejecting the fly offered to you by a fellow angler. The most basic of manners would dictate that you should take the fly anyway and simply say thank you – even if you did not intend to fish the fly because you thought the sport to be less knowledgeable than yourself.
I remember trying to finish my meal as quickly as possible so I could run back to my hut. I tiptoed around the big bull toads that peppered the path to my lodging. They loved to hang out in my toilet bowl as well. They were as big as rabbits and just as squirmy. Gave me quite a scare the first day at camp when I sat down before looking. Won't make that mistake twice.
I wouldn't be making any new fishing buddies that week, unless you include the pot-bellied toads and the camp parrot.
When I returned to my room that night, as usual, my friend was looking back up at me from the glow of the moon cast on the porcelain bowl. Tears would not come. Only rage. I'm a proud person and I had just been humiliated at the dinner table.
At week's end, they had not landed the trophy, nor did they make any effort to get to know me. Again this made me sad and awkward. I was adopted early on, and the wounds of rejection run deep. I love meeting new people. I see it as a great opportunity to learn something new and see what special gifts a person has nurtured.
In retrospect
I'm most interested by people who are natural leaders, an ability that eludes me. I have found over the years that I have leadership qualities, but that most people don't want to follow me. They want to fight me. I have a strength about me that isn't for everyone. It would be a much-admired trait if I were a Japanese man, but a North American sensibility may coin me something derogatory. Again, I'm well intentioned and hard working and don't see myself the way some have tried to paint me.
The hidden landing strip in the jungle was a lift-off of faith, since the runway was short and punctuated by a sheer drop. We loaded into this overburdened cigar tube and taxied, bouncing, down the tarmac like a bowl of Jell-O until all at once the runway fell away from beneath us. I was sure we were about to fall into the river below.
The groans and nervous laughter after seeing the last few feet of the eroded strip fall away, before the wheels had even left the ground, would be the last I would hear from this group. We sat in silence for the entire flight.
Dreams and goals wash away with the rising tide of inflammation.
Life marches on.
My holiday message
I guess too much reflection can steal your joy, so I prefer to live in the moment as much as possible. The smells and sounds of the holidays all around me. Spending time with those who love and cherish me. Doing something to lift up those less fortunate than myself. Having an attitude of gratitude for all my many blessing.
The cookies and milk will be under the tree.
Happy Holidays.
Visit Kathryn Maroun at WhataCatch TV.
Watch Kathryn as she fishes for Peacock bass in Brazil.
About Kathryn Maroun

Kathryn Maroun is one of a handful of Canadian women to be certified as an FFF casting instructor. She is the award winning executive producer of What A Catch Productions. The 52 show series highlights Kathryn's fishing adventures from around the world. Kathryn exposes never talked about hazards of the sport, conservation, culture, as well as showcasing exotic game fish in her series. Her show first aired in the US before being internationally distributed. Kathryn is featured in the collection of two prominent museums for her significant contribution to the sport of fly fishing. Kathryn Maroun is the president and founder of Casting for Recovery Canada, past director of Trout Unlimited Canada and past member of the Canadian World Fly Fishing team. Along with creating a line of clothing for women at work in the outdoors, Kathryn has fished around the world and has a number of world record fish to her name. Today she dedicates her time to writing about her miss-adventures and enjoys telling her stories through keynote speaking opportunities. Kathryn is campaigning to create a more balanced playing field for women in the sport. View all posts by Kathryn Maroun →
The Conversation