Gear Review: Marti Davis chooses the Smith & Wesson M&P Shield in 9mm
Last April, Smith & Wesson unveiled the M&P Shield, in 9mm and .40 calibers. This past summer I had the chance to test out Smith & Wesson's new M&P Shield 9mm. I also purchased another brand of 9mm, designed for conceal carry. So, I spent some time at the range with both pistols for a side-by-side comparison, using Winchester 115-grain full metal jacket target ammunition.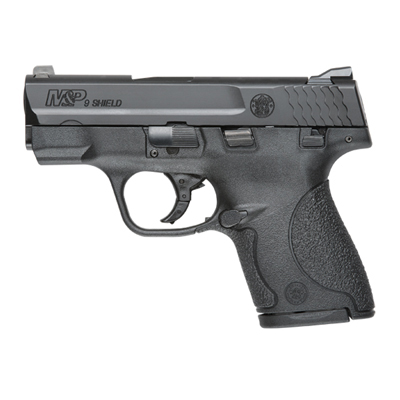 The Shield is designed for concealed carry and is lightweight, weighing in at 19 ounces unloaded. It comes with 3.1-inch barrel and a striker-fired trigger system with a crisp and smooth 6.5-pound trigger. I like its narrow grip, with a single-stack magazine that measures just less than one-inch wide. Talk about easy concealment.
Even with these smaller dimensions and being a lightweight pistol, it shoots comfortably. I can easily control the recoil level. In fact, you can see the low amount of recoil in this photo below.
Some of the other great features on the Shield are a simple takedown lever, the M&P thumb safety, extended trigger guard and a flat profile slide stop. It also has a fixed textured backstrap, white dot stainless steel sights and Melonite finish on the stainless steel slide and barrel. It came with the regular seven-round magazine and a 1+ extended eight-round magazine. I really like shooting using the extended magazine. It gives me just a little more to wrap my fingers around.
While double-action only pistols tend to have a long trigger pull, the Shield was not bad. However, the other pistol I was shooting had an extremely long pull. In fact, it went nearly to the back of the trigger guard.
Initially, as common, the slide lock on any new gun can be a bit stiff. I'm sure it will loosen with some more rounds put downrange.
When I factored in the durability of an M&P, with the power of a full size in a compact package and the major difference in the length of the trigger pull, I chose the Smith & Wesson Shield as the winner of this side-by-side challenge. In fact, I liked it so much better that I purchased the Shield and sold the other pistol.
And, I agree with Smith & Wesson when they state, "The M&P Shield is a professional-grade, conceal-carry pistol designed to shoot as well as it conceals."
MSRP is $449.
About Marti Davis

Marti Davis is a staff member for Browning Trail Cameras, WoolX and Mossy Oak. She is an authority on most types of hunting in North America, and very active in mentoring the next generation of young hunters. View all posts by Marti Davis →
The Conversation