Mia and the Little Gal: SHOT Show stories
I must admit, it has taken me a few days to drag some info out of my Little Gal (LG). I returned from SHOT Show and shared pictures of the products I saw, people I met and events I attended. I received little to no reaction from her. She was trying to prove a point to me with her silence. She was still upset.
Why is the LG upset?
Each year I go to SHOT Show and she complains about how it is "not fair" because she thinks she should be able to go too.
I explain to her that there is an age limit and she asks why I can't talk to someone to ask him or her to make an exception. She reasons that she is responsible and well behaved in public. She also contends that she always does her best to be safe around firearms. Each year I have to explain to her that if there were exceptions for her, there would have to be exceptions for others. The debate goes back and forth and ultimately she has to stay behind and go to school.
LG worked hard at her tight-lipped stance in opposition of my going to the show without her. I got creative in my communication skills and managed to get her to let a couple of her favorite products slip.
Stories from the SHOW
During our drive to school, I attempted to elicit some information about what LG liked from my SHOT Show trip. She asked why I didn't buy a "jumping jack" while I was at the show. She was referring to the new Ground Strike™ Jack Target from Birchwood Casey®.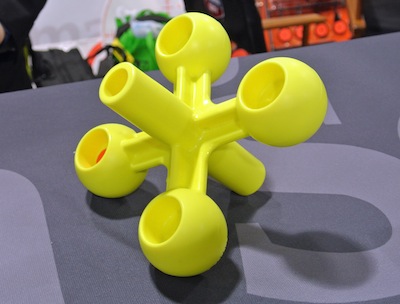 It looks like a big jack like we used to play with when we were kids. The target is made of a self-healing material and can take hundreds of shots still retaining its shape. The Jack target is designed to be placed on the ground and will bounce around when you shoot it. It creates challenging shooting opportunities and would be fun for us to hone our shooting skills. While I do think we may enjoy one of these, I am uncertain how I would have fit it into my carry-on.
Another night, LG and I were cutting meat for jerky. Just like driving, times like those are perfect for chatting because you are side by side, without intimidation. I casually mentioned meeting Steve Rinella of the "MeatEater" TV show at an SOG knives event.
She thought that was great, but turned the conversation from meeting a TV star.
LG mentioned that she should have taken my place in knife throwing at the SOG Knives booth at Media Day. I had shown her pictures of a knife challenge between my editors, Britney Starr and Barb Baird, and myself. She joked that she could have won that contest.
I told her how I nearly threw the knife behind myself instead of toward the target. I could see out of the corner of my eye that she would have been very embarrassed by my lack of throwing ability. With the way I throw, I am certain she would have whooped up on me! She is well practiced with a hatchet and I am sure she could stick a knife, too.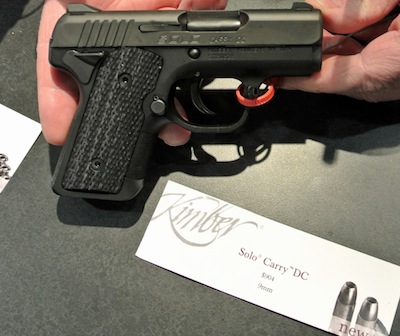 Another opportunity for conversation mysteriously popped up when I was returning my shooting muffs and safety glasses to my shooting bag. The safety tools were perfect for inspiring a firearm conversation about SHOT show. LG mentioned she was interested in a pistol similar to mine. She was referring to Kimber's Solo Carry 9mm. She was excited to see that the pistol, unlike my 1911, has ambidextrous safety and mag-release.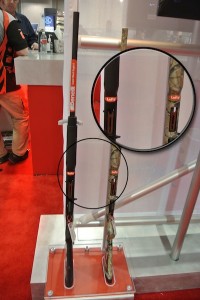 Then she mentioned a shotgun that she thinks she should get. The new Benelli 20 gauge shotgun is specifically designed and made for left-handed shooters.She thought that would be "pretty cool to have " Anything that takes a lefty into consideration is tops on her list.
Above all, LG is fascinated by the people I got to see and meet at the show. She wants to meet them all as well. She thought it was outstanding that I saw Willie Robertson, from "Duck Dynasty." Duck Dynasty is one of her favorites – partially because of silly antics, but also due to the family values that are represented in the TV show.
It was interesting to watch the teenage LG attempt to find a way to coerce me into trying to get her into SHOT Show, but also great to find so many ways to communicate with her. LG is already making a list of things she "needs." She has an idea of what she is going to see and do in a couple years when she is old enough to go to SHOT Show. (Uh-oh. I better look out. This could really get expensive.)
For now, we will settle for our annual debate and I will continue to hone my talent in finding creative ways to entice a teenager into open communication.
Keep up with the adventures of Mia & the Little Gal at Mia's blog, My Many Outdoor Adventures!
About The WON

The Women's Outdoor News, aka The WON, features news, reviews and stories about women who are shooting, hunting, fishing and actively engaging in outdoor adventure. This publication is for women, by women. View all posts by The WON →
The Conversation