Bugout Gaiters kept her bite-free
It all started about two weeks before the official spring turkey season commenced here in Missouri last year. I had been out scouting and came back with multiple chigger bites on my ankles and lower legs. Although I sprayed Permethrin on my boots and jeans, the lil' critters still climbed aboard my legs and chewed on me for a while. I still have the scars to prove their existence.
At about the same time, I received a press release regarding Insect Shield products, by Outdoor Research. What is Insect Shield, you ask?
Insect Shield® Fabric treated with Inset Shield® Permethrin inset repellent is EPA registered. Repels mosquitoes, ticks, ants, flies, chiggers and no-see-ums for invisible, odorless protection from bites and inset-carried diseases. — From Outdoorresearch.com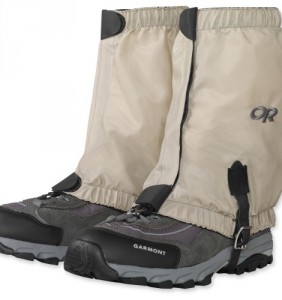 The company sent me a pair of Bugout gaiters. I hunted for 19 out of 21 days — mostly in tall grass and brushy areas. And, although I picked a few ticks off my upper torso, my lower legs (and actually the rest of my body) remained chigger free! Of course, I also treated my hunting clothing in Permethrin, but I believe the additional protection around my ankles and lower legs staved off the mighty mites. I also recommend these gaiters because they keep your boot laces from getting tangled and untied in rough terrain, and furthermore, because they kept the tops of my boots clean. That meant, when I went to undo the boots, they were free of flotsam and jetsam like little sticks, grass, rocks, pollen, you name it.
The gaiters also kept my boot tops and pants' bottoms dry.
Easy to pop on and velcro-up, they were actually a Godsend to me this hunting season. And there's more to these gaiters. From Outdoor Research:
Insect Shield® clothing repels mosquitoes, ticks, ants, flies, chiggers and no-see-ums, reducing the need for topical repellents
Insect Shield® is odorless and EPA-registered; effectiveness against insects is good for 70 washings
8 oz. packcloth
1-inch wide hook/loop front closure
Hook/loop shear tabs at top and bottom of front closure prevent separation
Elastic bottom and top edges
Double-riveted boot lace hook
Hypalon® instep strap Fabric: 100% nylon, 8 oz. packcloth
Would I recommend? Absolutely! Five stars for this product — one I hope to never be without again during hunting seasons.
The gaiters also come in kids' sizes, and the adult version retails for $38. I'd definitely recommend them, as they're breathable, too, for hikers. Outdoor Research makes gaiters that are snake-boot length, as well, and also come in non-bug-treated versions.
Check out the lineup at Outdoor Research.
About Barbara Baird

Publisher/Editor Barbara Baird is a freelance writer in hunting, shooting and outdoor markets. Her bylines are found at several top hunting and shooting publications. She also is a travel writer, and you can follow her at https://www.ozarkian.com. View all posts by Barbara Baird →