Babbs in the Woods: TeamWON goes to SHOT Show
It's the biggest trade show in the outdoor industry, and most of TeamWON will be in attendance at the National Shooting Sports Foundation's (NSSF) Shooting, Hunting, Outdoor Trade Show (SHOT) this year. Not only will columnists from Women's Outdoor News (The WON) search for new products to highlight, but also several of these writers will be participating in booth appearances, seminars and webinars. If you're attending the show, please look for them and let them know what you'd like to see at The WON this year.
Julie Golob
You can usually find Julie Golob, who pens "Julie G" at The WON, at a sponsor's booth, giving demonstrations or signing autographs. Julie, who captains Smith & Wesson's shooting team, also will participate in a seminar on how to market firearms to women, at an NSSF Retailers Seminar. A pure blur, as she moves from one session to another, Julie arrives with the most-packed schedule ever. Check Julie's website and follow her adventures through her numerous social media outlets.
Molly Smith
Smith & Wesson's Junior Captain Molly Smith also will be a woman in constant motion at the show. Along with signing autographs and appearing at the Smith & Wesson booth #13731, she also will be searching for 5 new products that competitive shooters will love and she'll write about that topic later this month in her column, "Millisecond Molly."
Vera Koo
One of our new columnists, pro-competition shooter Vera Koo, will be appearing at the ProEars Altrus brands booth #3057 at 10:30 am on Thurs., Jan. 16.
Barbara Baird
The publisher of The WON, and writer of "Babbs in the Woods," Barbara Baird also works as a fulltime freelance writer, and this year she will be covering the show for industry leaders in firearms and camo markets, along with her duties at The WON. She will appear on the aforementioned panel with Julie Golob at the Retailers Seminar, and also, participate in a webinar for Beretta that focuses on women and firearms. Julie Golob will interview Barbara for a future podcast of Gun Girl Radio.
Britney Starr
The WON's managing editor, Britney Starr, is well reputed already throughout the industry for taking initiative to bring the Women's Outdoor & Shooting Industry Dinner to the lineup of after-hours events. She, along with Jacquelyn Kelley, of Armed in Heels, have been planning for the 2nd annual event that touts the theme of "Old Hollywood Glam." Britney's column, "ShootingStarr," will be sponsored by Galco Gunleather in 2014. She will be appearing at Galco's booth #11924 on Thurs., Jan. 16, from 3 to 4 p.m. She will be at the Flashbang Holsters booth #3663 on Tues., Jan. 14 from 2 to 3 p.m. Randi Rogers, of Comp-Tac Holsters and Team Smith & Wesson, will interview her for Gun Girl Radio podcast.
Michelle Cerino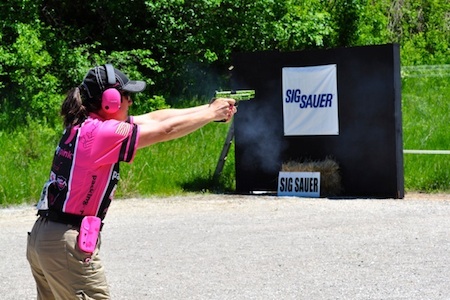 The owner and president of the Chris Cerino Training Group, Michelle Cerino, will be working in the H & M Metal Processing booth #1919 with Rubber City Armory. She also will be at the Blade-Tech booth #14205 on Wed., Jan. 15, from 2:30 till 3:30. Michelle recently joined the lineup at The WON with a column called "She Shoots 2," sponsored this year by Vertx.
Mia Anstine
As an in-demand freelance writer, and as an outfitter in Colorado and New Mexico, Beretta blogger Mia Anstine will be busy hunting for story ideas and products. Mia, who pens "Mia & the Little Gal" at The WON, also is on the Próis Hunting and Field Apparel's staff, and will be at the Próis booth on Tues., Jan. 15, at 4:30 p.m, for its annual award ceremony, given to an outstanding female hunter. Mia's column is sponsored by Girls with Guns Clothing.
Michelle Bodenheimer
Our fearless gear reviewer, Michelle Bodenheimer, will be scouring the show to bring you products this year that will aide your outdoor experiences.
Sara Ahrens
On the pro- staff at Próis, this former Top Shot competitor and in-demand freelance writer will be at Top Shot's annual reunion on Wed., Jan. 15, at 2 p.m., at Crimson Trace's booth. She's also going to participate in a Beretta webinar for female gun owners. Sara writes "OffBeat" at The WON and contributes to Beretta's blog.
The Writing Huntress
This will be the Writing Huntress's first SHOT Show, and we've tasked her with finding weird things. We are sure she will not disappoint us. Burris Optics sponsors her column, "Ask Writing Huntress," at The WON.
Follow The WON's adventures at SHOT Show through Facebook and Twitter.
About Barbara Baird

Publisher/Editor Barbara Baird is a freelance writer in hunting, shooting and outdoor markets. Her bylines are found at several top hunting and shooting publications. She also is a travel writer, and you can follow her at https://www.ozarkian.com. View all posts by Barbara Baird →