Amanda Furrer gets her 'boots on' with the Boot Campaign
The WON welcomes guest contributor Amanda Furrer, a member of the USA Shooting team and an Olympic rifle shooter. Look for more contributions from this energetic, enthusiastic representative of the shooting world in the future.
Recently, I attended the event Boot'n & Shoot'n with the Boot Campaign, which is an event to promote patriotism, raise awareness about our military, and raise some money for those of our military in need.
I first heard about Boot Campaign and the event through Johnny (Joey) Jones, 27, who is one of the hero ambassadors for the program. We followed each other on social networks for almost a year before meeting at SHOT Show in Las Vegas this year. After that, I began toying with the idea of doing more for Boot Campaign. Johnny lost both of his legs in Afghanistan in 2010 as a Marine EOD (Explosive Ordnance Disposal) Technichan with the 1st Marine Division. He now works full time for Boot Campaign. You can learn more the Boot Campaign below.
The event consisted of shooting at a bunch of different stages, a raffle, a live auction, a home giveaway, and a concert. I wasn't asked to do any staged photos or convince people to donate to the Campaign. In fact, my name wasn't used in any kind of marketing for Boot'n & Shoot'n. The people at Boot Campaign wanted me to come and enjoy myself. Eight war veterans came to the event as hero ambassadors. They, like me, weren't given scripts or asked to go around telling people to donate. They came to do some shooting and support an organization that has supported them.
Throughout the event, I learned a ton about the program and the people they help and decided that I'm going to do anything I can to support their mission. The Boot Campaign's mission of Assistance is comprised of 5 programs: Career Placement, Housing, Family Support, Urgent Assistance and Wellness. The programs are funded through the sale of Boot Campaign signature combat boots and apparel, direct donations and corporate sponsorships. Boot Campaign's finances are impressive, with more than 81 percent of income being used to directly support the mission. This would include things like academic and employment assistance, mobility equipment, adaptive clothing for wounded military, PTSD counseling services, and the list goes on. On departure day, one of the combat amputees, who is an ambassador for the Boot Campaign said, "Thank you Boot Campaign, you are everything that [another undisclosed organization] is not."
After the main event, I stayed an extra day with the hero ambassadors and a couple of the employees from Boot Campaign to get to know about them a little better. I got to spend time with each of the veterans, all of whom lost arms, legs or both. Most of them have wives and children, and all of them have exciting things going for them since their injuries. A few of them work for the Boot Campaign, which in my eyes, says a lot about the organization. Nobody knows what a veteran needs more than a veteran. The others all have interesting things going for them as well, such as guiding, custom gun manufacturing, and a liquor company. These men aren't victims, they are men that stood for their country, and each of them said they would do it all over again. It's our duty to give back to them for everything they gave for us.
The Boot Campaign and you
By raising awareness and promoting patriotism, the Boot Campaign has been able to give back to our military service men and women. Each of them has a struggle, and each of us helping in any way we can might change their lives. It can be as simple as buying a shirt or a pair of boots through the Boot Campaign. Or you can even donate, host a boot drive, or get your company in some boots! There are tons of ways to get involved.

An upcoming event that you can get involved in is Push Ups for Charity, which begins on Armed Forces Day, May 17, and ends on June 28. You can find a hosting gym and join a team or you can host an event yourself. Do as many pushups as you can in 90 seconds and every pushup done makes a difference.
As they say at Boot Campaign, "When they come back, we give back."
Get your boots on! Follow the Boot Campaign at Facebook and Twitter. Click on image below to visit the Boot Campaign's website to learn more about how you can contribute.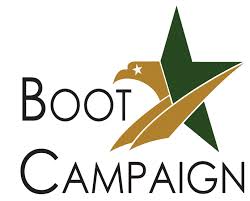 About The WON

The Women's Outdoor News, aka The WON, features news, reviews and stories about women who are shooting, hunting, fishing and actively engaging in outdoor adventure. This publication is for women, by women. View all posts by The WON →
The Conversation