Spring toms and TeamWON
Spring toms and TeamWON made for a heady combination when turkey season started last March in Texas. The Writing Huntress, Britney Starr and I spent 3 glorious days scouring canyons, led by fine turkey guides from Double B Outfitters, that amassed more than 35,000 acres. Quickly, it became more than wanting bragging rights on a tagged tom. The experience, sponsored by Benelli, brought home the importance of the camaraderie of hunting camp and the teamwork involved in hunting.
Perhaps you can see what I mean, in this video that Julie Golob produced for The WON. Britney and I tagged birds while there, and The Writing Huntress promptly went back to her home in North Dakota and put the pow on her first tom ever. She then packed up her bags and moved to the great state of Texas, from where she will continue to write her column for The WON.
Britney returned to Michigan and went at it in the U.P. and eventually called in a big ole' bird for her friend, Amber Brandley.
I came home to Missouri and chased 2 gobblers, along with my son-in-law — aka, The Marine — over hills and down hollers in the Ozarks one morning. I credit The Marine's extremely fine calling skills, because at the end of the season, it's difficult to get the toms to a) respond and b) come to you. And come to us, they did … right up an old logging road. FYI — The Marine is Camo Mom's son.
Others from TeamWON gave it their "all" out there and reported quiet birds and beautiful sunrises.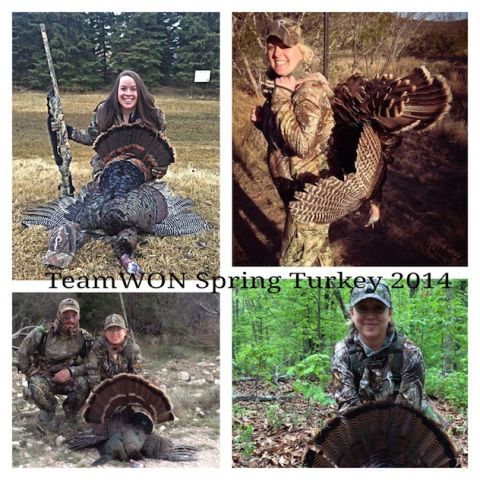 Team WON's spring toms. Left to right, clockwise: The Writing Huntress with her North Dakota gobbler, Britney with her Rio, and, well, let's just say I had a good year — a Rio in Texas and an Eastern in Missouri.
About Barbara Baird

Publisher/Editor Barbara Baird is a freelance writer in hunting, shooting and outdoor markets. Her bylines are found at several top hunting and shooting publications. She also is a travel writer, and you can follow her at https://www.ozarkian.com. View all posts by Barbara Baird →