Shooting guns and shifting gears at #MakeBigNoise14
Laura Burgess Marketing recently held the inaugural #MakeBigNoise media event, intended to educate gun writers and bloggers to shooting guns and shifting gears, courtesy of Burgess's clientele. Although some in the gun industry may think that only males would enjoy a full day of class and range product demonstration and a half-day driving course, this modern female gun owner learned a lot and loved every minute of action.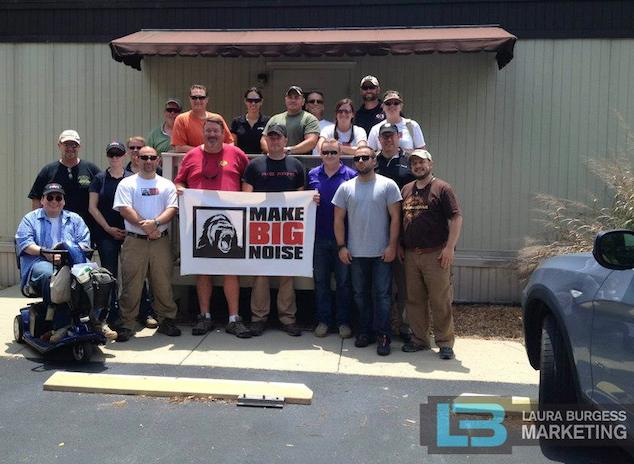 Sixteen gun writers and bloggers attended the event, hosted at the G4S International Training (ITI) Facility, located in Shacklefords, Va. from June 24 to 25. Frankly, it reminded me of a mini-SHOT Show Media Day — except with even more opportunities to talk to manufacturers and industry reps and try the products.
Exhibiting manufacturers included American Built Arms, Chamber-View®, Eagle Imports, Fobus Holsters, IWI US, LaserLyte, Liberty Ammunition, MG Industries, Mission First Tactical, Morphix Technologies and Tacprogear.
Here are some of the highlights of the event:
Sometimes, it's the little things in life and Chamber-View empty chamber indicators (ECIs) let you know immediately that the chamber is empty and your gun is safe. Made of 100% silicon, these ECIs are the brainchild of a dentist and keep the action open, yet covered, so that dust and other particles cannot enter the chamber. EICs come in sizes for shotguns, pistols and certain rifles. Visit Chamber-View.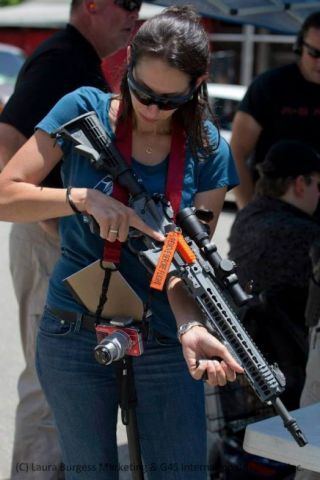 Here's my pal, Gabby, of Armed Candy, with a special AR accessorized with American Built Arms' T*Grip and P*Grip, so she can get a firm grip on this AR.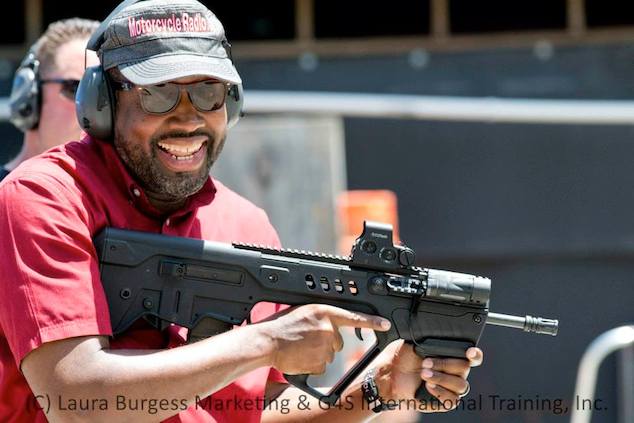 Here's our buddy, Kenn Blanchard, aka, Black Man with a Gun, who has been so good to Women's Outdoor News by highlighting us at his popular podcast. He liked, liked, liked the Israeli Weapon Industry (IWI) Tavor bullpup, as did the rest of us.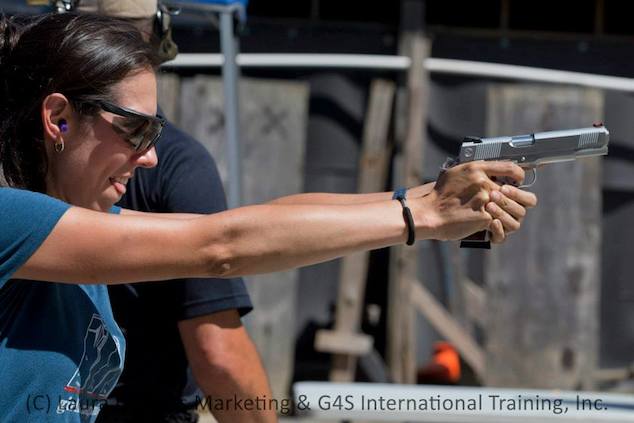 Gabby is shooting a Metro Arms American Classic Trophy in .45 ACP. She handles it well.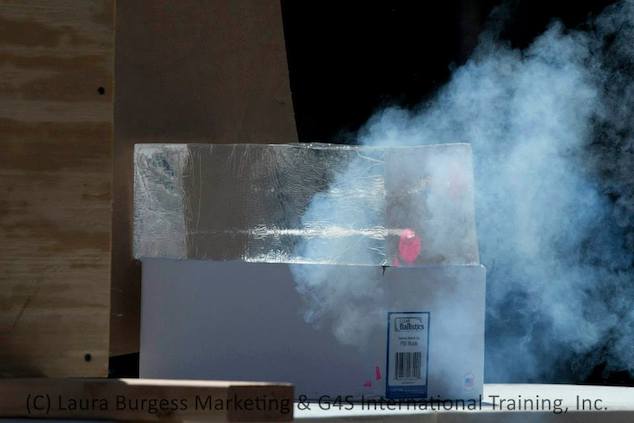 Every great gun event must have ballistics gel test shots. This one did not fail, and neither did Liberty Ammunition's Civil Defense. Liberty produces lead-free ammo that offers deep penetration with some collateral damage.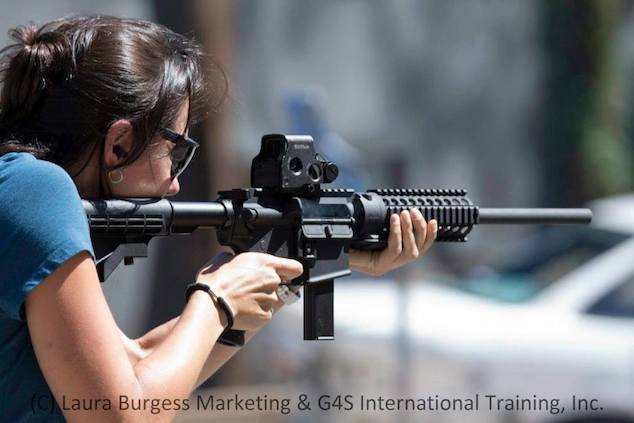 Here's Gabby again, this time shooting an MGI Starter Package. This kit contains the MARCK-15-9SMG-C, which is the 9mm rifle that takes Colt style magazines; the CVP-AR556 which is a 5.56 barrel, complete bolt carrier group and the AR mag well; and, the CVP-.22LR, which is a .22 LR drop-in kit.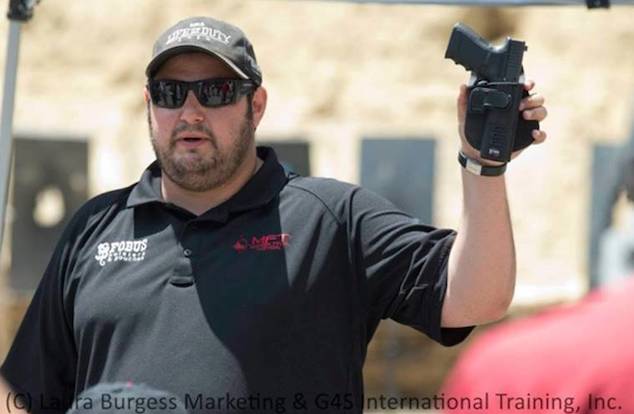 Of course, where there are guns, there must be holsters. Dave Edelman, of Mission First Tactical, demonstrates a FOBUS CH series holster, which offers Level 2 retention and a safe draw. To release the gun from the holster, you slide your index finger upward across a releasing paddle. A retention mechanism within the trigger guard also gets released and the paddlesfaceis positioned above the trigger, keeping the pointer off the puller.
It's a given. At gun writers' events, you will get a bag, and wowzahs. I will use this bag from TacoPro Gear again and again. It comes with a single, ambidextrous padded sling with swivel buckles, dual-entry zippered pocket that also has Tacprogear's proprietary Universal Tactical Pistol Wheel, so I can place my CCW firearm in the bag and an internal plate pocket that holds a standard 10 x 12 ballistic plate (available as an extra), in case I go into a war zone. I like the lightweight and close fit of this bag, and mine is in Coyote Tan (my fav).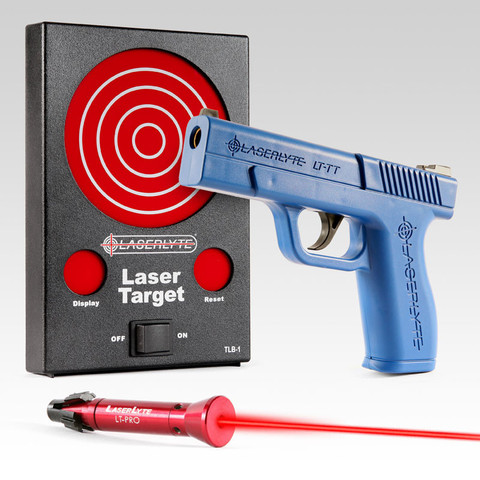 And, more swag. This one came in the form of LASERLYTE's Bullseye Training Kit, which includes the LaserLyte Trigger Tyme Pistol, the LT-PRO universal pistol laser trainer and TLB-1 Laser Target. Let's just say we had a little fun in the classroom with this device, challenging one another to better our times.
On the last day, we went back to school — driving school. G4S ITI offers a full range of defensive, tactical, and motorcade driver training programs at its locations in Virginia and Texas. We practiced J turns at high speeds, driving in formation and lane changing. In fact, I have already put some of the tactics to use in traffic, and I believe I am a better driver for attending the short course. See for yourself.
Visit Laura Burgess Marketing's
Facebook page
to see more photos of #MakeBigNoise14.
About Barbara Baird

Publisher/Editor Barbara Baird is a freelance writer in hunting, shooting and outdoor markets. Her bylines are found at several top hunting and shooting publications. She also is a travel writer, and you can follow her at https://www.ozarkian.com. View all posts by Barbara Baird →