Athena Means, president of GunGoddess.com
She started her business in Nov. 2011 with the goal of creating the only website where woman gun owners can find accessories for their guns. "After spending hours searching for shooting accessories that were fun and feminine, and that worked well with women's curves, I realized that other women must be having the same problems. So I thought, why not make it easy for them — do the legwork, discover the great products and bring them together on one website," said Athena Means, president of GunGoddess. "My plan for GunGoddess was to make these products easily available, accessible and affordable — to encourage women to have their own gear, express their own personality and femininity, while, hopefully, getting out to use that gear more often!
Since its inception, headquartered in Las Vegas, GunGoddess has become a recognizable brand within the shooting industry, and even though Athena doesn't want to admit it, she is one of the main reasons. Word of mouth has helped to spread the word about good quality products at reasonable prices. Behind the brand, though, stands the petite powerhouse of a woman who truly cares about other women's needs for great firearms accessories. "My philosophy has always been that if I wouldn't wear it or use it myself, I'm not going to try and sell it to you. It's important to me to offer good products and even more important to back those products with phenomenal customer service and the right business ethic. That's what I've strived to provide since day 1, and that will never change no matter how much GunGoddess evolves and grows," said Athena.
Athena launched the business as a 1-woman operation, supported by a "fantastic shipping team." She believes her daily interaction with the business has allowed her to mold it into what she wants it to be – allowing 1-on-1 contact with her customers. Because of the growth of her business, she recently hired a new staff person to help with the day-to-day interactions with customers.
"It's not just about what they're buying. It's about meeting their needs, offering them your time, and treating them so well that they want to tell their friends and family about you," explained Athena. She also mentioned industry relationships. "We all play a part, in our own way, in working toward the same goal — encouraging more women to become gun owners and shooters. The more we work together, collaborate, recognize and support each other, the more we contribute to our success as a whole," stated Athena.
When guests come to GunGoddess, they will find more than 300 products – holsters, specially designed apparel, gun cases, concealed-carry purses and safety accessories. "I like to offer both function and fun, so there's a page of gift ideas that gun owners will love, too!" said Athena.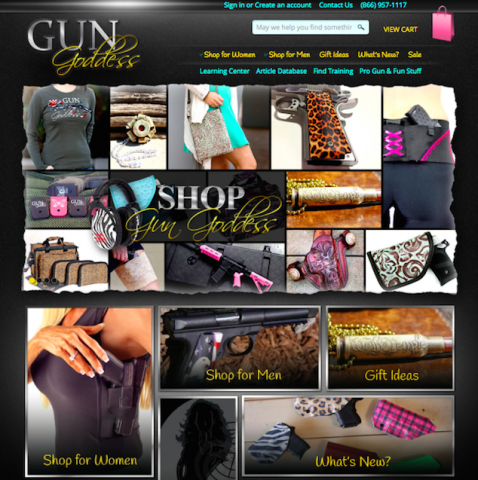 She continues to expand the product line. "When it comes to product selection, it's all about options and choices. Not every product will be right for every woman, but the more choices are available, the better the chance of finding something that will be perfect for you," said Athena. GunGoddess also offers items for men, including bullet casing accessories, apparel and holsters.
Athena also has partnered with industry leaders, respected instructors and competition shooters who have allowed her to feature their tips and techniques on her website. "It's a work in progress, but the Learning Center provides great information on everything from the shooting fundamentals to finding an instructor in your area, to stats and figures for use in debates with the anti-gun crowd."When Athena isn't in the office or at a trade show, she might be found on the range, as she focuses on improving her 3-Gun skills. "I enjoy camping and stargazing, especially as it starts to cool down in Vegas. I love the water, so getting the canoe out more often is on the list. My golf game could do with a lot of improving, too," said Athena.
Athena recommends that you check the website for finishing touches that she's putting some new ideas — "all connected to the relationships I mentioned earlier."
About Barbara Baird

Publisher/Editor Barbara Baird is a freelance writer in hunting, shooting and outdoor markets. Her bylines are found at several top hunting and shooting publications. She also is a travel writer, and you can follow her at https://www.ozarkian.com. View all posts by Barbara Baird →