Nancy Wins a Colt Mustang Pocketlite with a LaserMax Laser, holsters, ammo and other stuff
Nancy is the winner of a Colt Mustang that comes equipped with a LaserMax laser, along with holsters, ammo and lots of other way cool stuff. Give yourself an early Christmas gift this year!
Our Black Friday giveaway kicks off the holiday season in style, and gifts you with the following items from our generous sponsors
Colt .380 Mustang, equipped with a LaserMax red laser
The new Colt .380 Mustang Pocketlite is a small, lightweight handgun, and ideal for personal protection. The precise machining process, use of high quality materials and improvements in design make Colt's new .380 Mustang Pocketlite one of the most consistent and reliable firearms on the market. The stainless steel slide and barrel are CNC machined from solid bar stock for precise tolerances. With loaded magazines, these handguns weigh less than one pound. They measure 5.5 inches long and have a 2.75-inch barrel.
– High Profile Sights
– Commander Style Hammer
– Solid Aluminum Trigger
– Lowered Ejection Port
– Stainless Steel Slide
– 2 ¾ inch Barrel Length
– Two 6 Round Magazines

LaserMax CenterFire Laser for the Colt Mustang
The constant red laser beam sits just under the bore, providing the highest level of accuracy while also preventing the shooter's finger from blocking the beam. Controlled Activation allows for ambidextrous use, including an on/off switch that turns the beam on only when needed. The CenterFire laser comes factory aligned at 10 yards and is user adjustable.
Wavelength: 650 nm (Red)
MSRP: $837 for gun and laser combo

Natchez Shooters Supplies bundle of goodies
Our sponsors at Natchez Shooters Supplies bundled a bunch of personal protection items for you, and some ammo for that new Colt Mustang Pocketlite, too.
Sabre Red Maximum Strength Pepper Spray – Nat. Breast Cancer Foundation
The Quick Release with detachable keychain allows immediate access to your defense spray when unlocking a door or driving an automobile. The most popular SABRE style, the PINK PEPPER SPRAY Quick Release, is a powerful 0.54 oz container delivering a ballistic stream which reduces wind blow-back. This compact canister delivers approximately 25 shots with a range of 10 feet.
• Help fight breast cancer
• Sabre Red Formula – Maximum strength pepper spray
• Detachable keyring with quick release
• .54 oz Key Ring
• Projects 10 Feet
• Ballistic Stream Delivery – Reduces Wind Blow-Back
• Contains Approximately 25 Shots
MSRP: $9.99
Sabre 800,000 Volt Stun Gun with LED Light – Pink

SABRE 800,000 volt Pink stun gun with LED.
• Holster included.
• On/Off safety switch, LED and Stun Button. Serial number and 2 Year Warranty.
• Dimensions: 4.75 inches tall X 2 inches wide X 1 inch deep – 22% smaller than traditional stun guns
MSRP: $24.99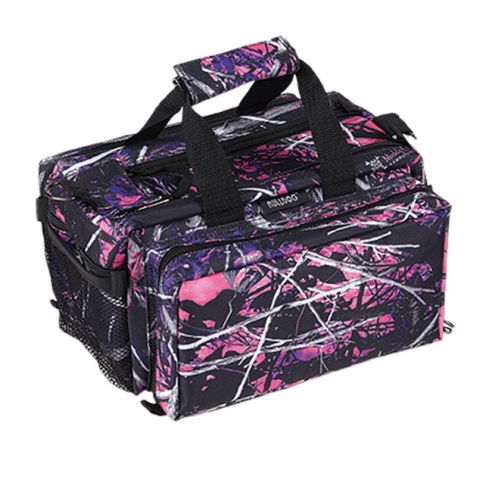 DELUXE MUDDY GIRL RANGE BAG
Heavy-duty Nylon
Outer pockets for extra storage
Adjustable shoulder strap
Deluxe padding and quality
MSRP: $35.94
Mini- Muddy Girl Camo range bag
Heavy-duty Nylon, water-resistant outer shell
Inside pockets for clip and ammunition storage
Outer pocket for extra storage
11″ x 7″ x 2″
MSRP: $19.14
Extreme Holsters Feature heavy duty tactical nylon combined with multiple layers of padding that have been fused together to provide the ultimate comfort, fit, and protection for you and your pistol. The Ambidextrous clip/belt loop and extra mag pouch provide extra options to carry.
Ambidextrous clip and belt loop
Water resistant/scratch resistant inner lining
Multiple carry options
MSRP: $14.70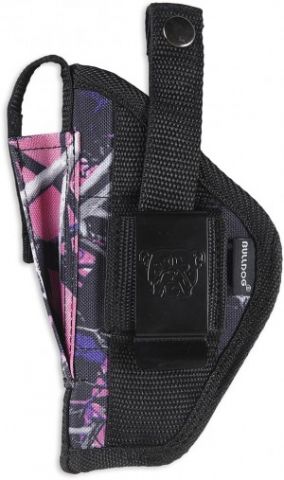 Plano 50 round handgun ammo polymer case in gray/rose
If you are in need of an ultra durable and brutally reliable case then Plano should be on your list of companies to research. Their offerings are used to keep gear safe in the harshest of environments, which is why more people rely on Plano then any other. Your gear is expensive and should be treated well use the right case to keep it protected… Use a Plano Case.
Individual slots hold up to 50 rounds of ammo securely in hard-shell plastic ensuring the safety of your ammo with a flip top lid for easy access.
Specifications and Features:
Holds 50 rounds 9mm .380 Auto
4.88″ X 3.05″ X 1.6″
MSRP: $2.49
2 Boxes Federal American Eagle –.380 ACP 95gr FMJ 50/box
Caliber: .380 Auto (9x17mm Short)
• Grain: 95gr
• Bullet:
Full Metal Jacket
• 50 Rounds per Box
Designed for the competition shooter, the FMJ-SWC Match bullet creates an accurate and reliable round that loads quickly to get back on target.
With American Eagle you get quality and affordability. Whether you are looking for contemporary calibers or a couple of classics, AE has what you're looking for. Get more shooting for your dollar with this basic, good quality rimfire offerings. American Eagle has long been known as a good quality option for shooters like you who just plain enjoy pulling the trigger.
MSRP: On sale now for $20.99 per box!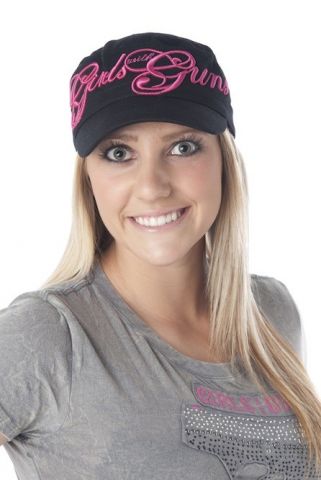 Girls with Guns Clothing water bottle and bucket cap
Show the world your style wit this black bucket cap with prominent GWG logo embroidered, along with a cool water bottle.
MRSP: Hat — $19.99, water bottle — $6.99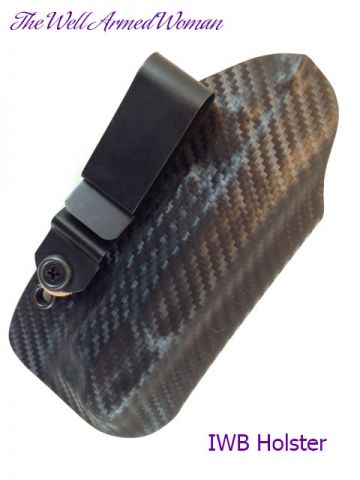 The Well Armed Woman IWB holster
Women's in the waist carry just got better! The Well Armed Woman In The Waistband holster solves the problems women typically have with in-the-pants carry! We heard what you have been saying and now you can have the perfect blend of Function and Flair.
ORDEREABLE IN 140 GUN MODELS! (See list below) STANDARD IN 19 GUN MODELS IN TWAW PURPLE & TWAW BLACK CARBON OR ORDERABLE IN 20 COLORS/PRINTS
Key functional features:
Ambidextrous
Ultra-Slim Profile: Our recessed clip makes this holster lay flatter than any other and minimizes the bulge!
Sweat shield on both sides of the holster protects your gun and your clothes
Deep tuckable clip that works on any type of waistband with or without a belt (will fit a 1 1/2 or 1 3/4 inch belt) so you can tuck in ANY shirt
Low Ride Adjustable Clip: Raise or lower the ride height to fit you best. Helps to keep the grip low to the waistband for a woman's shorter waist. (smaller gun holsters have less adjustability)
Adjustable cant. Adjusts to any angle to fit you best. Your holster will come with Vibra-Tite VC-3 Threadmate to keep cant adjustment tight.
No risk of barrel scratches from clips or screws
Made of .080 Kydex for maximum retention
For FLAIR:
STANDARD are 17 of the most popular firearm models in both TWAW Purple and TWAW Black Carbon
Orderable in over 140 other firearm models (3 week delivery)
Orderable in 20 fabulous additional colors (3 week delivery)
MSRP: $47.99
The winner has 2 weeks after the announcement to claim his/her prizes. All attempts will be made to contact the winner, via the contact information provided at entry.
[contesthopper contest="20614″]
About The WON

The Women's Outdoor News, aka The WON, features news, reviews and stories about women who are shooting, hunting, fishing and actively engaging in outdoor adventure. This publication is for women, by women. View all posts by The WON →
The Conversation