Best of TeamWON 2014
It's been another great run here at The WON, covering shooting, hunting, fishing and adventure for women by women. We have a team of outstanding writers and photographers who are out there everyday, living active and outdoorsy lives. If they're not doing anything outdoors, I can guarantee you that they're thinking about being outdoors.
Here are some of the top stories at The WON this past year. We hope you enjoyed reading these accounts as much as we enjoyed writing about them.
7 Ways children Can Have Fun at the Shooting Range
Mia Anstine (Mia & the Little Gal) described 7 safe and fun ways to make shooting more interesting for up-and-coming shooting participants, including multi-colored targets, zombies and plinkers. We always enjoy seeing her daughter, aka Little Gal, as the featured youth. Mia's column is sponsored by Girls with Guns Clothing.
How to Make a Shotgun-Shell, Lighted Wreath
Our readers are crafty, and we have discovered that they like to make things out of firearms' related products. This piece (Babbs in the Woods), which originally ran in 2012, came back this month as a retro-WON column, and featured my daughter and her mini schnauzer, too.
How to Make a Paracord Lanyard for Duck Calls
Ask Writing Huntress columnist Lisa Barron detailed in yet another crafty piece how to make a paracord lanyard, and included her own illustrations. Burris Optics sponsored Ask Writing Huntress in 2014.
Outdoor Companies Supporting Breast Cancer Awareness Month
Michelle Bodenheimer, our "Bodie," likes to bundle up theme ideas for "Her Gear" reviews and this one hit a homerun with our readers. Bodie found several fishing and hunting companies that offered breast cancer research funding with the purchase of products, including a pink Yeti cooler and a lovely Mystic Sapphyre fly rod.
Clearing Semi-Auto Handgun Malfunctions
Michelle Cerino (She Shoots 2) tells us to calm down and clear malfunctions safely and wisely. She knows it happens to all of us when we're shooting semi-autos, and lists the various malfunctions and ways to deal with them on the range. Vertx sponsored She Shoots 2 in 2014.
Is Getting Cold Ruining Your Hunt? Try These 5 Tricks to Stay Warm!
Christine Cunningham, a hunter from Alaska, details how to stay warm during a hunt in her column, The Edge – from hand warmers to sleeping bags. EvoOutdoors sponsored The Edge in 2014.
7 Tips for Introducing Young Girls to Shooting
Marti Davis took her 8-year-old niece out to the shooting range, and gives us tips on how she made the experience memorable, safe and fun. Marti Davis Afield is sponsored by Crossbreed Holsters.
7 Questions with Katie Pavlich
Team Smith & Wesson's captain, Julie Golob (Julie G), interviewed Townhall.com news editor and New York Times best selling author Katie Pavlich about her new book, guns and hunting. A must-read with 1 of America's best pro-2A journalists. Smith & Wesson sponsors Julie G.
Our newest columnist, Anietra Hamper (Reeling the Globe), braved the cold and headed north in her homestate of Ohio to ice fish. She recounts the experience and teaches us how make proper preparations in order to experience this winter sport.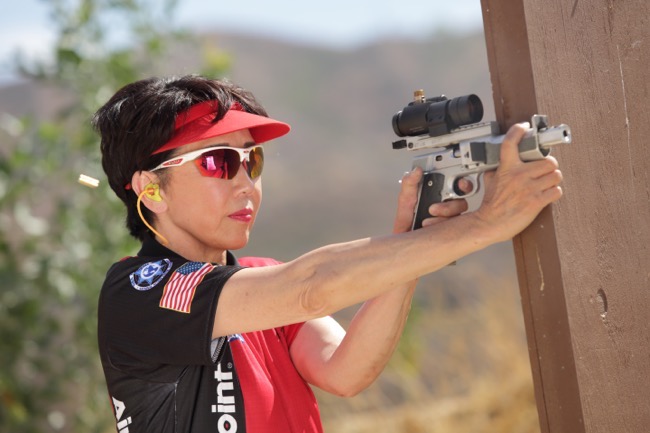 Pro competition shooter Vera Koo has broken down lots of obstacles to become a shooting champion. Read about how she compares her climb in the world of shooting to Madame Butterfly. Who would have thought, right?
Kathryn Maroun Objects to New IGFA Rules that Separate Male and Female Anglers
In a controversial column (What A Catch!), professional angler Kathryn Maroun spells out why she believes the new International Game Fish Association's rules are harmful to fishing. We think Kathryn embodies the spirit of TeamWON – feisty, courageous and not afraid to speak our minds.
Flying with Firearms, Ammunition and Tools
Pro competition shooter Randi Rogers penned a popular post on how to fly with guns, ammo and other stuff, and reminds us to make sure we know the rules before we head to the airport. The Rogers Report was sponsored by Comp-Tac Victory Gear and Smith & Wesson.
Bringing Wild Turkey into Your Home Décor
Rita Schimpff, owner of Heritage Game Mounts, offered several décor ideas for Thanksgiving, using a wild turkey theme, including a spin-off on Martha-Stewart-style place cards for the dinner table.
5 Tips on How to Become a Pro in Competition Shooting
Molly Smith ought to know how to go pro, since she has competed for the past few years in the big time circuit as a Smith & Wesson-sponsored shooter. In this piece, she defines pro and walks you through what it takes to become one. Smith & Wesson sponsored Millisecond Molly in 2014.
5 Concealed Carry Alternatives
Britney Starr listed 5 personal defense devices to carry if you cannot carry a firearm. Galco Gunleather sponsored ShootingStarr in 2014.
About Barbara Baird

Publisher/Editor Barbara Baird is a freelance writer in hunting, shooting and outdoor markets. Her bylines are found at several top hunting and shooting publications. She also is a travel writer, and you can follow her at https://www.ozarkian.com. View all posts by Barbara Baird →