7 WONderfully Weird Products of SHOT Show 2015
I spent this past week scouring mile after mile of aisle at the Shooting Hunting Outdoor Trade (SHOT) Show in Las Vegas, Nev. To be more exact, I walked approximately 52.3 miles seeking out the latest and greatest gear hitting the market in 2015. In my exploration, I discovered a number of items to be featured in my column "Her Gear" in the coming months. Among my discoveries are a few products that are rather different, unique, one-of-a-kind, somewhat bazaar, or simply ingenious. Word: weird.
They say, "What happens in Vegas, stays in Vegas." Well, some things are just too good to keep to myself here in Sin City. With that said, here are 7 WONderfully weird products of SHOT Show 2015.
XProducts Can Cannon
Why simply enjoy an ice-cold soda when you can launch it into the air up to 125 yards? The answer: because it is fun! According to XProducts, flying soda cans also make excellent moving targets for shooting practice.
The recently released Can Cannon is a launching device that uses a gas ported barrel and pressure tube to launch full, unopened 12-ounce soda cans, when used with standard mil spec blanks. The Can Cannon is sold as an assembled upper receiver, headspaced and mounted ported barrel and pressure tube, compatible with most AR-15 mil standard bolts and most piston bolts.
Recognizing the potential for the Can Cannon, XProducts is currently designing the following accessories:
Grappling Hook
Net Launcher
Dog Training Toys
T-shirt Launcher
Lawn Darts
Harpoon
The Can Cannon is available for purchase now from XProducts' online store.
MSRP: $399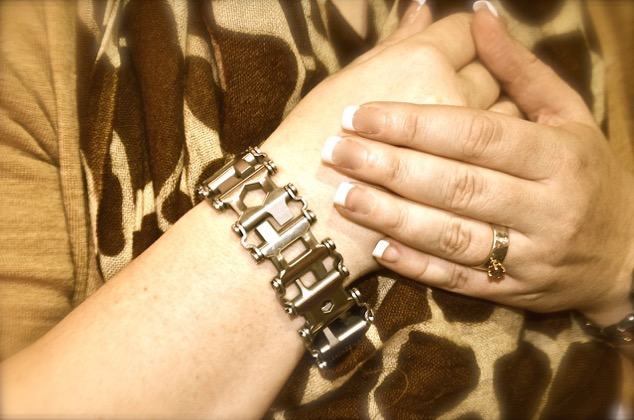 Leatherman Bracelet
In May 2015, Leatherman will be releasing what is quite simply the most ingenious product I have ever seen on the market. With style meeting functionality, the new Leatherman Tread multi-tool bracelet will certainly turn heads. Yes, you read that correctly. Leatherman is introducing a stylish piece of jewelry that will bring out your inner MacGyver.
TSA approved, the Tread bracelet features 25 multi-tool functions, including the following:
Cutting Hook
Bottle Opener
Oxygen Tank Wrench
Carbide Glass Breaker
5/16 inch Screwdriver
1/4 inch Box Wrench
3/8 inch Box Wrench
3/16 inch Screwdriver
#1-2 Phillips
#1 Phillips
5/16 inch Box Wrench
3/32 inch Hex Drive
1/8 inch Hex Drive
3/16 inch Box Wr3ench
1/4 inch Hex Drive
3/16 inch Hex Drive
5mm Hex Drive
6mm Hex Drive
10mm Box Wrench
#2 Square Drive
1/4 inch Socket Drive
1/4 inch Screwdriver
1/8 inch Screwdriver
Pick/Sim Card Tool
Available in both polished stainless steel and black finishes, the Tread is adjustable to within 1/4 inch to accommodate any wrist size. Bracelet links are also interchangeable, allowing for easy customization to include the tools you most need.
The Leatherman Tread will be available directly from Leatherman's online store, as well as from leading retailers nationwide. Click here to find the Leatherman dealer nearest you.
MSRP: $165-220 bracelet / $11-16.60 individual links
Camo Kilt
When I asked a representative for B & F System, Inc. why the company chose to introduce a digital camo print kilt to the market this year, he responded with, "Why not? There are simply no other camo kilts on the market. We saw the opening and filled it."
Made of an 80/20 poly-cotton blend, this (definitely unique) unisex kilt offers an internal pocket to hold all your necessities. A heavy-duty Velcro closure allows for a one-size-fits-all design. I can almost hear the bagpipes blaring in the background, preparing to lead kilt-clad troops into battle.
The B&F System, Inc. Camo Kilt is available now, directly from B&F's online store. Orders can also be placed by fax, phone, mail, and in person at B&F's brick-and-mortar store. Complete ordering instructions can be found here.
MSRP: $69.95
Target Factory Target Frame
Walking the convention floor at SHOT Show, I came to an abrupt halt, distracted by row after row of brightly colored bottles hanging from a folding rack. I immediately asked myself, "What in the world is that?" The answer amazed me!
Speaking with a Target Factory representative, I learned that what originally started as a made-up beach game quickly evolved into the Target-Frame – a relatively new (and I say brilliant) target shooting system for shooters of all ages and skill levels. The system boasts a lightweight folding frame with detachable, and replaceable, Target-Bottles. The Targets and Frame are made of blue-bin recyclable plastic, making them environmentally friendly. According to Target Factory representatives, the highly reactive Target-Bottles will withstand well over 250 direct hits from most caliber ammunition. When the Target-Bottles finally succumb to the abuse, they are easily replaced. The Target-Frame is designed with a cutout tray on the top to allow for freestanding clay targets.
The Target Factory Target-Frame and Target-Bottles are available now from Target Factory's online store.
MSRP: $ 129.99 Standard Target-Frame / $19.99-39.99 Replacement Target-Bottles
Chef's Choice Sportsman Classic WafflePro
In it's first attempt to bring the outside in, Chef's Choice introduces the Sportsman Classic WafflePro. This traditional waffle maker features a rustic, antlered deer design in the iron plate, making it the perfect addition to any outdoorswoman's kitchen. With 6 temperature settings, a non-stick coating and baking indicator light, this unique press bakes up fresh waffles in only 2 minutes. What could be better than delicious deer-printed waffles and crisp bacon on a Saturday morning?
The Sportsman Classic WafflePro is available now for purchase at major retailers nationwide. Click here to find the retailer nearest you.
MSRP: $59.99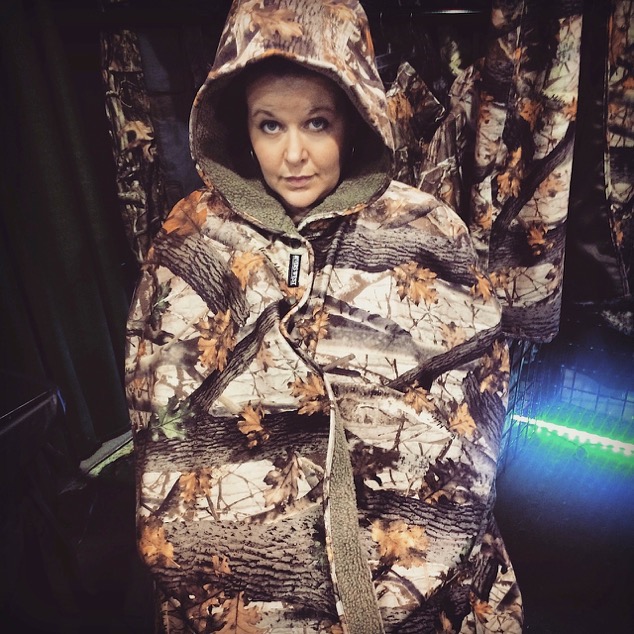 Riverswest Treestand Shadow
It can be rather chilly hunting from a blind or tree stand. This year, Riverswest introduces the Treestand Shadow, a one-size-fits-all cloak designed to help hunters stay warm and battle off the chill. (Imagine a cozy, camo Snuggie.)
Made of a water and wind proof exterior and heavy Sherpa fleece liner, and complete with a hood, the Treestand Shadow fully covers the body to provide warmth and concealment in the field. Two sturdy snaps beneath the chin keep the cloak in place, while allowing easy and quick removal. Personally, I'd prefer to use the Treestand Shadow when I cuddle up with a good book and warm cup of hot chocolate after returning home from a cold weather outing.
The Treestand Shadow will be available in Widowmaker Shadow camo print beginning in June 2015 from retailers nationwide. Click here to access the Riverswest dealer locator.
MSRP: $99-120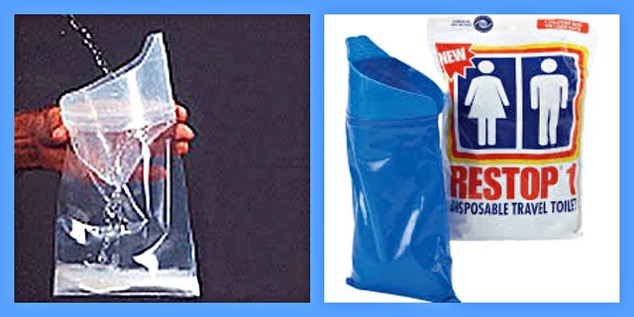 Restop
It is generally taboo to talk about poo. Fortunately, Restop, an innovative company offering responsible hygiene and sanitation solutions, is making an appearance in the industry. Restop's product line helps address the unspoken questions that come up when you are trying to answer the call of nature.
Restop offers a complete line of sanitation products to aid the outdoorswoman. The one that caught my attention at SHOT Show is the Restop I (aka, The Pee Bag). The wide opening to each bag, with a semi-rigid rim, allows for easy use by both men and women. The curve of the opening, however, is contoured to help fit a woman's needs. Each bag contains a special absorbent polymer and enzymes that help capture up to 20 ounces of fluid. A one-way valve prevents spillage, while deodorants help eliminate odors. I can see myself using the Restop I when unable to move from a tree stand or blind while hunting. I also see it as a valuable tool on our fishing boat when we are anchored and unable to break away to shore.
The Restop I is available from the company's online store, as well as from a number of retailers nationwide. Click here to find the retailer nearest you.
MSRP: $9.20 4/pk
About Michelle Whitney Bodenheimer

An experienced huntress, Michelle Whitney Bodenheimer has pursued big game, upland birds and waterfowl throughout North America and Africa. Although Michelle loves to hunt and shoot (both rifle and bow), her biggest passion in life is sharing her love for the outdoors with others. Michelle is the dedicated gear review columnist for Women's Outdoor News, in a column called "Her Gear." Michelle's writings and photography also have been published in a number of outdoor journals, including On Target, Lady Angler, The Gun Dog Journal, The Shooting Channel and African Hunting Gazette. Michelle has been a repeat contributing guest on Outdoor GPS,a live hunting and fishing television program broadcast on Comcast SportsNet NW. When Michelle is not writing, she is serving her time as an outdoor educator. She is an active volunteer for the Oregon Department of Fish and Wildlife (ODFW) Outdoor Skills Program. Her primary responsibilities with ODFW are serving as a shotgunning coach and dog handler/guide for ODFW's upland bird hunting clinics. Michelle also teaches regularly for Women in the Outdoors (WITO) and Becoming and Outdoors Woman (BOW) programs. She serves on the Pro Staff team for Cabela's, as well as for the NW Ladies Hunt Camp, an educational outreach program hosted in conjunction with the NRA's Women on Target Program and Extreme Desire TV, and is a member of the field staff for Próis Hunting and Field Apparel for Women. A current member of a number of national conservation organizations, Michelle is a life member of the Rocky Mountain Elk Foundations, as well as a life member of the National Rifle Association. She also served as a past director for the Southwest Washington chapter of Safari Club International. Take caution, however, if Michelle invites you along on a hunt. Having been stalked by a cougar and attacked by a cheetah, she tends to live life a bit on the wild side. View all posts by Michelle Whitney Bodenheimer →
The Conversation