The Fishing Cabin – 6 Ways to Add Painted and Rustic Charm
In our last post, we explored the hunting lodge. This month we will hook into another popular retreat: the fishing cabin. Here are 6 ways you can add painted and rustic charm to your favorite living space.
Our love of cabins stems back to the adventurous pioneers who settled America and built log cabins to carve out homes for themselves in a beautiful but often harsh wilderness.
Early log cabins were homes of necessity. This cabin, called "the Pleasant Home," was built circa 1845 in West Point, Miss. The cabin sits on some of the last remaining Mississippi black prairie and now serves as a rustic guesthouse for the family's sporting resort, Prairie Wildlife.
As America matured and prospered, retreats and vacation homes offered the wealthy a respite from city life. Just as hunting lodges ranged from small to estate, so did the cabins of wealthy Americans during the Gilded Age (1870s to 1900). Ironically, they called these elegant, large retreats "camps."
Probably one of the largest and most elaborate of these places is Camp Topridge in New York State, once belonging to heiress Marjorie Merrieweather Post. The camp comprised 68 buildings situated on 207 remote acres, with most of the guesthouses staffed with their own butlers. Guests arrived either on Post's private floatplane or yacht.
Notice the beautiful twig work of the boathouse at Camp Topridge, now listed on the National Register of Historic Places and privately owned.
Wealthy Victorians set a rustic fashion trend using natural materials to build their getaways. Uniquely American, this style quickly spread to private clubs and hotels alike. As an example, think of Old Faithful Inn in Yellowstone Park.
Americans have always had a love affair with the cabin lifestyle. It meant living easy and simple and the fishing cabin is usually located close to a lake, river or stream.
Soon, families with smaller pockets who also loved the outdoors and the ensuing pioneer spirit began building small camps and cabins to vacation with their own families and friends.
We have a small lake cabin that has been in our family since 1926. It is enjoyed by bare feet and wet dogs alike. I have painted native lake fish on the original old doors – I just had to leave the old bullet hole in the upper left door – no one ever 'fessed up, so we are not real sure of the story behind it, but know it happened sometime before 1950.
6 Ways to Fish-e-fy Your Place
Even though I painted the fish on the doors, you can still get this same effect by decoupaging old prints or wallpaper onto your cabin doors. How about on old furniture as well?
The early days of our family cabin were quite rustic and remote. The family first traveled by horse and wagon and it cost a day's journey. Now, by car, it is 50 minutes! We recently updated the tiny cabin and added indoor plumbing – but the outhouse is still there!
Accent with pillows, quilts and homespun fabrics. Fish prints, plaids and calico are available and old quilts that have seen better days can be re-purposed to make pillows and chair cushions.
As a gift for my husband, I painted him a pugnacious little sunfish on lambskin and sewed it into a pillow of turquoise Ultra suede. It became the perfect accent to the fabric I chose to recover the original old wicker furniture. The fabric is called "Pontiac – chocolate," from Calico Corners. Paint a pillow or order a custom one from Heritage Game Mounts, starting at $165. I love to paint fish on lambskin – the texture adds so much to the fish skin.
Even if you missed having cocktails at Camp Topridge, the well-dressed angler should always be at the ready with a handcrafted lapel pin by Hatch Creek Flies. Many styles are available at Heritage Game Mounts for $65. Think Easter or Father's Day.
Add angling art. I love everything angling. And if I am not fishing I am dreaming of it or painting it – love these hand painted Classic Salmon flies to add a bit of charm to a tabletop or in a wall grouping. We offer these works of art for $110, with custom flies available, too.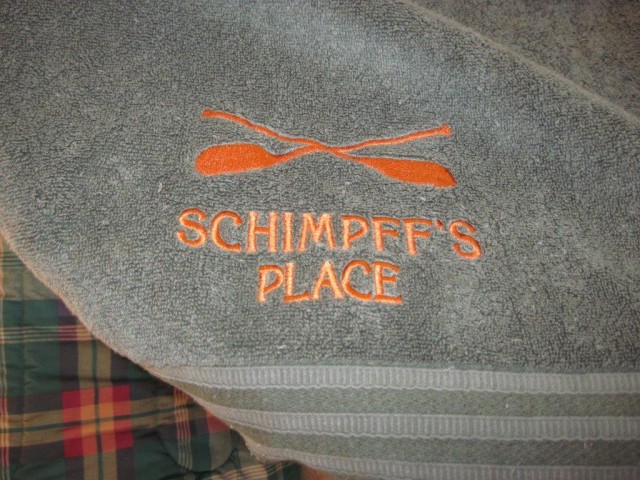 Name your camp and jazz up your towels with a fun angling monogram.
Add some color and interest by starting a collection of inexpensive vintage tins and bottles of the era you want. We built small shelves above accent-colored crown moulding to place funky collections of memorabilia.
.
6. Collect old fishing memorabilia. Oars, paddles and fishing lures. Fill an old creel with dried or fresh flowers and hang on the wall or use as a table arrangement.
For more on the creel, refer to my column here at The WON.
About Rita Schimpff

Rita Schimpff is an artist and designer who grew up hunting, fishing and enjoying outdoor life in Oklahoma and Texas, thus developing an early love and respect for wildlife and their habitat. She has carried this love to her art and her long involvement with many local and national conservation associations. As a member of the first Junior League San Antonio Mitchell Lake Wetlands Project, she created its logo and illustrated Mitchell Lake Wildlife Refuge: an Illustrated History. A graduate of Texas Christian University with a BFA in Commercial Art and Textile Design, Rita retired after more than 30 years in an interior design field. She launched her Texas based company, Heritage Game Mounts. She creates elegant, Old-World-inspired panels to display domestic and exotic game. She pens a blog called "Bring The Wild Inside" at the site, and at The WON, that offers ways to bring beauty and balance to the shared hunter/non-hunter home. Rita and her husband, Skip, have made hunting and fishing a large priority with their children. Along with two Boykin Spaniels and numerous adopted rescues, all aspects of hunting are very much a family affair. All of Heritage Game Mounts' products are American made. View all posts by Rita Schimpff →
The Conversation