3 Things to Know Before an Emergency at the Range
We welcome with open arms Sara Ahrens back onboard as a columnist at The WON! We are delighted to bring back "OffBeat," her column that describes her life off the beat as a patrol officer. Now that she's retired, Sara will be able to devote time to engaging us in her well-planned and executed columns, sponsored by Crossbreed Holsters. In this launch of the column under this sponsorship, Sara tells us 3 things we must know before an emergency happens on our range. ~ The Editors
A fun day at the shooting range can quickly turn into a life-or-death emergency. If it does, how much you know and prepare can directly impact the outcome. The worst time to consider what you should know during an emergency… is during the emergency. Here are 3 things you should know in order to handle a medical emergency at your range.
#1 – Where is the Phone and What's the Address?
Summoning help from first responders should be at the top of your list when a medical emergency occurs at the range. Knowing the location of the range phone or a cell phone is just the first step. Equally important, is knowing in advance how to dial out on the range phone and determining if your cell phone even gets service.
In a perfect world when you call 911 for an emergency, the dispatcher will know where you are calling from and have that address available on their computer terminal. Unfortunately, we do not live in a perfect world and many communities do not have the most up-to-date dispatching systems. If someone calls from a landline phone from the range, it is more probable than not, that 911 will have the range information available. However, if the number has recently changed, 911 has never been called, or someone calls from their cell phone, it's more likely that they will not know your location.
At best with a cellphone, many dispatch systems can get first responders "near" the location of the caller. Close isn't going to cut it when time is of the essence. To ensure the best response time, make sure your range posts its address; or better yet, memorize it yourself! Under pressure, people are hard pressed to come up with needed information.
#2 – What is Your Range's Policy on Providing Information to 911?
I have never been a member of a range that advises its members not to tell 911 that someone has been shot, if in fact they have been. I have heard that such policies exist. First of all, let me emphasize the importance of providing as much information as possible to 911. First responders are dispatched to 911 calls based on a system of prioritization. If you simply state you have a "medical emergency," but you fail to provide details, you may be endangering the lives and subjecting yourself to criminal charges. Failing to provide information delays response and prevents dispatchers from sending the right emergency equipment. Likewise, emergency responders need to know immediately if the "medical emergency" can be handled locally or if arrangements need to be made to transport to more advanced treatment centers. Not divulging the details delays the process of coordinating care. It should be noted that when giving details to 911, it is important to explain that the shooting was accidental, if in fact it was because the response for an active shooter is quite different than that of an accidental shooting. It should be noted that it is illegal to provide false information in order to gain a faster response.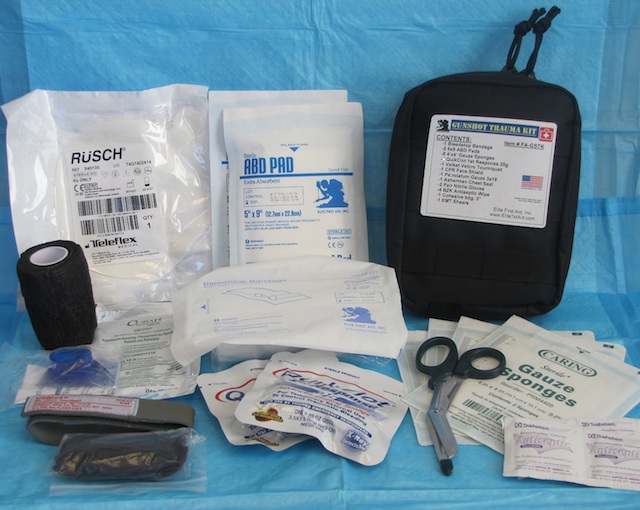 #3 – Where is the Emergency Medical Equipment at Your Range?
Depending on the location of the range in respect to the emergency responders, you may be the first responder. Knowing the location of first aid kits, the contents and its condition is critical.
When I took over as Range Master in my agency, someone requested a bandage for a small cut. I opened the first aid kit, which had been mounted to the wall for decades and was shocked by my discovery. The packaging on all bandages had yellowed and it was impossible to remove the plastic backing from the adhesive strip, which in retrospect, was probably for the best. There were items in that kit that had been outlawed by the FDA.
Had a real emergency occurred, using that kit would've only made things worse. I immediately replaced the kit with one that contained items likely to be needed in an emergency on a range. This included an AED (Automated External Defibrillator).
We go to the range to train and have fun but sometimes, bad things happen. If something bad were to happen while you are at the range, do you know where the phone is, what to say, where you are? If you have to be the first responder, do you know if, where, and in what condition the first aid kit is? If not, you should figure it out before you uncase your firearm.
The Conversation