How to Stay Cool During Early-Season Hunts
We're in the prairie, at temperatures topping 100 degrees, for an early archery-season antelope hunt. If you've ever been to or through the prairie, you know there isn't much in the way of trees or shade. That means it's extremely tough to stay cool during a summertime hunt.
LG and I enjoy spot-and-stalk hunting, so a typical morning hunt includes crawling through buffalo grass, sage, yucca and cactus in sweltering heat. We attempt to outsmart animals, on their own level. But just like the animals, we need to be smart enough to survive the extreme temperatures.
Staying cool can be a challenge. I remember one summer my husband and I headed to the hunting blind for shade. About an hour later I looked over at a flushed-faced man. When I spoke, he looked distant and dizzy. He felt sick and his heart was pounding. It occurred to me, "He's near heatstroke. Never mind a buck; I'm going to have to figure out how to pack out my husband."
How to prevent heatstroke
According to the American Red Cross, it's best to postpone outdoor activities during times of excessive heat. However, this hunt only lasts so long, so we'll be hunting and need to be prepared while we're out there. We took First Aid courses, and learned it's important to use the buddy system when temperatures are extreme. Always remember to keep an eye on your buddy.
How to stay cool
The best way to prevent heatstroke is to stay hydrated. We also head for the blinds in the heat of the day, because it's the only shade around.
Heatstroke is a legitimate emergency, which can be avoided with proper preparation. Below are several ways to prevent it.
Water – As I mentioned, staying hydrated is the most important thing we can do to prevent heatstroke. Caffeinated beverages and those that include alcohol contribute to dehydration. Avoid these fluids when you know you're going to be in extreme heat. Always carry water with you, even if you think you'll only be out for a short time. You never know when that plan will change. Drink water all day, even if you don't feel thirsty.
Electrolyte Replacement – When we over-exert and sweat, we lose electrolytes. Replacing them can be a challenge, which we can attempt to meet by drinking gallons of sports drinks. I've grown to love Wilderness Athlete's Hydrate and Recover packets. (Note: I am not on this company's staff and do not receive compensation from them.) These supplement packets are small and are easy to carry in a pocket or pack. Pour the packet into your water bottle and drink. It replenishes the nutrients we lose during exertion. I use this supplement during high-altitude hunts, extreme-temperature hunts and other arduous tasks.
Spray Bottles – We've learned to pack spray bottles. Spraying can cool the skin and help lower body temperatures. Some friends carry spray bottles that have fans on them. We simply carry ArcticSqueeze Mist 'N Sip bottles. They hold drinking water and can be used to spray a fine mist.
Cool Gear – The Red Cross also suggests wearing lightweight, loose-fitting clothing. We've found some great camo clothing and accessories to wear during the hunt. Buff offers camo sun protection in CoolMax UV-resistant tube and balaclava designs. The fabric is lightweight and the CoolMax science is truly amazing as it wicks moisture away, cooling the skin.
SHE apparel and Under Armour both offer Ultra-lightweight camo options for women. Bass Pro sent me the SHE Outdoor Element and I purchased the Under Armour Performance Field shirt. These are the most durable, high-quality, lightweight sets of hunting clothes I've found for women—perfect for archery season and spot-and-stalk. The breathable, quick-dry, moisture-wicking fabric allows a gal to protect her skin from the sun. She can wear long sleeves and pants while staying cool. Better yet, she'll remain odor free.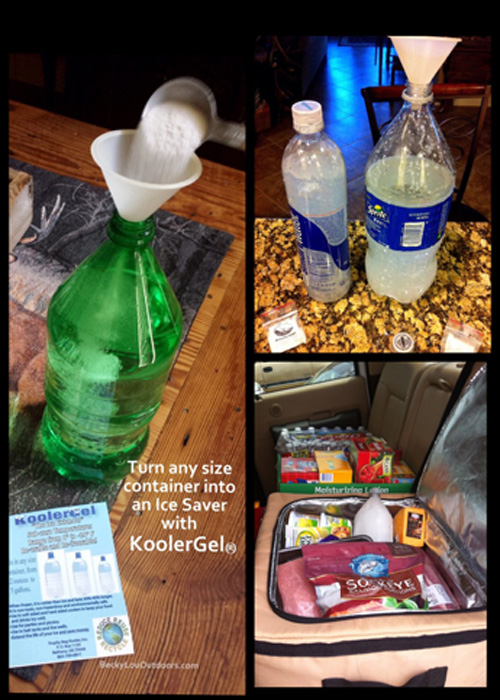 Ice Bottles –We all know ice is a great chiller. On our last Girl's Hunt Out, my friend Becky Lou gave me KoolerGel, a powder you can add to any water bottle and then freeze. The treated water stays frozen 40 percent longer than water alone. This can help keep your drinks cold; it also comes in handy when you tag out during a sweltering early season antelope hunt.
About The WON

The Women's Outdoor News, aka The WON, features news, reviews and stories about women who are shooting, hunting, fishing and actively engaging in outdoor adventure. This publication is for women, by women. View all posts by The WON →
The Conversation