Vote for Shaka in 'Garden & Gun' Good Dog Photograph Contest
Our good friend, Judy Rhodes, has entered her Drahthaar dog, Shaka, into the prestigious Garden & Gun Good Dog Photograph Contest. Shaka accompanies her human on many hunting trips, and sometimes out to DIVA WOW events, especially, if the events feature dog training.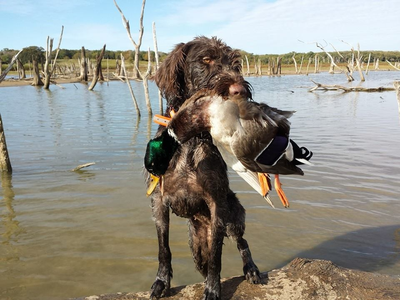 In fact, Shaka took the time to SIT down for an interview with us, and talk about the contest and her life with Judy:
The WON: Why are you entering this contest?
Shaka: I did not know my human, Judy Rhodes, had entered me in Garden & Guns Good Dog contest until I overheard Judy asking friends to vote for me. Me, a bearded dog? Heck … I am in to win!
The WON: Why do you love hunting?
Shaka: Hunting is in my blood, I was bred to work in the field or in water. I am a versatile hunting dog; I can do it all! I track, point, flush, retrieve, track and … my favorite is finding sheds.
The WON: I know you've spent a lot of time in school. What did you learn?
Shaka: I attend Camp Chuck Dog Training in Texas. I am a natural outdoors girl! I have not met a task from Camp Chuck I cannot master. Once Chuck got my attention … learning was a snap! Like my owner, I really wanted to do my retrieving my way … discipline, oh please, I have skills! Chuck's secret is to unlock my abilities one at a time. My favorite skill at Camp Chuck is Honor. I especially love teaming up with Speed, a Nova Scotia Duck Tolling retriever, who is my lifelong buddy (we have been friends since we were 10 months old). I am 2 1/2 now, almost 3 years now. When it is Speed's turn … I wait! Honor and integrity afield. So important.
The WON: What's your fav doggie treat?
Shaka: I love "fat girl" snacks! Never met a snack I would turn down — unless it was a repeat of what I was just offered.
The WON: Favorite species to hunt?
Shaka: My favorite species is my next hunt. Knowing what my next hunting species is easy; Judy has different collars. I know, please don't judge me by wearing clothes. For pheasant, I have a bell to wear. For ducks, I have a light-up collar that blinks for early morning walking to the blind. For dove, I sport a camo collar… that makes the big sneak easier.
The WON: If you win, what will you work toward achieving?
Shaka: Along with world peace … if I win — and I am hoping for a crown — I will represent the outdoor fur baby with pride. I am hunting in 7 states with Judy this fall and my platform will be … Adopt dogs looking for a forever home. After all, we all have skills.
We want Shaka to win! So, please, if you'd like to help her out in her quest, please visit Garden & Gun, and VOTE FOR SHAKA!
About The WON

The Women's Outdoor News, aka The WON, features news, reviews and stories about women who are shooting, hunting, fishing and actively engaging in outdoor adventure. This publication is for women, by women. View all posts by The WON →
The Conversation