The Well Armed Woman Offers Loads of Christmas Gift Options
There's still time to get that woman who is into the shooting sports or hunting a great gift from The Well Armed Woman. Here are a few choices that we have used recently and recommend.
The NORB (No Ordinary Range Bag)
When I visited Carrie Lightfoot, of The Well Armed Woman, last spring in Scottsdale, Ariz., she picked up a funky slim bag off the warehouse shelf and said, "Now this bag? It's really popular."
Then, she sent me one to try, in a Typhoon Kryptek pattern.
The "No Ordinary Range Bag" (NORB) looks like a cross between a laptop bag and a skinny messenger bag, but it packs away a lot of stuff. I carried 2 guns, along with everything else, in this bag to the range. I also took it to the mall, because it's urban and funky. I can get to my gun fast, wear the bag cross-body and carry all my stuff, plus some.
Designed by a woman shooter for women, this bag might also appeal to men. Seriously. Made of heavy-duty, non-slip, water-resistant fabric and complete with a rifle-sling style cross-body strap that allows for a 20-inch drop, the bag looks, well, macho.
Hardware is premiere in a good bag, and the NORB's clasps come from Italy. You can open the bag without opening the bag. Just unzip the ambidextrous zipper pulls and get right into either the main compartment, or access the pistol compartment – where you may store two firearms – even .45s.
Here's where the bag gets useful on the range. Open the interior flap, lay it out and voila! There's a nonskid surface that you can rest your gun on between shots.
Inside the bag, a mesh pocket holds flotsam and jetsam. A double mag holder and another mesh pocket (cell phone holder) complete the interior containment options.
The NORB also comes in Stormy Swirl and Blue Ripstop. It measures 14 inches wide and 12 inches tall, and with a 3 inch depth, it can stand while you're working with it.
MSRP: $119.99
http://thewellarmedwoman.com/norb-range-bag
Holsters
I can't pick just one, because you need more than one for every gun you run — in my opinion. Maybe you want an outside-the-waistband for certain occasions, and an inside-the-waistband or belly band, or even a purse. You can find it here.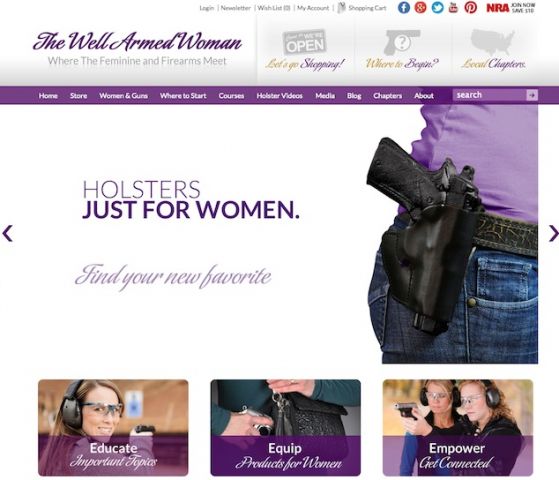 A Full Year's Worth of Training Opportunities?
The Well Armed Woman isn't just about equipping women, it's also about empowering and educating them through training chapters in all 50 states. See if there's a chapter near you, and get ready to get better in 2016 — at shooting, at raising your awareness levels and at defending yourself and your family and friends.
About Barbara Baird

Publisher/Editor Barbara Baird is a freelance writer in hunting, shooting and outdoor markets. Her bylines are found at several top hunting and shooting publications. She also is a travel writer, and you can follow her at https://www.ozarkian.com. View all posts by Barbara Baird →