How to: 24/7 Pistol Carry Made Easy
There's something to be said about being aware of your surroundings, and being prepared to protect yourself and those you love. For many people, it means carrying a firearm whenever they leave the house. For others, it means having a firearm nearby and easily assessable 24/7.
Unfortunately, depending on your lifestyle and daily routines, having a gun nearby may be easier said than done. Where are you driving? How long? What are you doing? What will you be wearing? All these elements have to be taken into consideration.
Many people I talk to tell me in order to make carrying 24/7 more convenient, they have various pistols for different uses throughout their days. For instance, one friend always keeps a gun in her purse. She knows when she walks out the door it's already with her. Another friend comes home and takes a gun from her purse and puts it into a lock box. A third friend carries on her body, and stores her gun near the door to the garage – giving her quick access to it as she walks out the door. All 3 of these women have a second firearm in their bedrooms: in a lock box, in a drawer and on a high shelf. One lady even has a third pistol in a secret location in her kitchen. Please note, none of these women have children, so having the gun locked is not a concern in this article. These women are not paranoid; they are just prepared and want to be able to protect themselves if necessary.
There's an old saying,
Beware the man with only 1 gun, he probably knows how to use it.
What if rather than having 2 or more guns, conveniently placed throughout your house, there was a way to have the same pistol nearby from the time you wake up, all day, and through the night? What if there were tools available to make carrying 24/7 easier, more convenient?
Let me introduce to you some of the Modular System product line from my column's new sponsor, Crossbreed Holsters.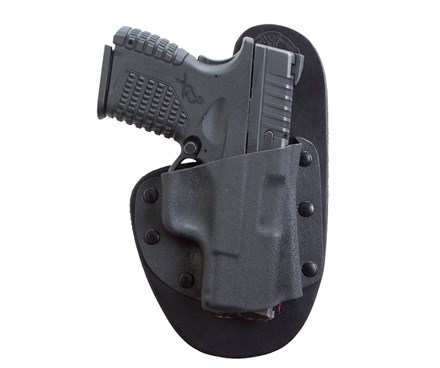 The lifestyle of 24/7 hours pistol carry begins with the OHAI Modular Holster MSRP $47.50.
This modular holster is hand molded to fit your firearm of choice and backed with Velcro. Once the gun is placed in this holster there is no need to remove it at any time. I really like the design because it covers the trigger, an integral safety feature.
7:30 a.m.: Starting out the day with some exercise and a long walk or run is easy when you wear the Belly Band MSRP $34.95. Incorporate it with the Modular Holster for added security. For more information check out Babbs' review on the CrossBreed Belly Band.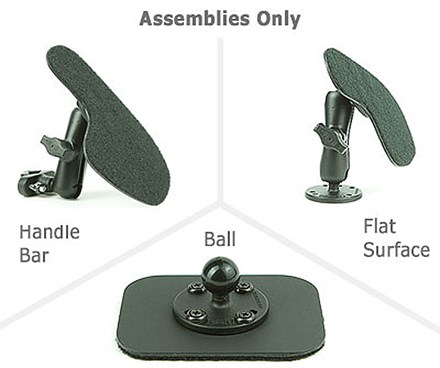 11:00 a.m.: Having a firearm handy and accessible for a long ride into the city is easy with the RAM* Mount MSRP $35.95. This fully adjustable mounting system, secured in your car exactly where you want it, provides immediate access to your firearm if necessary. While still in the Modular Holster, it hooks right to the Velcro attachment on the RAM* Mount.
Noon: Carrying concealed while grocery shopping is no problem when you have the Purse Defender MSRP sm $16.95, lg $19.95. Just insert one of the two size Velcro-lined Kydex panels into your favorite purse. Before you exit the car, attach the Modular Holster to the Velcro. Your firearm will stay in one place in your purse and you can set it up at the angle you prefer. Wear your purse in a cross-body style if possible and never leave it in the kiddie seat in the cart.
1:30: Back in the car for the ride home, I just attach the Modular Holster back on the RAM* Mount. Safe, secure and easily accessible.
2:30: Once home, it's a return to the Belly Band.
9:30: Time for bed. (Yes, I know it's early, but I'm old.) With my pistol still in the Modular Holster, I simply attach it at the correct angle to my Bedside Backup MSRP $29.95. The main support slides between my mattress and box springs. It's secure and within reach. Since the system folds in half, I can easily take it with me when I travel!
Making the choice to carry a firearm is very personal. Once that decision is made, why not find tools to make it easier, safer and more convenient?
About Michelle Cerino

Michelle Cerino, aka Princess Gunslinger, entered the firearms industry in 2011 when Cerino Training Group was established. She immediately began competing in both 3-Gun and NRA Action Pistol, becoming a sponsored shooter. Michelle is currently a columnist and Managing Editor of Women's Outdoor News, as well as owner of Pervenio LLC. She also manages social media for Vera Koo and GTM Original. Michelle encourages others to step out of the comforts of home and explore. View all posts by Michelle Cerino →
The Conversation