Retro WON: Pinecone bird feeders make quick and easy outdoorsy craft
Learn how to make quick and easy pinecone bird feeders from Babbs in the Woods and one of her favorite toddlers.
Some of you may have heard about unusual snowfall on the East Coast. I spent time in the Carolinas during the most recent winter storm. With a toddler (Pippi Jean) in the house, I wanted to find something meaningful to her, since she loves to watch the birds from the kitchen table when she eats.
First, we went on a pinecone hunt. I would recommend collecting pinecones before 2 feet of snow falls in your yard, but it made it a fun hunt. Thanks to Pippi J's mama's enthusiasm for digging, we soon had 6 nice pinecones. I placed the pinecones on foil in a low temperature oven until they dried.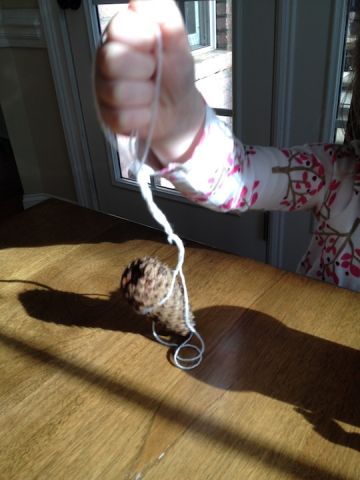 After the pinecones cooled, I tied a piece of twine around the top of each one. Pippi J liked to help me with the knots. We talked about how the birds would find the food and appreciate it. She drank some juice water and showed Mickey Mouse our progress.
Then, we spread peanut butter around the pinecones and rolled them in black sunflower seeds. Pluto took a few imaginary licks of the peanut butter.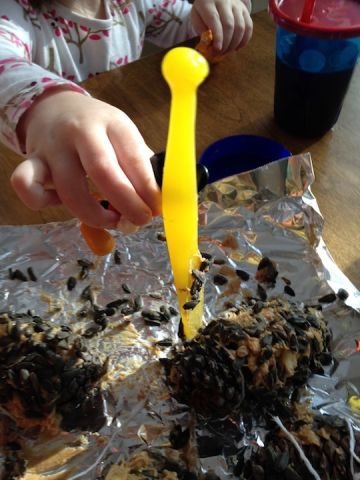 After that, we bundled up and went outdoors with our newly created bird feeders and hung them from branches. Granted, we hung one so low that the dog came out and licked it clean. I tied the rest of the feeders up a little higher — away from the labradoodle's tongue. Pippi J picked out the locations for the bird feeders.
Then, we searched for deer tracks, and she found a bonus — deer poop!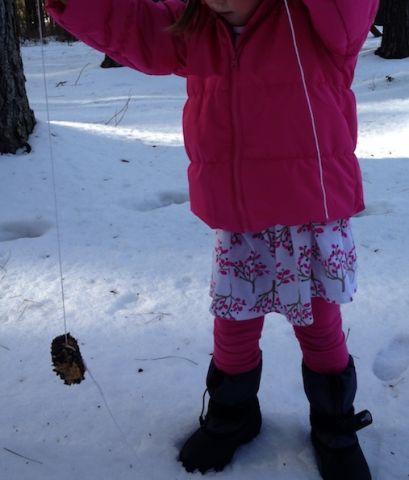 This craft is really an oldie, but goodie, in my books. I heard that Pippi J is still enjoying the bird feeders and watching the birds swoop in and pick away at the pinecones.
This retro WON first appeared on February 18, 2014.
About Barbara Baird

Publisher/Editor Barbara Baird is a freelance writer in hunting, shooting and outdoor markets. Her bylines are found at several top hunting and shooting publications. She also is a travel writer, and you can follow her at https://www.ozarkian.com. View all posts by Barbara Baird →