Ladies of the DC Project Intro New Second Amendment Advocacy Group on EyeOnTheTargetRadio.com
WAYLAND OHIO – The group REALIZE Firearms Awareness Coalition is pleased to announce the introduction of the DC Project and its pro 2nd amendment advocacy on Eye On The Target Radio. The show will air on Mon., March 7, at 7 p.m. EST.
On February 25 & 26, 15 women met in Washington DC to kick off the planning trip for the DC Project. These women were performing the initial test run of the 50 pro gun women from 50 states that makes up the DC Project. On March 7th, several of these women will join Amanda Suffecool and Michelle Cerino on the radio show Eye On The Target. EyeOnTheTargetRadio.com
Amanda Suffecool – Director of the not for profit group REALIZE firearms awareness coalition stated " With this terrific line up of pro gun guests, this is the show to catch. These women are terrific, professional, pro gun / pro second amendment advocates, sharing with us why they spend their time and their money on this project. And to add to it that I have Michelle Cerino – shooter, educator and editor of WON ( Womens Outdoor News) on the show as co host. Its pretty exciting."
This week's guests will be Dianna Muller – professional 3-Gun shooter from Oklahoma, retired police officer and television personality. Dianna was most recently shown on the TV Show Big Guns- Ladies First on the Shooting Channel aired Q1-2016 where she competed right up to the last challenge and placed second on the show. Dianna has been named as a co-host on "Shooting Gallery" on the Outdoor Channel.
Also Cheryl Todd, owner of AZ Firearms and host of her own show in Arizona titled Gun Freedom Radio. Cheryl's background is in firearms and in Psychology. Cheryl was an invited speaker at the National Gun Rights Policy Conference and the NSSF Industry Summit.
And the third speaker will be Jeanelle Westrom, owner of Davenport Guns in Davenport Iowa. Jeanelle has been a competitive shooter with a 'military brat' background. Jeanelle has gun selling facilities in three states as well as running the summer store at Ohio's Camp Perry. Jeanelle's firearms employment history includes a long stint in the family business of the rifle company Armalite.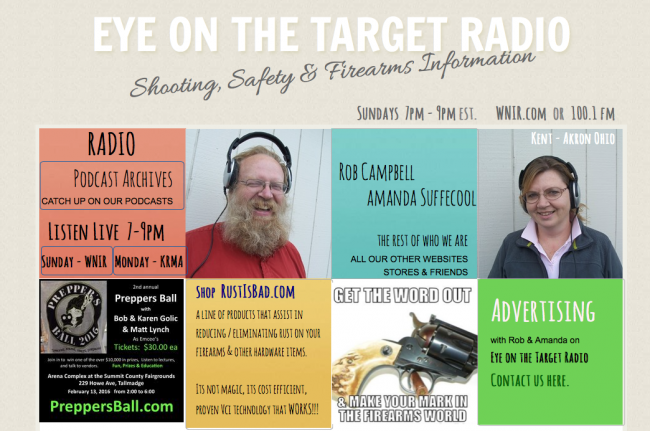 The Eye On the Target Radio show (website EyeOnTheTargetRadio.com) is a weekly show offered on an internet platform, as an internet station, not just a podcast platform Amanda and her brother Rob Campbell have been hosting pro-gun shows on this station and on WNIR 100.1 since 2010 and this stations inception. The weekly radio offerings are part of the educational segment of REALIZE firearms awareness coalition that works out of Summit and Portage Counties in Ohio.
More information can be found on the website DCProejct.info. Or by Contacting Robyn Sandoval at robyn@agirlandagunclub.com
The REALIZE – FIREARMS AWARENESS COALITION Supports Education, Defends the 2nd Amendment & Stands with the NRA. The mission of REALIZE FAC is: to educate citizens as to the historical intent of the Second Amendment to the Constitution of the United States of America, to enable citizens to accurately relate and defend aspects of the U.S. Constitution, to enhance public awareness and support for responsible gun ownership, and to emphasize firearms education for women who facilitate the transmittal of constitutional awareness and gun ownership to succeeding generations. Education is key as informed Americans make better choices, and we do it through public seminars and Weekly Radio. Radio: EyeOnTheTargetRadio.com. REALIZE FAC is based in Wayland, Ohio, can be reached at RealizeFAC@yahoo.com or the web site at REALIZEFAC.org. REALIZE FAC is a registered not-for-profit educational organization.
#
About The WON

The Women's Outdoor News, aka The WON, features news, reviews and stories about women who are shooting, hunting, fishing and actively engaging in outdoor adventure. This publication is for women, by women. View all posts by The WON →
The Conversation