Jazmin Almlie-Ryan: A Rifle, a Baby and a Dream Come True
This week's WONderful Olympic Woman is Jazmin Almlie-Ryan.
Before July 22 of last year, there had been a void in Jazmin Almlie-Ryan's life. But until then, however, the 34-year-old Paralympic rifle shooter had no idea it was there. Now that she has filled it, her world is complete.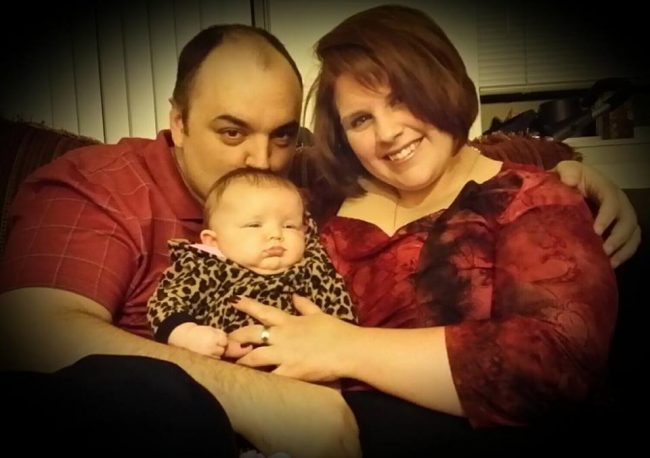 On that day, Almlie-Ryan became a mom to daughter Rebekah and suddenly something mattered more to her than shooting ever could have.
There are no words to describe how much that little girl has changed me and my life," she admits. "At one time not so long ago, shooting was my only priority and I would have given my whole world to make a Paralympic Team. Now that that little baby has come along, the priority has shifted completely to where she is my number one priority and I'm just so much more comfortable and at peace with where I'm at in life.
Funny thing about outlets though is that your aim often gets better when you truly find the right one.
Jazmin Almlie-Ryan at the World Cup
Proof of this comes in witnessing Jazmin's performance at the International Paralympic Committee World Cup in Fort Benning, Georgia in November. All she did there three months after giving birth and competing in her first international match in over a year was earn two trips to the finals, earn a Paralympic quota and complete a great week with a gold medal in the R5 (Mixed 10m Air Rifle Prone SH2) event.
Since she was 18, Jazmin has battled progressive spastic myelopathy that started in her lower back, forced her into a wheelchair when she was 22, and now has progressed into her cervical spine area affecting her hands, wrist and arms.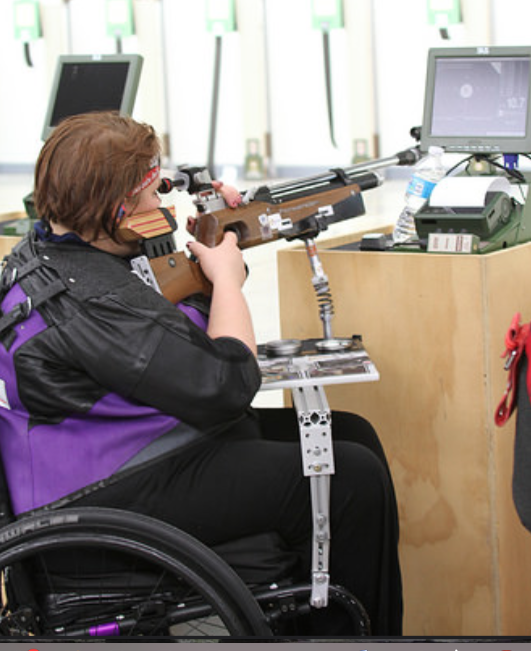 Family is her greatest strength and with it she feels there's nothing she can't do. Her husband Matt balances a 60-hour work week while making time to care for the baby during his wife's extensive training sessions. Often they can all be found together on the range. Rebekah is every bit a part of the extended team effort taking place to allow Jazmin to chase her Paralympic dream. Her temperament and easy-going attitude make it possible to spend long hours on the range.
Now as Jazmin looks to fulfill her Paralympic quest, she competing in 2016 knowing absolutely nothing could top her 2015. Thus, there's a peace-of-mind that comes in knowing everything else from this point is more gifts.
She gave me the best 2015 that anyone could ask for. My two top dreams came within three months of each other," Almlie-Ryan acknowledges. "God put Rebekah in our lives for the right reason and at the right time. I'm not lacking anything whatsoever in my life. I have a wonderful family who loves me, a beautiful daughter, a great husband and I get to come and do a sport I love every single day. What more can you ask for?
Sport and motherhood now provide her the therapy she needs for paralysis and life. It was her first athletic love, basketball, which literally brought her to the range after one of her games was cancelled and a Paralympic Air Rifle match was being conducted next door. Quite simply, she showed up, proudly showed her Texas roots, and won, which led her to being invited to a training camp for shooting at the Olympic Training Center.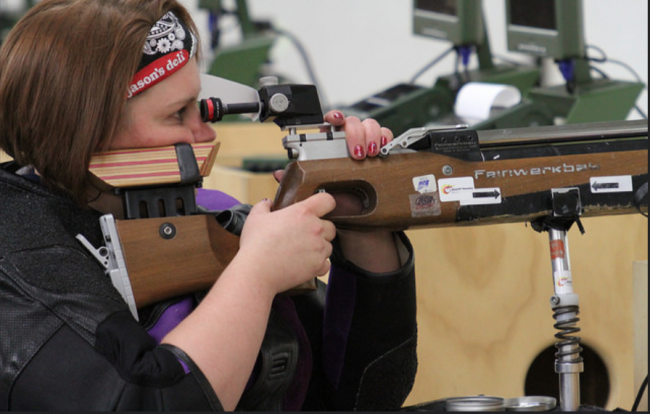 Now, she's here to stay as the style, mental tests and sport longevity really appeals to her.
Though her success just three months after giving birth wasn't all that unexpected given her training regimen and high scores, Almlie-Ryan knows there's still a higher bar she can reach.
Training, that's the easy part because she loves what she's doing. Motivation, well, since Rebekah came along, never has it been greater. Since finding the sport, Almlie-Ryan's been on a quest and nothing—not the continued progression of her myelopathy, nor the arrival of her daughter—is going to deter her from that. If anything, it's only strengthened her resolve.
If your new to our WONderful Olympic Women series, read our previous installments:
"WOW Wednesday to Feature USA Shooting's WONderful Olympic Women".
Morgan Craft: Crafting Her Own Fate
WOW Wednesday: Olympic Rifle Shooting 101
About The WON

The Women's Outdoor News, aka The WON, features news, reviews and stories about women who are shooting, hunting, fishing and actively engaging in outdoor adventure. This publication is for women, by women. View all posts by The WON →
The Conversation