Retro WON: 12 Safety Tips for Staying in a Hotel
Wendy Megyese lists 12 tips for safety while staying in a hotel.
Fall is kicking into high gear. Most vacationers have enjoyed their summer break and are back home until next summer. The cost of hotels has dropped to pre-Memorial day prices and room availability is at a high. Nevertheless, there are many people, including me, who have reason to stay at hotels. Whether the purpose is for business or pleasure, every day across the world, both high end and economic hotels host guests. Unfortunately, some of them are also hosts to criminals.
After a long day of traveling or meetings, checking into a hotel room can be something to look forward to. I travel regularly and knowing I can relax in a bed that I don't have to make in the morning is a comforting thought. The burden of caring for the room and its surroundings falls on someone else. However, the burden of protecting yourself still remains with you.
Here are 12 safety tips you should follow when staying at a hotel:
1. When checking in, stay with your luggage – if you walk into the lobby ahead of your luggage, it could be snatched. Keep your luggage nearby too, because if the lobby is busy, enterprising thieves can take advantage of the distraction.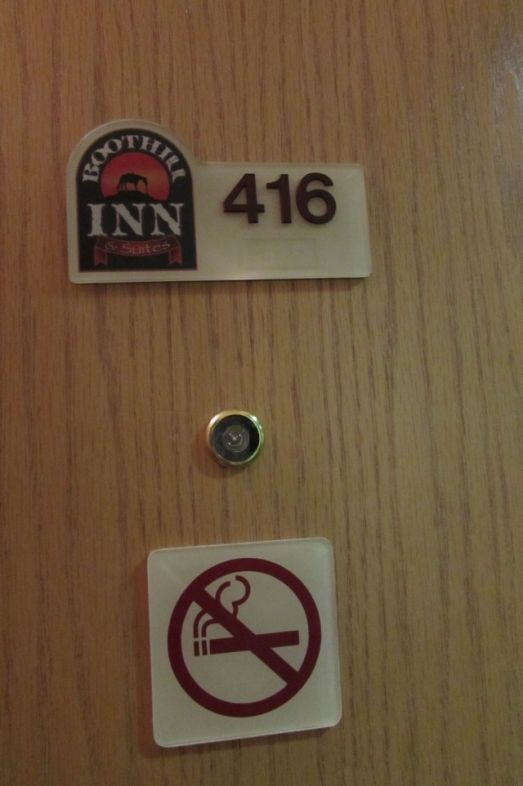 2. Ask for a room that's not on the ground floor. A ground floor room is not only more convenient for you, it is equally convenient for criminals to access. Your best option is to ask for a room between the third and sixth floor. These are harder to break into but low enough to be reached by fire engine ladders.
3. Most reputable hotels with honest and trained staff know not to give out names or room numbers, but it's still happens regularly. If your room number is compromised (i.e., announced out loud), ask to be given another room. You never know who is listening and your room number is a matter of personal security.
4. Don't set your credit card on the check-in counter – it's too easy for a thief to capture the numbers with a good camera.
5. Ask for two business cards with the hotel name and address. Place one by the phone in your room. If there is an emergency, and you call for help, you'll have the name and address of your location. It also helps if you're ordering pizza! Place the other in your pocket or purse. If you have to take a cab or get lost, you can avoid going to the wrong hotel.
6. If a valet has accompanied you to your room, ask him to stay while you check the room. Look in the closet, the shower, and behind the curtains before you shut the door or release the valet. If you are entering alone, be sure to have a self defense weapon readily available to you until you have checked the room and have securely locked the door.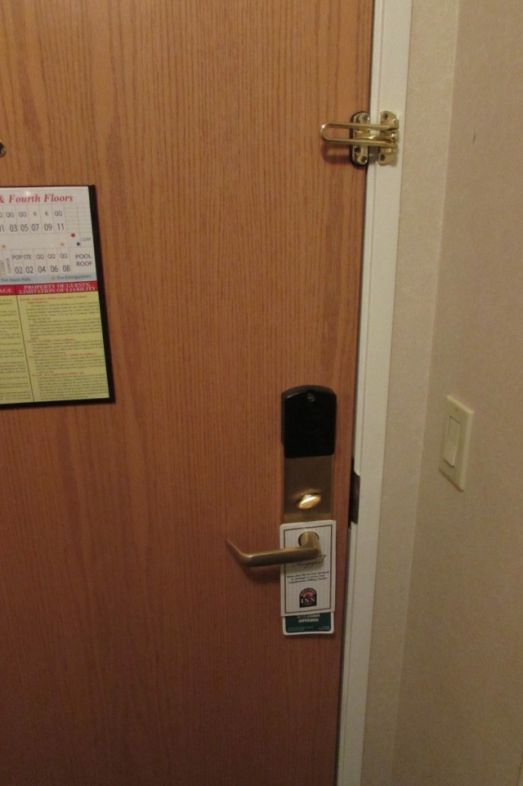 7. Check the lock to be sure it's functioning properly. Make sure that the door has a deadbolt and keep it locked whenever you are in the room. Most rooms have an extra locking device that keeps the door from opening fully if it is opened. Make sure to use it.
8. Use a door wedge or a motion activated door guard with an alarm to further secure the door – especially when you are sleeping or in the shower. Not every criminal gets caught, and some find employment at hotels. Some have been known to wait until they hear you in the shower before robbing your room or attacking you.
9. Place a flashlight by your bed. The best option is a stun gun flashlight. If there's an alarm or the electricity goes out, you'll have the light you need to navigate an unfamiliar building, and you have a self defense weapon readily available if you need it.
10. Lock the items you won't be carrying with you, such as your laptop or other electronics, in the room safe. Modern hotels with a safe that lets you select your own combination are safer than those with keys. Don't leave your passport behind.
11. If the safe in your room doesn't appear secure, ask that your valuables be locked in the hotel safe, but be sure to get a written receipt for your items and ask about the coverage for loss. Most hotels do not accept liability for items left in the guestroom safes but they will for those locked in the hotel safe.
12. If you lose your key or room entry card, report it to the hotel immediately. Cards keys can be de-activated, but if you are staying at a hotel that still uses regular keys, asked to be moved to a different room. Don't assume you lost the key – it may have been stolen from you by someone with malicious intent.
Remember – safety is a mindset. Don't mentally check out when you check-in to a hotel.
This Retro Won first appeared October 8, 2015.
About The WON

The Women's Outdoor News, aka The WON, features news, reviews and stories about women who are shooting, hunting, fishing and actively engaging in outdoor adventure. This publication is for women, by women. View all posts by The WON →
The Conversation