TeamWON and Muck Boots: Why We Love 'Em
We are delighted that The Original Muck Boot Company (aka Muck Boots) sponsors our new columnist, Marjorie Paulson, in "Out and About." Not only does Marjorie take us on new adventures afield, but also, Muck Boots provides her with warm and functional footwear for her forays. Some of us, at TeamWON, have also benefitted from this alliance, and one of us – well, I've been wearing Muck Boots on my own dime and time for at least 8 years now. This is a photo gallery of why we love 'em and why you might, too.
I first realized that I needed a pair of Muck Boots when I went on a turkey hunt in damp, cold Arkansas 8 Aprils ago. My guide wore them, and at that time, the company didn't offer women's sizes specifically. Yes, those were the days. So, I purchased a men's size of basic black with blaze orange lining and you know what? I'm still wearing those boots. My guide, a big old guy from Kansas, even showed me how to roll down the tops if you needed to cool off while hunting.
A few years later, I purchased a pair of the women's hunting boots in Woody Max, not really because I needed them, but to support the team. At last, a company made a hunting boot especially for women.
I like the boot's sole. It's rugged and works for me in these Ozark hills and hollers. I can cross creeks and also, there's ample room to stuff my hunting pants down into the tops if I need to cross a low creek. This boot's comfort range is from -40 degrees to 40 degrees. Not bad, and perfect for hunting in most places in this country.
So, summer rolled around and I desired a gardening boot. I looked to Muck again, and chose a snappy Breezy Muck Boot, with its XpressCool™ lining that pulls sweat away from my feet and redistributes it, keeping my tootsies and other parts dry and cool.
The most difficult thing for me with Muck Boots? To choose the style. I have not looked back and these are my go-to boots between May and September, and hey, I even wore them in a duck blind in Louisiana on a teal hunt in hot weather.
And then, I liked the look of the new Breezy ankle garden boot, 2 summers ago. I loved the gingham version and really, I don't wear it in the garden … I wear it to town to run errands when it's raining. I like the sock liner, and the boot's overall cushiness, and the low height – 7 inches. It's perfect with skinny jeans, too.
My granddaughter loved my boots so I bought her a girl's version, in pink gingham, last year, and she wore them to play in the nearby creeks and catch frogs. A few weeks ago, she chose her first pair of camo Muck Boots, the Kids' Rover II, in Mossy Oak Break-Up camo, so that she could go out deer hunting with her daddy. She was mighty proud, mighty proud, to join the ranks of Muck-Boot-wearin' family members in our household.
Enough about our family – although my hubby, sons and daughter-in-law all have these boots and believe me, when we're all here in the Ozarks hunting, we might have 8 pairs of Muck Boots lined up in a row in various states of muddiness and slop.
Michelle's Muck Boots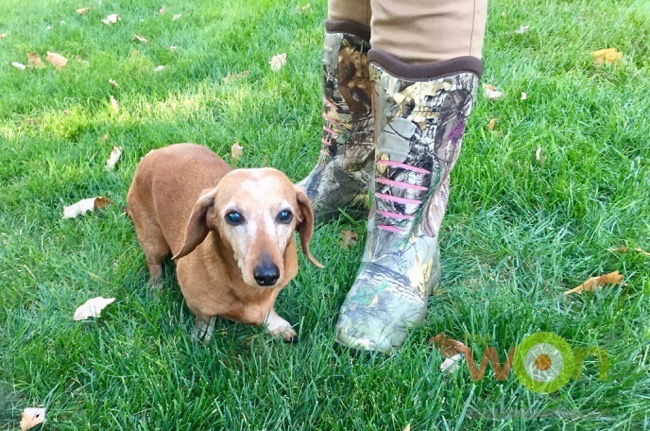 So, our managing editor, Michelle Cerino needed a warm pair of boots that were waterproof. I recommended – you guessed it – Muck Boots and she chose the Pursuit Stealth model. "I love these because they fit so well. Often, I can't find boots to fit over my calves. These fit perfect! Whether I am mowing the lawn or walking through the woods, I always choose these boots," reported Michelle.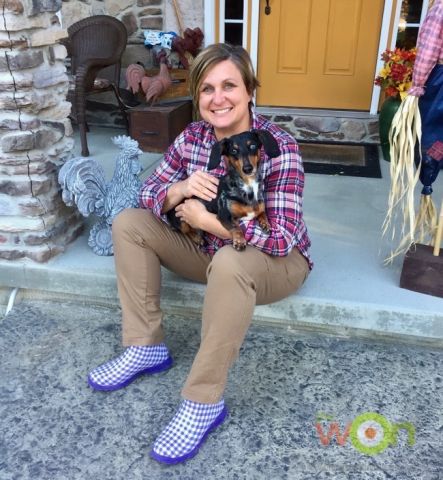 She later chose a pair of purple gingham Breezy boots, like mine. "First of all, they're absolutely cute! The first day I wore them I got a compliment everywhere I went. They're easy to slip on to work in the garden or wear on a rainy day going to the grocery store," added Michelle.
Jackie's Muck Boots
If you follow us on Instagram, or have noticed a change in our design lately, it's because our new hire, Jackie Baird (full disclosure: I gave birth to her) is onboard. She is an interior designer on the East Coast and has agreed to help her mom out with some social media and design work. She got introduced to a pair of Woody Max Muck Boots a few years ago, for hunting trips. But now that she's settled in a more cosmopolitan area, she has chosen 2 new styles: the Verona leather boot and a pair of sweet Breezy ballet slip-ons.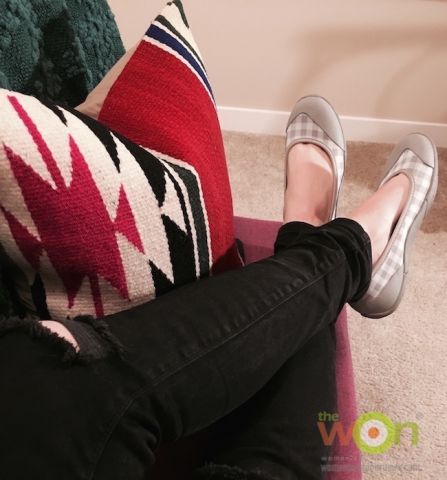 The ballet shoes are super lightweight and stylish enough that I can wear them to work," said Jackie. "And, I can wear them sans socks – no sweat and no blisters.
She continued, "The Verona leather boot also is super stylish and outdoorsy looking. I can wear it to work, too. It's not just utilitarian, featuring Muck Boots' characteristics – of being water resistant and warm – but it has the appearance of an expensive leather boot."
More Muck Boot Lovers
If you've been reading The WON for several years now, you'll know that other outdoor writers – such as Gretchen Steele and Marti Davis – love Muck Boots.
Last September, we highlighted the debut of Girls with Guns Muck Boots, of which I have my eye on for a future pair. At this rate, I'm pleased that the hubby built a boot closet in the basement, inside a furnace room area that acts as a natural drying space with many shelves. It looks as though there's space for another pair (or three) of Muck Boots.
So, with even more boots being offered for women, in everything from practical to stylish – but always functional – it may behoove you to check out Muck Boots. At the company's website, you'll find several models on sale, and some up to half price.
Visit http://www.muckbootcompany.com/.
What is your favorite style of Muck boots?
About Barbara Baird

Publisher/Editor Barbara Baird is a freelance writer in hunting, shooting and outdoor markets. Her bylines are found at several top hunting and shooting publications. She also is a travel writer, and you can follow her at https://www.ozarkian.com. View all posts by Barbara Baird →