Welcome to the Family, Hilary Duff
For years Hollywood has painted gun owners as unhinged, violent, white men from the South (not that there's anything wrong with being a white guy from the South). It's a hypocritical stance, considering these same highly paid actors use guns irresponsibly and violently in their films while condemning those of us who practice real firearms safety and education. The good news is, this narrative is changing.
Recently actress Hilary Duff, famous for her role as Disney's Lizzie McGuire and currently playing Kelsey Peters on Younger, posted two photos on her Instagram and Twitter pages with friends at the gun range.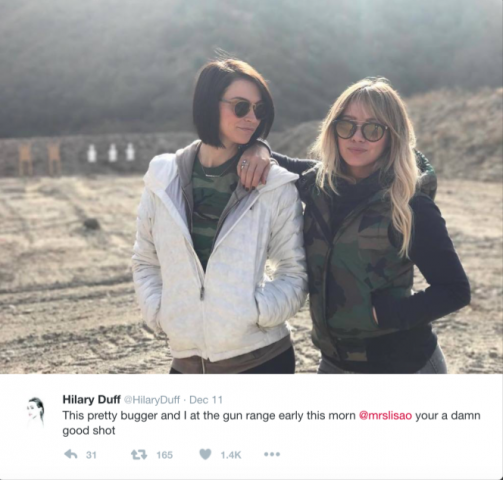 This pretty bugger and I at the gun range early this morn @mrslisao youre a damn good shot," Duff, clad in a fashionable camouflage vest, posted about her weekend.
Between the 2 social media platforms, Duff has a whopping 7 million followers, giving extensive reach to the idea that target shooting is a fun, educational hobby that can be enjoyed by anyone.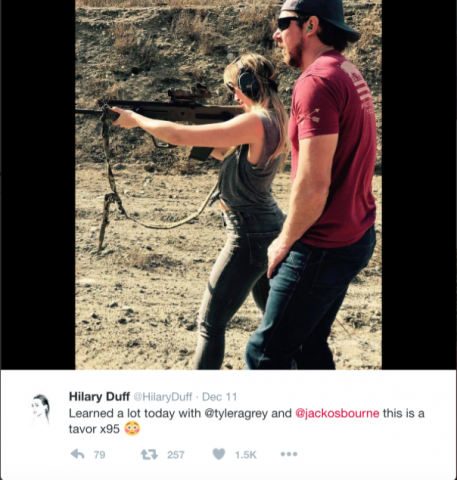 Duff captioned another of her photos that showed her shooting an Israeli-developed sporting rifle: "Learned a lot today with @tyleragrey and @jackosbourne this is a tavor x95 #targetshooting,"
I haven't had a chance to shoot the Tavor yet. #jealous.
Over the years, a positive firearms presence in pop culture has done tremendous things to boost the image of gun owners and to bolster the Second Amendment.
Shows likes Top Shot opened up competition shooting to a mainstream audience, showcasing the fun, safe side of the sport. Throughout its five seasons on the History Channel from 2010 to 2013, host Colby Donaldson gave shooters the chance not only to show off their skills, but to amplify the fact that gun owners come from all walks of life and backgrounds.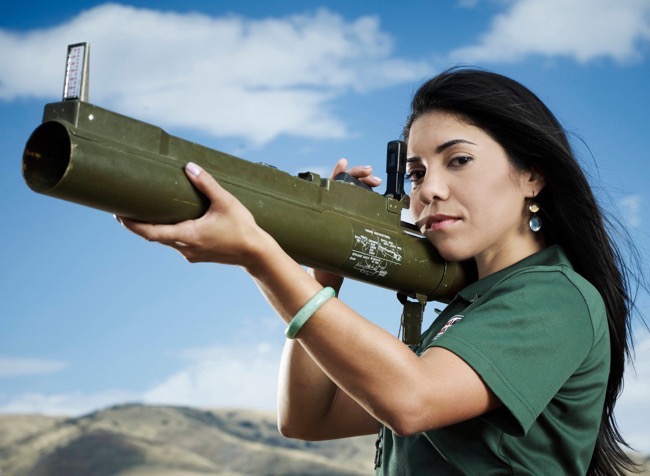 Take for example Olympian Gabby Franco, a Top Shot All-Star who grew up in Venezuela. Or Chris Cheng, winner of Top Shot's season 4; he works for Google and is openly gay.
One reason why I chose to come out publicly is that I'm a gay guy in a gun world. Hunters, sport-shooting enthusiasts, and collectors are too often stereotyped as part of efforts to politicize guns…" Cheng wrote on his website in 2013. "Take it from someone who in a single package is not only gay, but Chinese, Japanese, California-born, a college graduate, a tech geek who worked on cool Google projects, a gun enthusiast and a passionate 2nd Amendment advocate. Our community is as diverse as anyone's.

A special thanks to the National Rifle Association and the National Shooting Sports Foundation, who are supportive of my decision as they recognize the diverse perspective I bring to the conversation about the safe and responsible use of firearms," Cheng continued.
Gun owners come from all walks of life, with diverse backgrounds and experiences. These new instances of portraying that reality in pop culture, instead of falling back on unfair stereotypes about who anti-gun advocates think gun owners are, is refreshing. Pop culture will always be upstream from politics or academic arguments, playing a crucial role in preserving and exercising the Second Amendment for years to come.
Welcome to the family, Hilary Duff. Call me if you ever want to hit the range again.
The Conversation