Wanna Win Won? A Girls with Guns Clothing Waterfowl Jacket
Wanna Win WON? How about a Girls with Guns waterfowl jacket? We have had such a WONderful #duckyWON month here at The WON, that our friends at Girls with Guns Clothing offered to close it out — just as the migratory bird season closes out — with a giveaway of their popular and warm waterfowl jacket in Mossy Oak Blades. The Waterfowl Hunting Jacket was designed by women for women. Not only does it allow full flexibility in the field, but it will keep you dry in any situation.
100% Polyester
100% Waterproof
Primaloft Silver Insulation
Handwarmer Pockets
Mossy Oak® Blades Pattern
Girls with Guns Waterfowl Jacket
Our duck hunting freak of a writer, Hollis Lumpkin, loves this jacket, and reviewed it right here.
From her review:
One of my favorite things about the waterfowl jacket is the cuff feature on the sleeves. While I was out picking up decoys, wading through the water and trying to stay upright despite the thick pluff mud, I managed to take one wrong step and fell into the water. I instinctively stuck out both my hands to catch myself (even though there was nothing to stop my fall). Within seconds I had partially filled my waders with saltwater, and had submerged my arms up to my chest. Of course, my socks and pants were wet but, to my surprise (and delight), my shirt sleeves were bone dry. The sleeve cuffs had blocked the water from seeping into my shirt beneath. I know I will appreciate this again during an inevitably rainy hunt in the near future, when rain typically finds its way down the arms of my jacket every time I raise my gun to shoot. It's never fun to have wet sleeves under a jacket, but it looks like that problem is solved!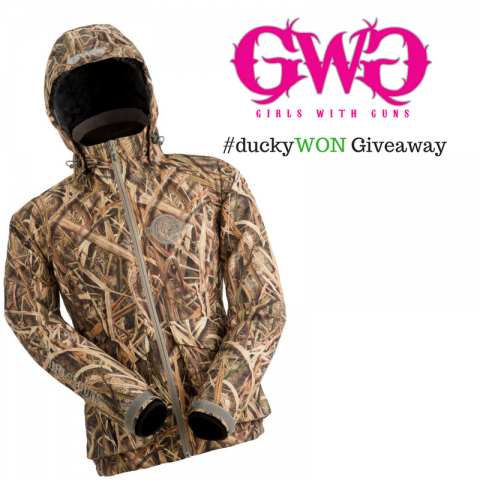 a Rafflecopter giveaway
About Barbara Baird

Publisher/Editor Barbara Baird is a freelance writer in hunting, shooting and outdoor markets. Her bylines are found at several top hunting and shooting publications. She also is a travel writer, and you can follow her at https://www.ozarkian.com. View all posts by Barbara Baird →