SHOT Show 2017 Photo Feature
Several of us from TeamWON attended this past year's Shooting, Hunting, Outdoor Trade Show (SHOT Show) at the Sands Expo & Convention Center in Las Vegas a few weeks ago. With more than 1,600 companies on 13 acres, we joined 67,000 other attendees on the show floor and after-hours throughout the week. Here, in our annual SHOT Show photo feature, we bring you some of the highlights.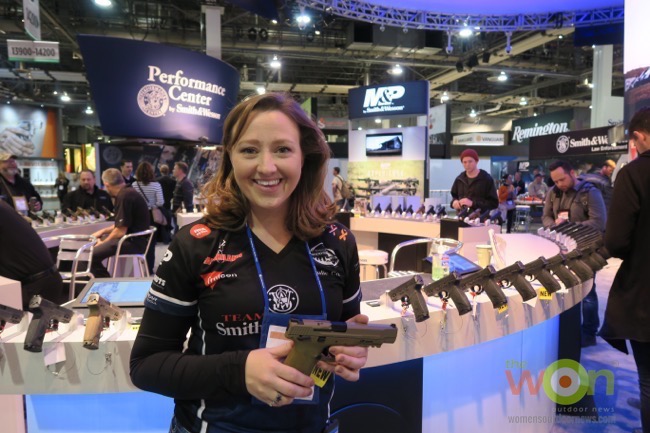 Here's TeamWON member Julie Golob, who is the captain of Team Smith & Wesson. She's holding the new M&P M2.0 in 9mm. Watch for a full review of this gun, coming soon to The WON. We think women will love the grip and feel of it.
MSRP: $599
Check out these fine mags from Jagemann Sporting Group, created for specific handgun models, such as 1911s and GLOCKs. You can special order a color and even get a logo imprinted on them. You may also purchase some rifle magazines. Price determined on customization.
We love this photo of Jenn, from Crossbreed Holsters, as she did her hair especially to match Crossbreed's logo background color! This leather belt rocks, and has been especially designed for women shooters. MSRP: Starting at $64.95
Last year, Girls with Guns Clothing announced a Muck Boot launch and this year, you can see the boots on display. We are so proud of Jen O'Hara and Norissa Harman, 2 female entrepreneurs who have seen wild success in a short period of time — the American dream lives! Check out these boots at Girls with Guns Clothing. MRSP: $164.99 (short) to $174.99 (tall)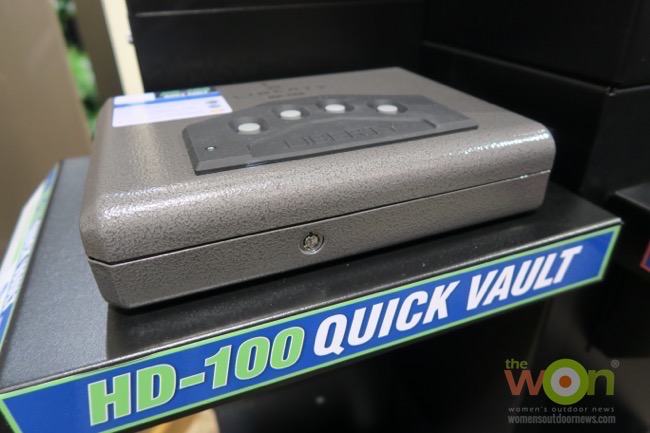 Liberty Safe recently partnered with us, so it was exciting to see its full line of safes at the show. This one is essential for desk and night-stand drawers, or underneath vehicle seats. It is also compatible with TSA regs. A biometric safe, the HD-100 also features a lighted interior, cable and key back-up. MSRP: $129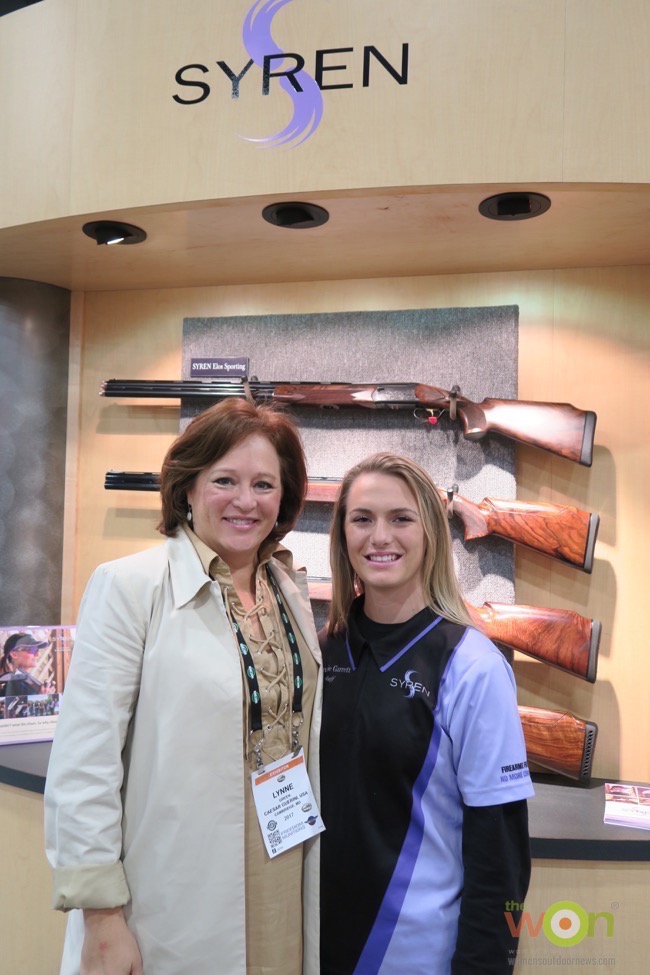 Syren's Lynne Green, along with shooting ambassador Annemarie Garrett showed us the full line of women-centric shotguns, including the new Syren XLR5. Visit Syren to see the beautiful guns made for women who love competition shooting, sporting shooting and hunting. MSRP: Varies
It's always fun to stop by the Comp-Tac Holsters booth and visit with Randi Rogers, who shoots for Smith & Wesson, too. She's showing us the newly designed L Line holster, an all Kydex, pancake style, modular holster that will fit multiple firearms. The main thing? This holster will accommodate a variety of "medium" size lights. MSRP: $79.99
LaserMax introduced its new GripSense technology, which activates the laser when I grab the gun. (All guns have firing pins removed for display purposes at the SHOT Show, but I always check them, too, before handling them.) Check out the line of lights and lasers available as add-ons to many models.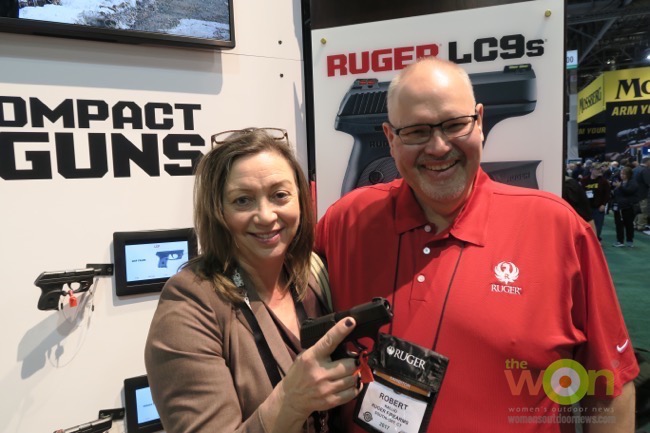 Meet Bob, the designer of the Ruger LC9s, who assured me that he consulted many women about the ease in manipulating the slide of this concealed-carry semi-auto. You know what? I recently received one to review, and so far, every woman who has attempted to rack the slide, has done so easily. Watch for this review in the near future. MSRP: $479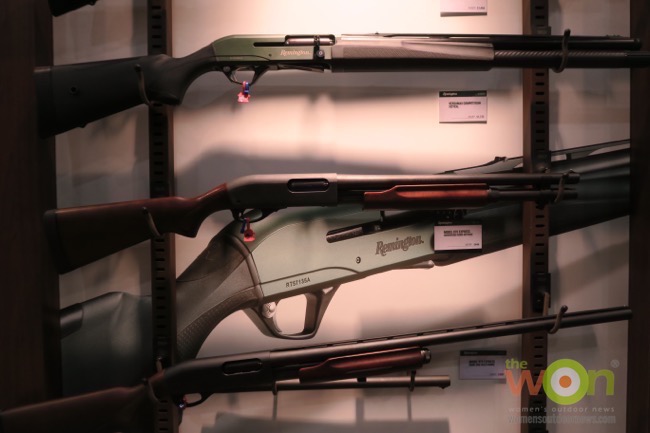 I have a soft spot in my heart for Remington's line of shotguns. Here's a look at the new VersaMax competition tactical shotgun (top, $1733) and the hardwood 870 Express for home defense (middle, $444), and the 870 Express home and field combo (bottom, $550). I have shot all, and would gladly add them to my safe. MSRP: Noted in description.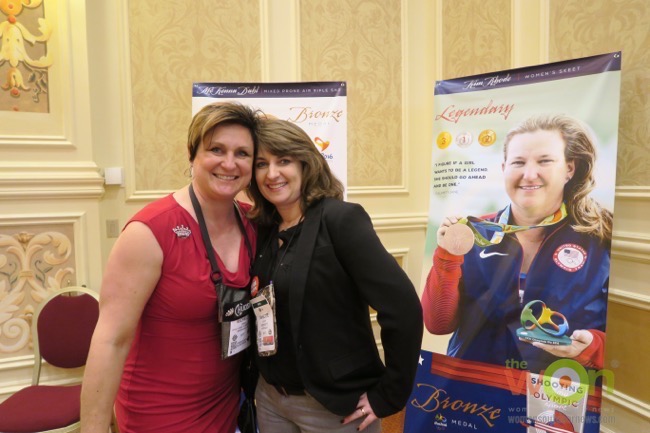 Remember the mention of TeamWON? It was great to see two more members at SHOT Show, managing editor Michelle Cerino (lady in red) and Armed & In Charge columnist Annette Doerr.
We helped coordinated the Second Annual Women's Meet & Mingle at the show this year, and Bonnier graciously allowed the meet-up to be held in its Sportsman's Lounge. Here's Dianna Mueller, chatting with newfound friends, at the event. As you can tell, it was packed out. Sponsors for the event included AZ Firearms/Gun Freedom Radio, Beretta, Crossbreed, DIVA WOW, Jagemann Sporting Group, NRA Women's Network, Remington Outdoor Company, Shoot Like A Girl, Smith & Wesson and The Well Armed Woman.
We love to see other TeamWON members working at the event, and Katie Pavlich was asked to sign catalogs at the Volquartsen Firearms booth. We will be reviewing a Scorpion, similar to the gun that Katie shoots, later this spring. Can hardly wait! It will feature a lovely Leupold optic, too, (another new partner!).
Be sure to check out our social media sites for more coverage of the SHOT Show, including #fullautonightfest, where managing editor Michelle Cerino and I enjoyed gunning from machine guns at night in the desert.
About Barbara Baird

Publisher/Editor Barbara Baird is a freelance writer in hunting, shooting and outdoor markets. Her bylines are found at several top hunting and shooting publications. She also is a travel writer, and you can follow her at https://www.ozarkian.com. View all posts by Barbara Baird →