Q&A with Eva Shockey on Babies and Bows
Eva Shockey has the gift of being able to communicate to women hunters around the world – and not only about her travels and hunts with her famous father, Jim Shockey, but also about her everyday lifestyle and how it centers on a healthy lifestyle that includes hunting. Eva and her husband, Tim Brent, welcomed their first child into the world last January, Leni Bow. In this interview, she is honest and forthright about her pregnancy and the future with her new daughter, Leni Bow.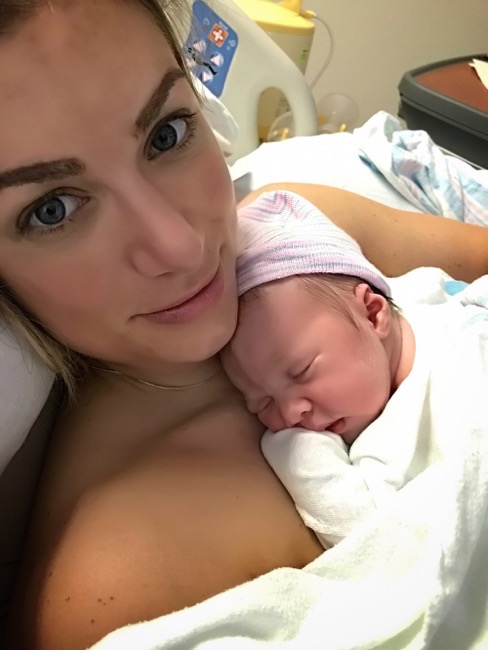 The WON: When you found out you were expecting a baby, how did your world change as far as any perceptions or attitudes?
Eva Shockey: I always try to stay fit and healthy but as soon as I found out that I was pregnant, I took this responsibility much more seriously because taking care of myself, also meant that I was taking care of my baby. I ate wild game and stuck to a healthy diet and I kept working out throughout the duration of my pregnancy. It wasn't always the easiest thing to do, especially when all I wanted to do was sit on the couch and eat junk food, but it was worth it.
The WON: Thank you for making your pregnancy story available to women, so that many of them could see how you persevered, and hunted and enjoyed the outdoors while pregnant (especially that elk hunt!). You and Leni Bow have also hunted together already! What are some of your favorite memories from your hunts while pregnant? Things you will tell Leni Bow about?
Eva Shockey: I went elk hunting in New Mexico while I was 7.5 months pregnant with Leni Bow and it was a huge challenge, but one of the most memorable hunts I've ever been on. We were hiking for 10+ hours each day in 90-degree weather at 8000-foot elevation over rough terrain, so it was a challenging hunt at the best of times, let alone being as pregnant as I was. It was difficult for me to hike and I definitely wasn't as fast as I normally was, but I was so proud of myself for tackling those mountains and not backing down and being able to remember the trip that I shared with my daughter! I also hunted a whitetail in Saskatchewan while I was 8.5 months pregnant with her and I sat in the ground blind for 8 days straight – waiting for 1 specific buck and on the very last morning of my hunt, he walked in front of the ground blind at 12 yards. I think Leni was my good luck charm!
The WON: The nursery – not sure if we've seen it and really, none of our business, but did you decorate it in an outdoors theme? How so?
Eva Shockey: Leni Bow's nursery is my favorite room in the house! It definitely has an outdoor theme with lots of arrows and animals and I even made a homemade, flower-crown European deer rack from my hunt in Saskatchewan.
The WON: What's your earliest memory of growing up in a hunting family?
Eva Shockey: My dad got me and my brother our first plastic bow when I was about 2-years old and I used to love shooting it at targets around the house. When I turned 5, he bought me my first recurve and I was hooked!
The WON: What do you hope will be Leni Bow's earliest memory of being part of a hunting world?
Eva Shockey: I just want her to love and appreciate the outdoors and remember the time spent in the outdoors with her family. That would make me so happy!
The WON: Do you have any advice for other first-time moms? Something that you've found to be true and helpful?
Eva Shockey: You need to find your own way of doing things that works for you and your family. What works for one mom, might not work for the next and that's OK.
The WON: I know that your brother and his wife also are expecting their first child. How exciting! Will the cousins be able to grow up near each other?
Eva Shockey: I am so excited to meet their baby! … Unfortunately the cousins won't live close since we are based in Raleigh, N.C., and my brother and his wife live in BC, Canada, but we'll make sure they get to see each other as much as possible!
The WON: When we saw your dad, Jim Shockey, at SHOT Show this year, he was bragging on you and your family and he also mentioned that your mom might think that Bow in Leni's name stands for something wrapped around a pretty package! We know he was kidding. What is the meaning, again, surrounding her middle name?
Eva Shockey: "Leni" was named after my Grandpa Len, (my mom's father) who was one of my favorite people on earth and who passed away a few years ago. My dad's father's name was Hal Leonard so she's named after him too! It's a nice way to keep family names going. Her middle name "Bow" represents an archery bow and our love for the outdoors.
The WON: Will Leni Bow be a part of your story as she gets older? Will she accompany you afield?
Eva Shockey: She won't have much of a choice! I will be traveling this fall to go hunting and she'll definitely be tagging along. I travelled with my family a lot growing up and loved it so my husband, Tim, and I hope to raise her in a similar fashion.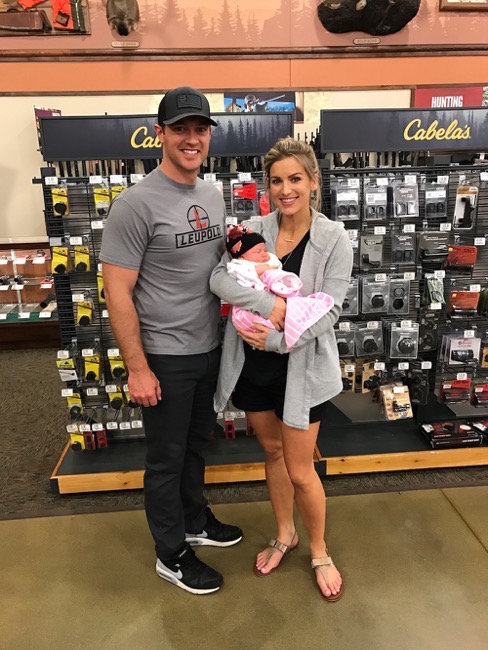 The WON: Will she learn how to handle a hockey stick?
Eva Shockey: We live in Raleigh, so there's not a lot of women's hockey here, but Tim and I are both Canadian and he was a professional hockey player so I'm sure her dad will teach her to skate!
The WON: We know your fans are looking forward to seeing you out hunting again, but they also love the idea of family and bonding with your new precious one. When is your first appearance on the show or hunting circuit again?
Eva Shockey: My first work event since having Leni is in Gainesville, Va., for a Cabela's Grand Opening in March. I fly there in the morning and come home that evening because I didn't want to leave her overnight – ha! I am taking baby steps to get back into the groove of my travel schedule.
Visit Eva Shockey online: http://www.evashockey.com
See Jim Shockey's Hunting Adventures at Outdoor Channel: http://outdoorchannel.com/jim-shockeys-hunting-adventures
About Barbara Baird

Publisher/Editor Barbara Baird is a freelance writer in hunting, shooting and outdoor markets. Her bylines are found at several top hunting and shooting publications. She also is a travel writer, and you can follow her at https://www.ozarkian.com. View all posts by Barbara Baird →