Traveling with Firearms: What You Need to Know
We welcome Lynne Green, Syren Brand manager and competitive shotgunner, to the ranks of TeamWON as a contributor. Lynne will bring us behind-the-scenes knowledge based on years of experience from her world of competition shooting and working on a mission to get marvelous shotguns into the hands of women who love shooting — either in field sports or hunting. In this debut column, she lays out what you need to know about traveling with your firearms. ~BB
Several years ago, when I was working as an IT Contractor, I was in Hartford, Conn., on the bus to the rental cars. There were a group of guys on the bus and it was late in the evening. Normally I don't share too much, but when they asked what was in the case, I said, "a big gun." They looked surprised and then asked, "What do you do?" I looked at them with a straight face and said, "Contract work." I was tickled with the response and they didn't ask me any more questions.
These days, when the Uber driver picks me up at my house and he loads my big silver case into the trunk and he asks what I do, I say, I'm in sales. And when he asks what I sell, I say, "Wood and metal engravings from Italy." I just don't mention that they go "bang!" This is how I begin traveling with guns.
I've been traveling with my guns for more than 15 years now and while it isn't difficult, it's good to be prepared and take a healthy dose of patience with you, especially at the airport. Here are a few things that will help you get your gun safely to its destination.
Gear
You'll need a hard case to send your gun as checked baggage. Syren does not recommend using the hard case that comes with your gun for airline travel. If you must travel with the Syren case, be sure to secure it with an extra strap or put it in a cardboard box for transport. Syren has partnered with Americase to create a travel gun case and at $475, it is an investment – but knowing what baggage handlers do to your regular bags, it's worth every penny to protect your gun. I would recommend not putting any gun-related stickers on the case.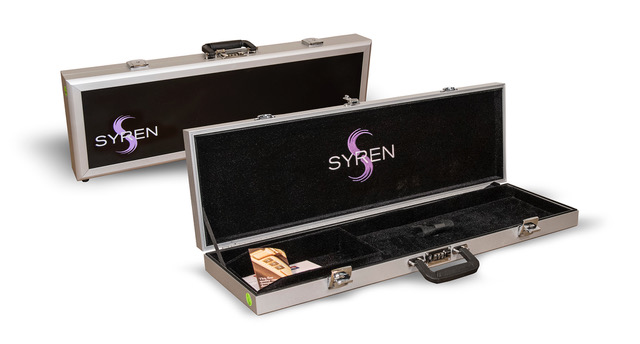 Not looking like a shooter helps, too. When I was working in IT and mixing a bit of business with some Sporting Clays, I showed up for a flight in a dress, jacket and pumps, with my Coach briefcase over my shoulder. When I opened the case, the agents said, "We made bets on what was in your case when you walked in, and it definitely wasn't this"!
Syren pro-staffers Chelsea Davis and Kassidy Groeper recommend Pelican cases.
There are a lot of choices and some even have wheels, which I would recommend. For Chelsea, along with the 2 locks on the outside, she stores 2 additional locks inside, just in case TSA decides to cut them off (it happens). Kassidy warns they can be a bit bulky, but that's an acceptable tradeoff for a protected gun. My personal recommendation is not to use TSA-approved locks; always provide your own.

Having a soft gun sleeve ($79) – such as the new ones from Syren – helps with transport once you get to the range. They're slightly padded so they protect your gun from getting banged up, but also allow for you to easily store in your hard case or suitcase while traveling to your destination. Check out the review by pro-staffer Annemarie Garrett.
Domestic Air Travel Tips
For air travel, be sure to add 15 to 30 minutes to your time to allow for dealing with your gun, 30 to 45 if it's a busy holiday time. Each airport is a bit different and most won't allow you to do curbside check-in with a firearm. That usually means that you'll need to stand in the "full-service" line and that can sometimes be quite long and very painful. Most airlines already recommend at 2-hour arrival before your flight, so add the extra time to that factor. Most agents are versed in what the process is, and lately I've had them compliment me on the Syren guns in the case. You can also check the TSA website, and your airline's rules and regulations, for additional information. Be educated about what to expect.
While you're waiting in line, it's a good thing to unlock your case. You'll need to open it, show the agent what's inside, and then sign a declaration form that the airline provides, stating that the gun is unloaded. That card is then placed inside of the case. Be sure to double-check your locks when relocking your case.
If at all possible, plan to purchase your ammo at your destination, or arrange to have it shipped. Most companies will ship ammo to your event, especially if you give them enough lead time, and a lot of locations will sell ammo onsite for the larger shoots. You are only allowed 7 pounds of ammo in your checked baggage.
Expect this next step: Some airports will require you to wait for an escort, while others allow you to walk unaccompanied to carry your case to the "Oversized Baggage" area where agents will swab the case and check for explosives. You'll need to wait while they do this just in case they have any questions. Once you're clear, the case is in the hands of the airline.
Do these 3 things before you leave the house.
Take a picture of your gun and case with your phone before you leave the house.
Know your serial number, make and model of your gun.
Take a picture of your serial number with your phone.
If something happens to your gun, this will help with the reporting and retrieval process.
While the check-in process is standard across the airports, the pick-up varies widely. Most of the time, your case will come out in/on the "Oversized Baggage" area with golf clubs and baby strollers. For the smaller Americase cases, they will sometimes come out with all the other bags on the conveyer belt. Be sure to have either your ID or your baggage claim check to retrieve your case. Some airlines will pull your bags and expect you to retrieve them in the office. Watch the conveyor belt, and be prepared to work with agents in the office, too.
Of course if you travel enough, you'll have stories – such as when my gun case came out on the regular conveyer belt with the locks cut off at Midway Airport in Chicago on a Friday night. While I was extremely irritated about the situation, I felt relieved that my gun was still inside, and just took it and left. Moral of the story? Pick your battles.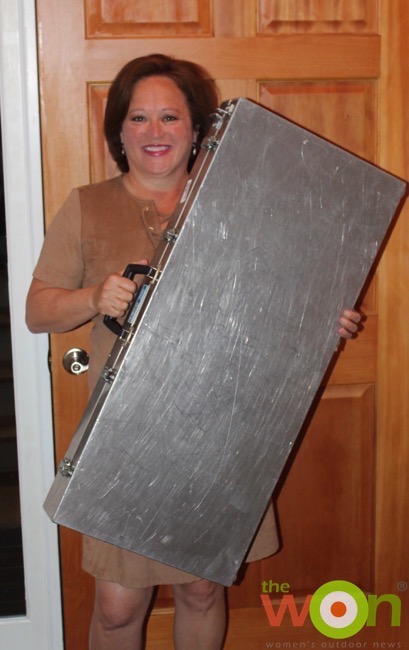 International Air Travel
All the above information will apply for international travel, but here are some extra steps to follow.
For major international competitions, you'll need a letter from the host club inviting you to the event. They usually provide this on their website.
You'll need to do extensive research on gun permits for the country or countries you'll be visiting or even connecting through, along with the airlines you'll be flying on. If you're connecting through countries to get to your final destination, you may need permits for them also.
Make sure your serial number is correct on all your paperwork.
Visit the US State Department website and check out any travel notifications for your destination.
Talk to friends or teammates that have traveled internationally in the past for guidance and direction.
Insurance and Securing Your Firearms
Whether it's on your homeowner's policy or through a separate policy, it's good to have insurance on your guns. The National Skeet Shooting Association (NSSA) and the National Sporting Clays Association (NSCA) have partnered with SIAI (Sportsman's Insurance Agency Inc.) to offer firearms insurance for guns. Check out their offerings at www.SIAI.net. Pro-staffer Ashley Butcher says her policy covers both her gun and her glasses and the policy covers theft, damage as well as if the airline loses it, etc., and it's very economical – less than $100 per year.
San Antonio is a great place to visit, but every year there are thefts that occur during major shooting events when people leave their guns in their vehicles – usually when they leave the complex and stop for dinner. Chelsea swears by the gun storage on the grounds at the National Shooting Complex during shoots held there. Ask your clubs if they have secure storage to hold your guns overnight.
Car Travel with Guns
For a few years, I basically lived out of my truck while going to shoots. I had so much stuff that I couldn't reasonably hide it all under something and I didn't have a trunk. I made every effort to cover up anything that looked like it was firearm related. There are a lot of systems available to store your guns in your vehicle, both mobile and semi-permanent.
Depending on your budget, these are good things to invest in if you're going to be traveling with your guns on a regular basis.
If you are renting a car, and have a choice between a hatchback or a trunk, go with the trunk – unless it's an SUV with a cover over the back-storage area. Being able to place all your gear in the trunk – unseen – is primary for safety of your gun and gear. Don't leave shoot materials, brochures, or anything showing that you're involved in shooting in plain view .
Ashley also says to educate yourself regarding the state laws and carrying firearms – especially in the Northeast. Some states are stricter than others, so it's always a good idea to know how to properly transport your firearm. You don't want to run into any issues if you get pulled over. (Also, you never want to leave an airport in an anti-gun friendly city with your gun because of a forced layover.) Kassidy adds that when driving with your firearm, having a sturdy gun case that will not collapse when luggage or shells are loaded on top of it.
Don't be afraid of traveling with firearms.
Check out Syren's line of firearms for women shooters– in hunting and competition. Choose your gun and then, get out there with it.
About Lynne Green

Lynne is on to her next adventure after over four years in Maryland with Caesar Guerini and Fabarm as the Brand Manager for Syren (a line of shotguns made for the ladies). She has attended dozens of demos and events and has been honored to get to meet and introduce hundreds of ladies and young girls (and lots of boys and men too) to all 3 brands and to shotgun shooting! Lynne has learned so much about shotguns – gun fit, eye dominance and mechanics – that shows her just how much more there is to learn. She now is doing marketing and branding consulting and also plans to stay active in the outdoor industry, do more hunting and sporting clays, shooting lessons and add some fly fishing to her repertoire. She'll be based in the Dallas Fort Worth area. View all posts by Lynne Green →
The Conversation